One alliance of youth groups calls on the Comelec to extend voter registration until January 8, 2022, to make up for lost time caused by hard lockdowns
Leaders from the youth and labor sectors headed to the Commission on Elections (Comelec) office in Intramuros, Manila on Tuesday, August 31, to formally call on the poll body to move the September 30 deadline for voter registration.
Representatives from Akbayan Youth, First Time Voters' Network, and the Center for Youth Advocacy and Networking submitted a letter-petition signed by over 60 organizations, asking the poll body to continue voter registration until January 8, 2022.
The alliance pointed out that nearly eight months of voter registration were lost due to coronavirus-driven hard lockdowns since 2020. Voter registration in Metro Manila, for example, was still suspended due to the modified enhanced community quarantine (MECQ) in the region.
"The pandemic has already stolen so much from us. Comelec should not allow that the pandemic also steal the youth's right to register and vote," Akbayan spokesman RJ Naguit said in a mix of English and Filipino.
The youth groups also urged the Philippines' coronavirus task force to declare voter registration an essential activity.
"If we want a stronger voter turnout and a more representative picture of the elections, an extended period for registration is not optional, it is essential," Naguit added.
Separately, labor group Defend Jobs Philippines also filed another petition to the poll body, urging it to extend registration for new voters until October 31.
The group held a rally Tuesday morning before submitting their letter to the Comelec.
The protests on Tuesday were the latest indication that calls for the Comelec to extend voter registration would not die down despite the poll body's decision on August 18 to keep the deadline it imposed.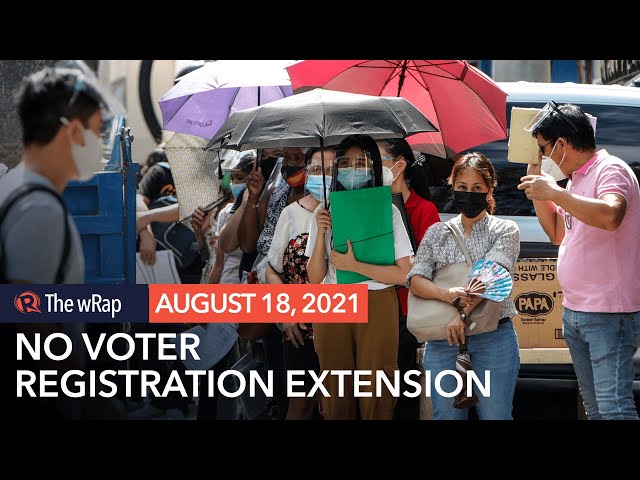 However, pressure from lawmakers during a House hearing on Friday, August 27, prompted Comelec Commissioner Marlon Casquejo to commit that they would reconsider their appeals.
Some 61 million voters are already eligible to cast their ballots in the 2022 elections. That number, Comelec has said, is beyond their projected 59 million registered voters.
But groups have pointed out that the projected voting population for next year according to the Philippine Statistics Authority is 73.3 million.
Rejecting calls for extension, stakeholders said, could disenfranchise millions of voters from participating in the polls.
In an apparent attempt to cushion the impact of hard lockdowns, the Comelec partnered with malls for satellite registration, extended daily voter registration hours, and launched online reactivation of voter data for those with deactivated records.
But these services remain applicable only to areas with less stringent community quarantine protocols.
Former Comelec commissioner Gregorio Larrazabal earlier appealed to the poll body that he used to be part of to at least allow voter registration in areas under MECQ, after the government decided to keep that lockdown classification in Metro Manila until September 7.
"Please allow people to register even in MECQ. Banks, supermarkets, and retail stores are already open during MECQ," Larrazabal said on Saturday, August 28. – Rappler.com