Bongbong Marcos says his original choice for running mate was President Rodrigo Duterte, while veteran labor leader Leody De Guzman makes his bid for the presidency, hoping to corner the labor vote
'In the Running' is Rappler's daily wrap of the filing of candidacies for the 2022 elections, with senior reporter Pia Ranada, regional coordinator Inday Espina-Varona, Rappler columnist and editorial consultant John Nery, and reporters in the field. This article is based on the show's October 6 episode about Day 6 of COC filing.
People at the Sofitel's Harbor Garden tent in Pasay, where filing of certificates of candidacy (COC) was happening, were startled Wednesday, October 6, when their phones rang like on cue for a supposedly emergency alert. Turned out, it was not for any impeding disaster, but a "severe" alert to support the filing of COC of the son of the ousted dictator Ferdinand Marcos.
Ferdinand "Bongbong" Marcos Jr. formalized his bid for the presidency after he filed his COC on Wednesday.
"The Marcoses have invested in a massive information infrastructure of their own…. Now, for some reason, they decided to show off the latest 'gadget' that they have, through the alerts," Rappler columnist John Nery said.
Rappler's Dwight de Leon, who was at the Sofitel tent at that time, said that the emergency alert happened multiples times on Wednesday.
"It happened multiple times in the day…. At first, it was scary, is this how powerful his political machinery if this really came from the Marcos camp?" he said.
Nery said that the strategy was the Marcos camp way of "shaping the narrative without being interviewed by mainstream media and journalists."
After he filed his COC, Bongbong evaded questions about his mother's graft conviction, saying "Not here and now, I'm here for filing." ([WATCH] 'Not here and now': Bongbong Marcos on Imelda's graft conviction)
Watch the episode 6 of In the Running below.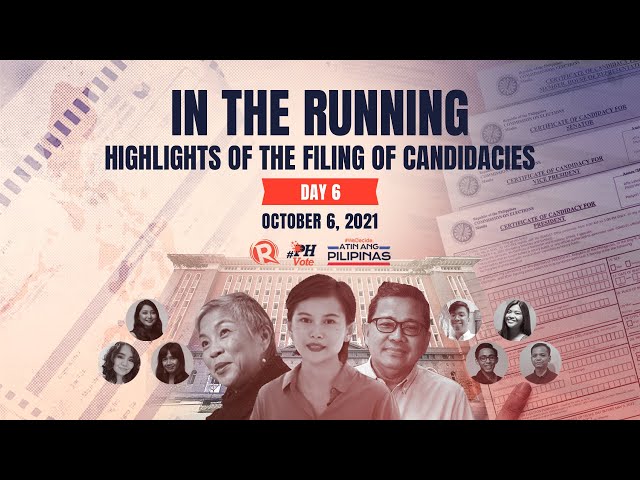 Who's Marcos VP?
The 64-year-old Bongbong told reporters that he wanted Philippine President Rodrigo Duterte as his vice presidential running mate. However, when Duterte announced his retirement from politics on Saturday, October 2, their plans have changed.
Will he be willing to get Presidential aide-turned-senator Bong Go as his running mate? Bongbong said, "Maybe, we'll see."
"The most favorite sport of Filipinos is politics, so there are no closed doors as to ano puwede mangyari (what will happen next) until the substitution process," said Rappler's Lian Buan, who is covering Bongbong's presidency.
In the Philippine electoral system, political aspirants who missed the period to file COC can still run for the elections as a substitute for someone else. (READ: #PHVote Guides: When can candidates be substituted?)
"The real question is, will President Duterte actually risk running for the vice presidency when very clear the disapproval of the people of that idea? Will he try to make it more palatable?" Rappler's regional head Inday Varona asked.
Lacson-Sotto makes bid official
On the same day, Senator Panfilo Lacson filed his certificate of candidacy for president alongside his running mate Senate President Vicente "Tito" Sotto III.
Despit lagging in pre-election surveys on potential presidential contenders, Lacson is banking on his growing grassroots support as well as party alliances to help boost his second presidential bid. He first ran for president in 2004.
"He's pretty confident about his run, and this is also something he's repeating – it's too early to tell," said Rappler's Rambo Talabong, who's covering the Lacson-Sotto tandem.
"They may only be offering themselves as 'non-administration candidates,' but we're also seeing a more critical stance of the Duterte government," Talabong added.
"I completely agree with Rambo's point that they are moving more toward criticism, and it's because they've seen the pandemic response of the government has been a disaster," Nery said.
A 'pro-worker' agenda
On Wednesday, veteran labor leader Leody De Guzman also filed his COC for the presidency, running under his party Partido Lakas ng Masa (PLM).
De Guzman said his main platform would be to raise minimum wages and abolish contractualization completely. He shunned the elite, saying in 2019 that the Liberal Party were elites and the Duterte regime was tyrannical.
"[De Guzman] can run for president any time he wants…. I'm just worried that, if it's a close presidential contest, and the opposition candidate somehow loses by the same margin Robredo had over Marcos," Nery said.
Nery added, "We will be revisiting this decision of Ka Leody. Yes, it's important to have statement runs like this…. In that case, the entire country will be listening."
Vice President Leni Robredo will announce her decision on calls for her to gun for the presidency in the 2022 elections on Thursday, October 7.
Norberto Gonzales, who was defense secretary under former president Gloria Macapgal Arroyo, is also running for president under Partido Demokratiko Sosyalista ng Pilipinas.
He said that the Duterte government's response to the COVID-10- pandemic wasn't too good ("medyo hindi maganda").
At the local races, Rappler Mindanao bureau chief Herbie Gomez said that one of major events that happened in Zamboanga Sibugay was that businessman George Hofer II aims to succeed his sister as representative of the province's 2nd District. In Lanao del Sur, two former assemblymen will be fighting for the province's congressional post.
"In Mindanao, we're seeing old families, some who fit the definition of political dynasties, trying to hold onto their power, or ganging up on new players," Gomez said. – Rappler.com
Watch 'In the Running' at 7 pm from October 1 to 8, on Rappler's YouTube, Facebook, and Twitter channels. The recorded version of the show is available right after its live airing.
Watch previous In the Running episodes: