Former vice president Jejomar Binay is bidding to make a comeback, while basketball star James Yap wants to enter the political fray. Here are the highlights of day 5 of COC filing for the 2022 elections.
'In the Running' is Rappler's daily wrap of the filing of candidacies for the 2022 elections, with senior reporter Pia Ranada, regional coordinator Inday Espina-Varona, and reporters in the field. This article is based on the show's October 5 episode about Day 5 of COC filing.
At the start of the fifth day of filing of the certificate of candidacies (COC) for national positions on Tuesday, October 5, there was a tinge of excitement in the air. A showdown loomed.
The first hint of a possible face-off happened when Bongbong Marcos, the namesake of the ousted dictator Ferdinand Marcos, announced his intention to retake Malacañang in the 2022 elections.
Hours later, the camp of Vice President Leni Robredo – who defeated Marcos in the 2016 polls and in the subsequent election protest – also came out with an announcement. They said Robredo was ready to go public with her decision to run or not to run.
Watch the full episode below: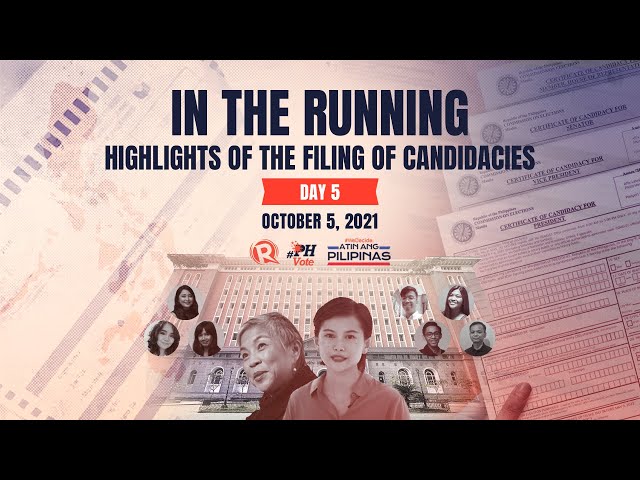 Admin bets are unifying
If Robredo has been going around negotiating with non-administration bets in a bid to solidify the opposition, the Marcos camp appeared to be doing the same thing with administration bets, Rappler reporter Lian Buan said.
Public Works Secretary Mark Villar, who recently resigned from his post presumably in preparation for the 2022 elections, was rumored to be Marcos' running mate. Buan said, however, that it was denied by the Villar camp.
Marcos was part of the Manny Villar-led Nacionalista Party (NP), but on Tuesday, he was sworn in as chairman of pro-Duterte Partido Federal ng Pilipinas (PFP). Both NP and PFP are eyeing an alliance with Davao City Mayor Sara Duterte's regional party Hugpong ng Pagbabago.
"The reason why he switched to PFP is to have a broader alliance," said Buan in a mix of English and Filipino. "If there are unification talks on the part of the opposition, there are traces or indications that administration bets are also conducting unification talks."
While it was not clear whether Marcos was courting Senator Bong Go, who is running for vice president under the divided PDP-Laban, or Mayor Sara, Buan said that Marcos appeared to be focused on having a solid running mate, hence the delayed presidential bid announcement.
Speaking of delayed announcements, the long wait for Robredo's decision will finally be over on Thursday, October 7.
Rappler reporter Mara Cepeda noted that the "announcement of an announcement" by the Robredo camp may or may not be a good political strategy. This is also the case because Robredo's announcement comes after Marcos' declaration.
But Cepeda said that, unlike the 2016 polls where Marcos and Robredo went head to head, the high-stakes 2022 elections appeared to be crowded.
"I don't think it can be just a narrative of Leni versus Bongbong because they are not the only presidential candidates. We're not sure if anyone will be sliding down," said Cepeda.
Whatever Robredo's decision would be, the last day for filing of COCs is on Friday, October 8.
The 'final' comeback of Jejomar Binay?
Former vice president Jejomar Binay is also hoping to stage a political comeback in the 2022 elections, but this time, as a senator.
Cepeda, who covered Binay in his failed presidential bid in 2016, said that the stakes are high for the ex-vice president as it could determine if he would be retiring for good from politics. Binay lost in the past two elections – in 2016 for the presidency and in 2019 for a congressional seat.
"The stakes are high for VP Binay because he might not get another chance to stage a comeback after this election. He is also getting older," said Cepeda.
Cepeda and Varona also noted that Binay appeared to be an opposition figure, as he never supported Duterte. In the latter part of Binay's campaign in 2016, he called Duterte an "executioner."
"He was never a pro-Duterte," said Varona. "I don't think young people remember him, but he was one of the human rights lawyers during the Marcos dictatorship."
Cepeda also said that Binay seemed to be banking on his experience fighting the Marcos dictatorship. In April, Binay said that the Duterte administration was even more dangerous than the Martial Law era.
Pacquiao copycat?
Meanwhile, in the world of local races where athletes try their shots, PBA star James Yap files his COC for councilor of the first district of San Juan City.
Aside from Yap, his former PBA teammates Paul Artadi and Don Allado are also gunning for a councilor post in the San Juan City council.
Sports reporter Delfin Dioquino pointed out that Yap's playing career is not yet over, so his running for a local seat seemed to be "unusual."
"It is quite unusual for James Yap to run as he has yet to retire. He previously said that he still wants to play. Usually, athletes or sports personalities who run for office do it when their playing careers are over," said Dioquino in a mix of English and Filipino.
"If ever, James Yap will have to juggle being a PBA player and a councilor," he added.
Varona said that while there is nothing wrong with Yap wanting to help San Juan kids develop their potential in playing basketball, she pointed to Pacquiao as an example.
"That's why a lot of people complain about Pacquiao because he has a lot of boxing matches that he kept leaving his Senate duties. There's an example, and so there's James Yap," Varona said.
Representatives for whom, again?
As incumbent mayors of Quezon City and San Juan try to hold their forts, several party-list nominees filed their certificate of nomination and acceptance (CONA) with the Commission on Elections on Tuesday.
ACT Teachers and Magdalo were among those seeking to get another set of seats at the House of Representatives.
Metro and Comelec reporter Dwight De Leon said that a number of new congressional aspirants submitted their CONAs on Tuesday – some of them with questionable stances for the advocacies they aim to represent.
An example De Leon cited was the Talino at Galing ng Pinoy (TGP) party, which won a seat in 2019 supposedly pushing for youth, health, and environmental causes.
The TGP nominee was asked about his plans to address the killings of environmental defenders. His answer was way unrelated to the question.
The last file on Tuesday is DUMPER party list, which supposedly represents public utility drivers. In August, DUMPER Representative Claudine Bautista drew flak for her "ostentatious" wedding in luxury destination Balesin. – Rappler.com
Watch 'In the Running' at 7 pm from October 1 to 8, on Rappler's YouTube, Facebook, and Twitter channels. The recorded version of the show is available right after its live airing.
Watch previous In the Running episodes: