The proposed bill does not prohibit serving warrants inside the campus, but requires prior notification of the university administration
The bill that seeks to institutionalize the abrogated University of the Philippines (UP)-Department of National Defense (DND) Accord hurdled the House committee level on Wednesday, June 2. 
The House committee on higher and technical education approved the bill following a hearing attended by UP and DND representatives. The bill consolidates House bills No. 8437, 8514, and 854, all on the institutionalization of the accord.
The bill will now be brought to the plenary for sponsorship.
During the hearing, Kabataan Representative Sarah Elago recommended the inclusion of sanctions to strengthen the compliance of the parties in the accord, while lawyer Theodore Te, who represented UP President Danilo Concepcion, recommended the inclusion of the UP Vice Chancellor on Community Relations in the accord's monitoring group. 
No constitutional infirmity
Lawyer Norman Daanoy, DND legal and legislative affairs chief, reiterated during the hearing that the accord has constitutional infirmities because it supposedly affects court procedures, particularly serving warrants. However, the proposed bill does not prohibit the service of warrants but only requires prior notification of the university administration.
Cagayan de Oro Representative Rufus Rodriguez asked Te, who is also a constitutional law expert, if he had any comment on the position taken by Daanoy.
"I am afraid, your honor, that I would not be able to comment on the constitutional objections that Attorney Daanoy is thinking of until we are aware of what they are," Te said.
He added: "Since all the substitute bill and the original bill seek to do is to incorporate the notice requirement, that is the essence of the two accords. I do not believe there should be any constitutional objection on that point."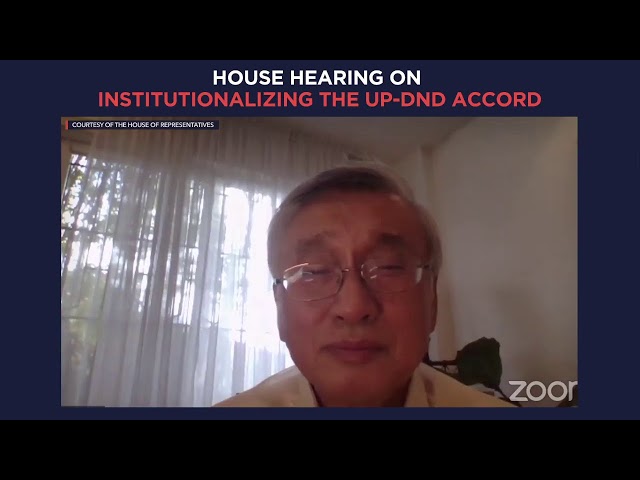 This was affirmed by the committee chair, Baguio City Representative Mark Go. "I don't see any infirmity in this provision," he said. 
The UP-DND Accord, which protects UP students and faculty from possible abuses by the police and the military, was unilaterally scrapped by the Duterte government due to the alleged incidents of in-campus communist recruitment. (READ: What you need to know about the UP-DND Accord)
The government terminated the accord at the height of various student protests and demonstrations condemning the government's failed pandemic response and the implementation of the anti-terror law. At least three bills were filed at the House to institutionalize the agreement.
The Senate version of the bill, filed by Senator Joel Villanueva in January, is still at the committee level. – Rappler.com