At the Supreme Court, justices debated what they can do if the government neglects to give sufficient medical attention to a prisoner. At the lower court, a judge junks pleas because the jail does not have enough resources.
The National Union of Peoples' Lawyers (NUPL) had a busy Monday morning, October 12, exhausting all remedies to get the courts to grant activist Reina Mae Nasino furlough to see her baby River, who died of pneumonia complications on Friday, October 9.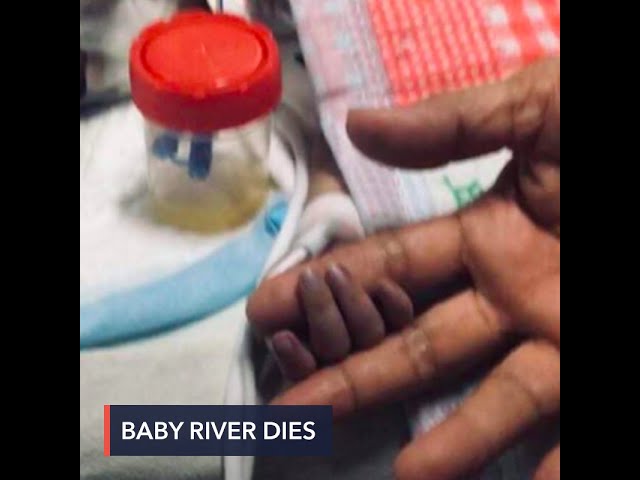 Philippine courts have no uniform standard when it comes to granting furloughs, although a recent Supreme Court decision showed the court could have had "a role to play" in protecting baby River's rights.
In a related case at the Supreme Court, justices debated what they can do if the government neglects to give sufficient medical attention to a prisoner. At the lower court, a judge junked Reina Mae's pleas to stay with her baby for at least a year for the simple reason that jails are just not that equipped to let her do so.
"I would like the Court to give relief to petitioner Nasino's baby not because of the ineptitude of respondents, but as a result of the reality of the greater risks facing petitioner Nasino's baby coming from facts about this pandemic," Associate Justice Amy Lazaro Javier said in the case filed by Reina Mae and other political prisoners begging for temporary release on humanitarian grounds amid the pandemic.
"I believe we have a role to play in protecting the baby from adverse consequences that are not of the baby's own doing," Javier said, but the relief was unspecified and remained theoretical until River died.
Upon doctors' pronouncement Friday afternoon that River may not last for much longer, her lawyers filed an urgent motion for furlough for Reina although they barely made it to the court's closing time. It was also the weekend the next day, leaving Manila's executive judge with not enough time to put the pleading through the motions as River died that night.
"(Reina Mae) implores, nay, pleads and begs, this Honorable Court to immediately give her the decent and humane chance to be with her baby daughter, whom she was not able to comfort and hold while in sickbed up to her dying hours, for the last time, and to properly grieve over her tragic and untimely passing," said Monday's urgent motion.
What the Court could have done
Reina Mae's entire pregnancy was spent at the Manila City Jail, while on trial for the non-bailable charges of illegal possession of firearms and explosives. On July 1, Reina Mae gave birth to River who was underweight at 2,435 grams or about 5.5 lbs.
The NUPL pleaded with the court to either let Reina Mae and her baby stay longer at the Fabella Memorial Hospital, or let Reina Mae keep her baby inside the jail but be provided with natal care facilities, and to keep this arrangement for at least a year.
Reina Mae was able to keep her baby inside jail for a while, using a room also used by pregnant, elderly, and sickly prisoners. The jail wardens said such arrangement "could not be for a longer period of time as the health of other PDLs cannot be compromised as they too are entitled to equal health care."
On July 20, Manila Regional Trial Court (RTC) Branch 20 Judge Marivic Balisi-Umali denied the motion because the government simply has no resources to continue doing so.
If Reina Mae stays in hospital for 12 months, it would require escorts round the clock.
"We cannot compromise the security and safety of 817 Persons Deprived of Liberty (PDLs) to 1 PDL who is a nursing mother alone. This jail facility has depleted number of personnel thus we cannot provide personnel to be utilized to escort PDL Nasino in the hospital for 12 months," said the Manila City Jail Female Dormitory, as quoted by Judge Umali.
Judge Umali said the request for the jail to have natal care facilities was "best referred to the local government unit or the appropriate agency of the government."
The Manila Female Dormitory also noted that Reina Mae has been using milk formula, and that diapers and formula were being "delivered from outside the facility."
On July 30, Judge Umali denied Reina Mae's motion for consideration. Judge Umali also denied Reina Mae's motion to quash her charges in an order on July 22. The judge has since inhibited, with no new judge yet.
In the Supreme Court case, Senior Associate Justice Estela Perlas Bernabe said courts are not entirely powerless.
"To be sure, the lack of laws allocating budget for the structural improvement of our jails in order to address subhuman conditions does not mean that our courts are powerless to grant permissible reliefs which are grounded on the Bill of Rights of our Constitution," said Bernabe.
"When serious and critical threats to one's life are adequately proven by virtue of one's conditions while incarcerated, the Court must fill in the void in the law and grant permissible reliefs," said Bernabe.
Bernabe agreed to remand the petition for temporary release to lower courts for bail hearings, believing that such reliefs would still depend on presentation of evidence.
Deliberate indifference of government?
Bernabe wanted to invoke the American principle of deliberate indifference, which proposes to look at whether the government neglected a prisoner's medical needs.
"To let an accused perish in jail because of the deliberate indifference of the State towards his or her medical conditions is even worse than a penalty because he or she has been effectively sentenced to death absent a final determination of his or her guilt. Surely there must be some form of judicial relief to, at the very least, balance these various interests," Bernabe said.
Javier said the Supreme Court could have done something.
"With the Court's authority to promulgate formal rules for this purpose, with more reason the Court can exercise and not resile from the jurisdiction to put its two cents' worth whenever a person's life or health – in this case, that of the baby of a pre-judgment PDL – is also at stake from circumstances not of her own making," said Javier.
Bernabe and Javier's opinions were not embodied in the majority decision, only 7 pages long, and which was made known to petitioners only 5 months after filing. The copy of the decision reached the petitioners only on October 9, the day River died.
Could there have been a different, more specific petition, for Reina Mae and River?
"Could have, would have. But, that's all moot now, isn't it? The baby is gone and her mother couldn't even say goodbye. It's hard to not feel disappointed. We could have done so much better," said University of the Philippines (UP) Constitutional and Political Law professor John Molo.
"Our system was meant to protect innocence. That baby was innocence personified," said Molo. – Rappler.com