Mayor Jerry Treñas says they are looking to reach full target vaccination coverage by March 2022
Iloilo City vaccinated half of its target population against the deadly coronavirus, the City Health Office's (CHO) data showed as of October 5, 2021.
The CHO's data indicated that 263,907 individuals have been fully vaccinated versus COVID-19, which translates to 50.27% of the city government's target population of 525,000.
The number of individuals who have received at least a first dose of the COVID-19 vaccine, is at 326,965 or 62.28% of the target population.
More than half of fully-vaccinated residents were inoculated with Sinovac (155,113), followed by AstraZeneca (38,684), Moderna (34,209), and Pfizer (5,901).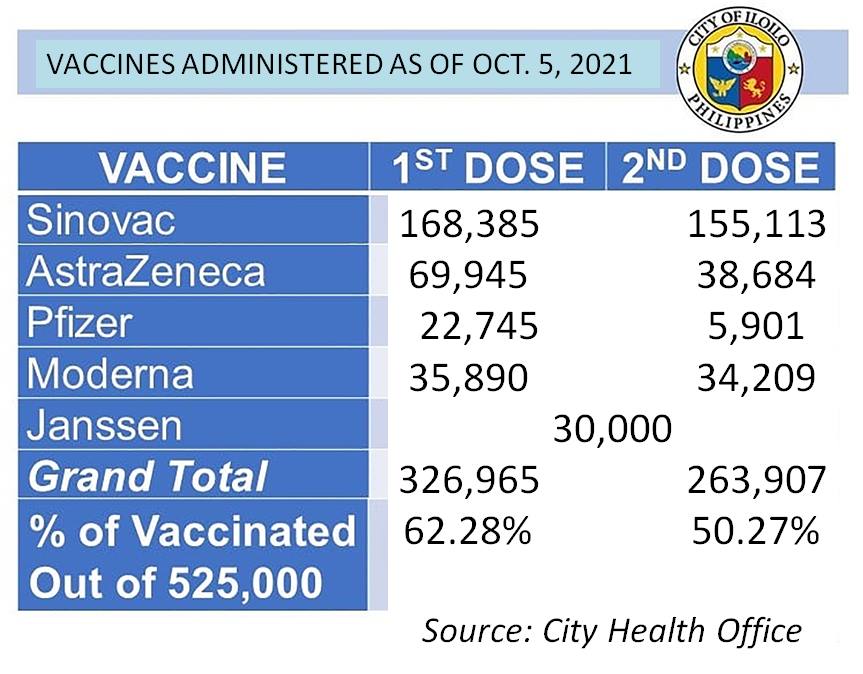 Based on the number of first vaccine doses, the majority received the Sinovac vaccine (168,385), followed by that of AstraZeneca (69,945), Moderna (35,890), and Pfizer (22,745). The city has also used up all of its allocation of the one-shot Janssen COVID-19 vaccine (30,000).
Iloilo City Mayor Jerry Treñas in July said that his herd immunity target is 100% of the city's 425,000 projected  population for 2021, plus around 100,000 non-residents who work or do business in the city .
The mayor in September said he expects the city government to have vaccinated 50% of their target by between the end of that month and the beginning of October.
He told Rappler on Wednesday, October 6, that they are looking to vaccinate 85% of their target by the end of the year, and reach full target coverage by March 2022.
The city government has increased its vaccination efforts, opening up inoculation to non-residents and administering vaccines in barangay facilities.
It has also procured 600,000 doses of COVID-19 vaccines from AstraZeneca, 70,000 doses from Novavax, and 50,000 doses of Covaxin from Bharat Biotech.
National target
While the city's COVID-19 vaccination rates are still low based on its own targets, it has already reached the national government's herd immunity target.
Based on data by the Department of Health-Western Visayas Center for Health Development, 254,581 or 75.96% of the city's 478,817 population in 2021 have been vaccinated against COVID-19 as of October 4.
The same data also showed that 44,671 or 22.61% of the population have yet to receive their second dose for full vaccine coverage.
Only 4,814, or 1.44% of the population, have remained unvaccinated as of October 4. – Rappler.com