The removal of the city's curfew comes after Metro Manila Council lifted the midnight travel prohibition in the National Capital Region
Mayor Jerry Treñas issued a new executive order scrapping curfew entirely and nixing implementation of the city's current face shield ordinance starting on Friday, November 5.
Treñas issued Executive Order No. 132-A series of 2021 on Thursday, November 4, lifting the 12 am to 4 am curfew, and mandating a 70% capacity on public transportation.
During a meeting of the city's COVID-19 Team, he said that the lifting of the curfew was to spur economic activity and to slowly bring the city back to normal life after months of a COVID-19 surge, driven by the infectious Delta variant.
"We will lift the curfew starting tomorrow so we could have more economic activity, more employment opportunities would be allowed, and we can gradually go back to normal," he said.
The mayor later published his letter to the Iloilo City Council, asking to suspend the mandatory use of face shields under Regulatory Ordinance No. 2020-061.
In his Facebook post, Treñas said the use of face shields have "not been proven effective" in blocking cough aerosols, which are one of the main transmission modes of COVID-19.
He clarified to Rappler that while the face shield ordinance is still technically effective, the city government would not implement it while the city council has not yet officially suspended the ordinance.
The removal of the city's curfew follows the announcement of the Metro Manila Council on November 3 that it would lift the curfew 19 months after it was first imposed in the National Capital Region.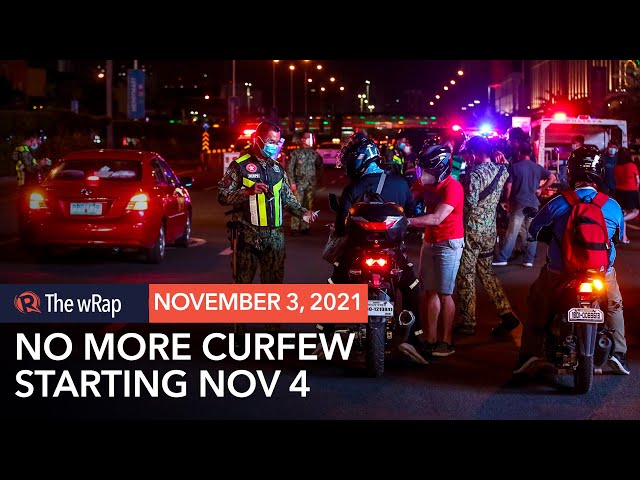 Iloilo City's nixing of the face shield rule comes ahead of the Department of the Interior and Local Government's proposal to the IATF to scrap its use nationwide.
Iloilo City Epidemiological Surveillance Unit (ICESU) data indicated that Iloilo City has had only 24 new COVID-19 cases on the first three days of November. This is an 87% decrease from the 198 cases in the first three days of October.
The ICESU also noted a 71.97% decrease in cases in October (1,138) from the figure in September (4,061).
The city also has a 42.29% critical care utilization rate as of November 3, according to the Department of Health (DOH) Western Visayas. The DOH considers a utilization rate of 60% or above as the "danger zone." – Rappler.com
Joseph B.A Marzan is a Visayas-based journalist from Iloilo City and an awardee of the Aries Rufo Journalism Fellowship.