(UPDATED) 'Ako may hinanakit sa mga takedown na 'yan,' says Senator Imee Marcos of the accounts that were taken down by Facebook in 2019 for coordinated inauthentic behavior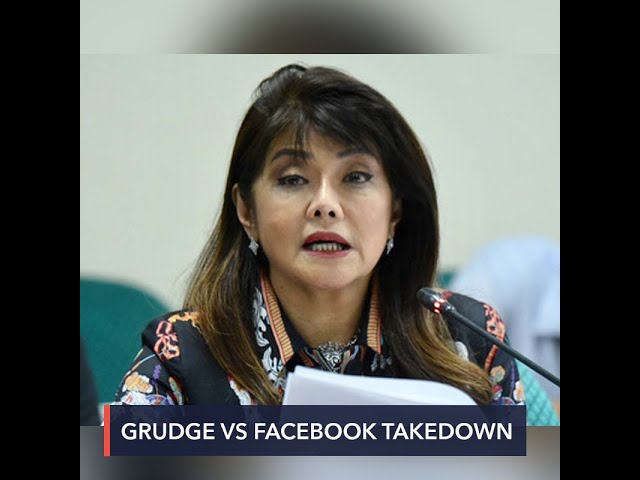 Senator Imee Marcos still holds a grudge against Facebook's takedown of pages linked to her and her family in 2019, claiming that her family had no control over the social media accounts.
During Senate hearing of the Senate electoral reforms committee, which she chairs, the daughter of the late dictator Ferdinand Marcos also questioned why Facebook partnered with Rappler and Vera Files for fact-checking.
"Ang parati nating sinasabi 'yung coordinated [inauthentic] behavior, eh kapag eleksyon eh talagang coordinated 'yan. Sasabihin ko na 'yung totoo, ako may hinanakit sa mga takedown na 'yan noong March 2019, " Marcos said at the hearing on government preparations for the 2022 elections on Wednesday, January 20.
(We're always saying coordinated [inauthentic] behavior, but during elections it's really coordinated. Let me be honest, I have some resentment about those takedowns in March 2019.)
"Maraming fan pages na mga Marcos loyalists ang nadale diyan. Hindi namin hawak (There were many fan pages by Marcos loyalists that got affected. We don't control it), they're not registered with the Comelec [Commission on Elections], because we have absolutely no control over these groups," she added.
(Editor's Note: An earlier version of this story reported that there were no Marcos-linked accounts in the March 2019 takedown. This has been corrected.)
Marcos said that they were "mystified" as to why this happened.
"At the same time, we actually were mystified why they were taken down; they were like basic fan pages. But naturally, in the midst of a campaign, their actions were probably what could be called coordinated," she said.
Facebook, however, takes down coordinated inauthentic behavior, which it defines as the use of multiple Facebook or Instagram assets, working in concert to engage in inauthentic behavior such as:
misrepresentation
use of fake accounts
artificial boosting of content popularity
In March 2019, Facebook took down 200 pages and accounts – including some Marcos-linked pages – organized by President Rodrigo Duterte's social media manager in his 2016 campaign, Nic Gabunada.
"[The pages] frequently posted about local and political news, including topics like the upcoming elections, candidate updates and views, alleged misconduct of political opponents, and controversial events that were purported to occur during previous administrations. Although the people behind this activity attempted to conceal their identities, our investigation found that this activity was linked to a network organized by Nic Gabunada," Facebook earlier said in a blog post
In September 2020, Facebook also took down a fake network linked to Marcos. It was found that around 30 accounts were created in March and April 2019 in "an extended batch, all of them focusing on the senator," who was then running for the Senate. (READ: Chinese fake account network's focus on Imee Marcos 'particularly striking' – Graphika)
That same network, found to have origins in China, also attacked critics of the government including, opposition senators, broadcaster ABS-CBN, and news website Rappler.
Rappler to Imee: Lies of Marcos-linked network well-documented
During the hearing, Marcos also questioned why Facebook partnered with Rappler and Vera Files as fact-checkers.
"'Yung laging daing ng ating administrasyon kung bakit ang fact-checker na ginagamit ng Facebook eh 'yung dalawang tanyag na media na bumabatikos kay President Duterte sa kada kilos, halos, eh 'yong Rappler at 'yong Vera Files. Bakit itinatag 'yan bilang gatekeeper ika nga? I think the politicizing question becomes very, very confused," Marcos said.
(The administration has always complained why the fact-checkers that Facebook partnered with are the two prominent media outlets that always criticize President Duterte's every move – Rappler and Vera Files. Why were they assigned as gatekeepers? I think the politicizing question becomes very very confused.)
In response, Rappler said it was Facebook itself that exposed the Chinese network linked to the senator.
Rappler also said there is proof of lies spread by the Marcos propaganda network. (READ: Networked propaganda: False narratives from the Marcos arsenal)
"What Ms Marcos chose not to admit is the ample documentation of lies and dangerous claims that were spread by these networks and which served to revise Philippine history and promote her family," Rappler said in a statement.
"It was Facebook itself, not its local fact check partners, that exposed Chinese influences operations in its September 22, 2020 takedown of pages that focused on the Marcoses and the senator in particular."
"Rappler's only agenda here is the truth. We hope that Senator Marcos and her colleagues share the same agenda as they conduct these hearings."
In November 2019, Rappler published an investigative series detailing how the Marcoses use social media to spew lies and sanitize the image of the family. (READ: Networked propaganda: How the Marcoses are rewriting history)
At the time, Rappler "exerted all efforts to get the Marcos camp to comment" but to no avail. (READ: Networked propaganda: How the Marcoses are using social media to reclaim Malacañang)
Former Cambridge Analytica employee-turned-whistleblower Brittany Kaiser also revealed that former vice presidential candidate Bongbong Marcos approached the highly-scrutinized political data company to "rebrand" the family's image on social media. – Rappler.com