There is no certainty if President Duterte is the target of the investigation, as the ICC notes these could also be 'regional or even local organs of the State'
President Rodrigo Duterte's officials, both past and present, be warned – the International Criminal Court (ICC) Office of the Prosecutor (OTP) has entered a stage of seeking evidence to request summonses, or warrants of arrest.
The ICC's pre-trial chamber (PTC) 1 announced Wednesday night, September 15, that it has authorized an investigation into killings, not only in Duterte's bloody drug war, but also killings in Davao City by the alleged Davao Death Squad (DDS) when the President was still mayor and vice mayor there from 2011 to 2016.
In the investigation stage, newly-elected Prosecutor Karim Khan will be the one to request any summons or arrest warrant, and to do that, he will have to find evidence of a higher threshold than what his predecessor Fatou Bensouda has submitted so far.
"The prosecutor needs the PTC authorization to start collecting evidence and building cases to satisfy the higher evidentiary threshold for an arrest warrant," Param Preet Singh, international law expert and associate director of Human Rights Watch (HRW) international justice program, told Rappler in a message Wednesday night.
The request to collect evidence was granted with the pre-trial chamber's decision Wednesday to open the investigation, Singh said.
Whoever the arrest warrant is issued against can be assumed to be the one who will be put on trial.
Lower-ranked officials not spared
Will it be Duterte? It's hard to tell, but Singh noted: "Well, he is mentioned 17 times in the decision [of the pre-trial chamber]."
Bensouda made strong allegations in her request, most of which were affirmed by the pre-trial chamber, that Duterte enabled an apparent state policy not only to commit extrajudicial killings, but to also cover them up.
The pre-trial judges said Bensouda has sufficiently established reasonable basis to believe that crimes against humanity were committed in the drug war and in Davao City, noting that "Duterte has publicly encouraged extrajudicial killings in a way that is incompatible with a genuine law enforcement operation."
But the pre-trial judges also said in the decision that the apparent state policy of killing can also involve lower-ranking officials.
"While the term 'State' is self-explanatory, for a 'State policy' to commit an attack, the policy does not necessarily need to have been conceived 'at the highest level of the State machinery'. Hence, a policy adopted by regional or even local organs of the State could satisfy the requirement of a State policy," said the pre-trial chamber's decision.
In Bensouda's request to the pre-trial chamber, she named Duterte's drug war architect, Senator Ronald "Bato" dela Rosa and former justice secretary Vitaliano Aguirre II.
The pre-trial chamber said they have in possession "391 discrete items [which] material include official sources, such as Philippine National Police reports, including operational reports in specific relevant cases, internal instructions and operating procedures, public documents emanating from the Philippine Drug Enforcement Agency and the Presidential Office, as well as documents emanating from the Senate of the Philippines."
"At the end of the day, it depends on the available evidence and whether it's enough to seek not just an arrest warrant, but a conviction," said Singh.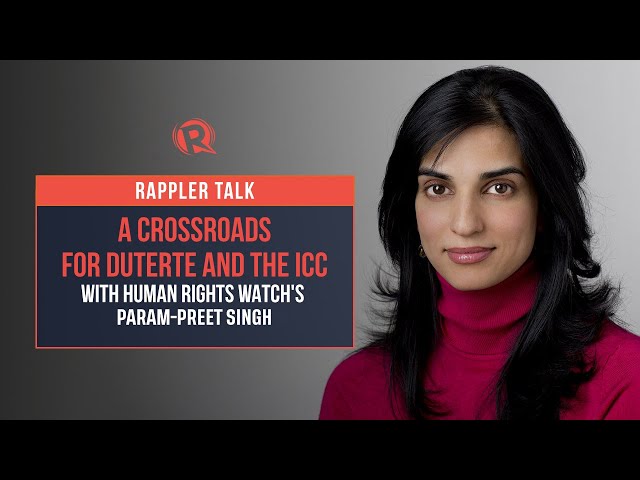 'There is always a time for everything'
This would be a challenge as Singh noted there have been "several multi-year investigations that have not yet yielded public results as of now."
"The ICC prosecutor's office should look for ways to expedite investigations across the board, but at the same time, these are complicated situations and the office's resources are stretched thin," said Singh.
National Union of Peoples' Lawyers (NUPL) president Edre Olalia, who is part of the legal team assisting Rise Up, a group of mothers and wives of drug war victims, said "We hope this is the beginning of the end to impunity. "
"No one should be invincible and infallible. There is always a time for everything," said Olalia.
"The International Criminal Court's decision to open an investigation into brutal crimes in the Philippines offers a much-needed check on President Rodrigo Duterte and his deadly 'war on drugs,'" said Carlos Conde, HRW's senior Philippines researcher.
– Rappler.com