The oil spill puts at risk over 30 marine-protected areas in Oriental Mindoro, and threatens the province's fishing industry
ORIENTAL MINDORO, Philippines – The province of Oriental Mindoro declared a state of calamity in 76 coastal barangays across nine municipalities, in the wake of the oil spill from MT Princess Empress which sank off Naujan town (originally reported to have happened in Romblon) on February 28.
Governor Bonz Dolor said the provincial board approved his recommendation on Monday, March 6.
These coastal villages are in:
Naujan
Pola
Pinamalayan
Gloria
Bansud
Bongabong
Roxas
Mansalay
Bulalacao
These comprise more than half of Oriental Mindoro, which has 14 municipalities.
A state of calamity declaration would allow the provincial government to tap into calamity funds from the national government, and put in place a price freeze on basic goods, among other things.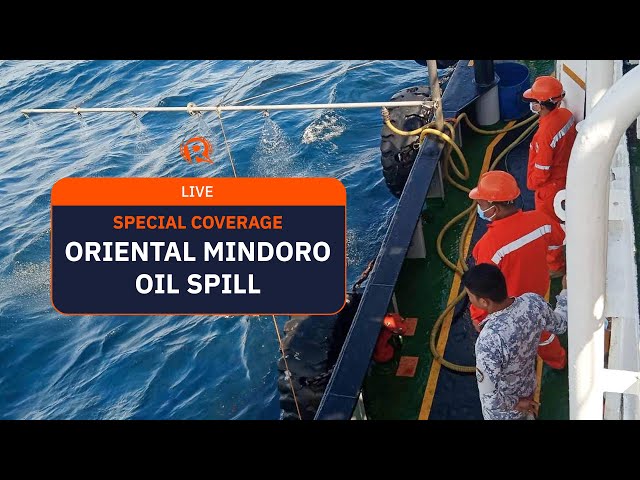 The oil spill has put at risk more than 30 of Oriental Mindoro's marine-protected areas, and has impacted other provinces, such as Antique in Western Visayas.
Dolor previously said the incident could hurt the province's fishing industry, resulting in lower production and even the need to import.
The spill also threatens mangroves, which protect coastal communities from high sea waves during typhoons.
Authorities have issued an advisory against consuming water in areas affected by the disaster.
Health officials have also urged residents near oil spill-affected areas to wear face masks, and advised them not to collect oil from the shoreline without using personal protective equipment. (READ: FAST FACTS: Health risks humans face when exposed to oil spills)
The oil spill occurred after MT Princess Empress sank on February 28, bringing down with it 800,000 liters of industrial oil.
Authorities have yet to map the total damage, but the environment department has said the cleanup might take years. – Rappler.com