(UPDATED) Presidential Spokesman Harry Roque declares that Filipinos are ready to suffer from the EU Parliament's response to human rights abuses under President Duterte's watch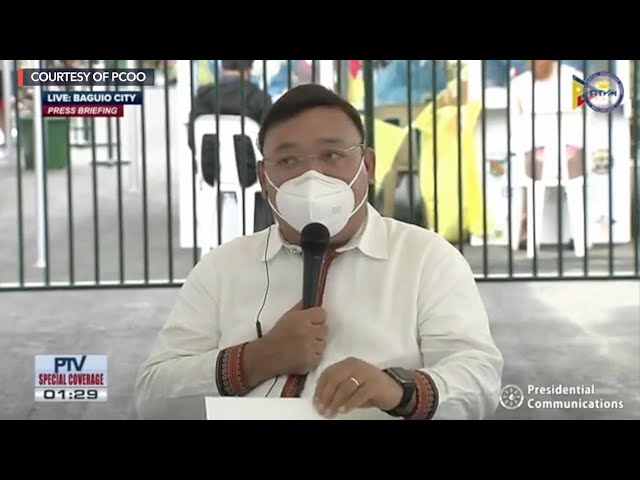 Malacañang dared the European Union to "go ahead" and revoke the Philippines' Generalized Scheme of Preferences Plus (GSP+) status, which provides tariff perks for some 6,000 Filipino goods.
Hours earlier, the European Parliament called on the revocation of these perks if the Duterte administration fails to answer for human rights abuses.
"Tama na 'yang diskusyon. Gawin na nila ang gusto nilang gawin sa mga panahon na ito. If they want to implement it, go ahead," fumed Presidential Spokesman Harry Roque on Friday, September 18, in a virtual press briefing.
(Stop the discussions. They should do what they want to do during this time. If they want to implement it, go ahead.)
"I'm sorry I'm being very undiplomatic in my answer but what else can I say? At the time of a pandemic, they're threatening us. Susmaryosep, what else do we lose?" he added.
Roque was asked if the Duterte administration would exert any efforts to prevent the suspension of GSP+ given its potential impact on the Philippine economy, now on its knees because of the coronavirus pandemic.
The GSP+ ensures that 6,200 Philippine products can enter the EU free of tariffs. The EU is the country's 4th largest trading partner.
But the Palace took on a defeatist stance, saying there's nothing they can do.
"Kung gusto po nila 'yan, wala po tayong magagawa. Hayaan po natin panoorin nila na lalong maghirap ang sambayanang Pilipino," he said, painting the EU as the bad guy.
(If they want to do that, we can't do anything. Let them watch as the Filipino nation suffers.)
'Filipinos ready for more suffering'
Roque even brought up the abuses of Filipinos during the colonization of Spain, an EU member. He said Filipinos are ready for more hardships.
"Dahil tayo naman pong mga Pilipino, 300 years na po tayong naghirap sa ilalim ng isang European country. Umuulit lang naman po ang kasaysayan. Tatanggapin po 'yan ng Pilipino pero tayo po ay makakaahon taas-noo kahit ano'ng gawin ng ating mga colonial masters," said Duterte's spokesman.
(We Filipinos, we suffered under a European country for 300 years. History is merely repeating itself. The Filipino will accept these hardships but we will rise with heads held high no matter what our colonial masters do.)
Amid Roque's bluster, Philippine Trade Secretary Ramon Lopez took a more diplomatic approach in his response, saying an inter-agency working group sees to it that Philippine officials address issues raised by the European Commission.
"The EU Commission has a mechanism in place and process to follow to verify issues before sanctions are imposed. So far, we are able to explain objectively the Philippines side on issues that are raised and we don't see any reason why our GSP+ privilege will be withdrawn," he said on Friday.
Duterte gov't not powerless
But Roque is wrong in saying the Duterte government is powerless to save Philippine products and businesses covered by GSP+.
The EU Parliament said the GSP+ revocation should only happen if the Duterte government is unwilling to cooperate with international probes into the campaign against illegal drugs, human rights abuses, and threats to journalists.
So if the government were to actively engage with EU bodies that wish to investigate Duterte's controversial drug war and his crackdown on critics and media, the GSP+ revocation will likely not happen.
But asked by Rappler if the government would do this, Roque said there was "no need."
"Our democracy can be seen by all… Everything is public knowledge, we have real numbers. We are not hiding anything," said Roque.
Despite this claim, groups like the United Nations Human Rights Council, officials like UN rapporteurs, and the EU Parliament cite drug war and human rights figures that belie the official numbers of the Duterte government.
To resolve these discrepancies, UN rapporteurs have requested to conduct their own investigations in the Philippines. President Rodrigo Duterte, however, has blocked all such probes. He has even ordered police not to cooperate with the Philippines' own Commission on Human Rights in their investigation into the extrajudicial killings.
Duterte sees probes by international bodies and demands linked to human rights as foreign interference.
The EU Parliament's resolution is not a sudden development. Way back in 2017, the body had already warned of the possible revocation of GSP+ privileges.
The EU grants this trade incentive only to countries that have ratified "27 core international conventions on human and labor rights, environmental protection, and good governance."
'Case of misinformation'
As to the calls of the EU Parliament for the government to drop charges against Rappler CEO Maria Ressa and its condemnation of the ABS-CBN shutdown, Roque said the European lawmakers are being misled by "enemies" of Duterte.
"This is a classic case of misinformation. Unfortunately, the enemies of the Philippines, including the CPP-NPA, have a strong influence on Europe," said Roque in Filipino.
Attributing all criticisms against the government to the Communist Party of the Philippines and its armed wing New People's Army is a common trope of Malacañang's. – Rappler.com