The Office of the Ombudsman says there's no bad faith in a Manila police station's act of detaining people in a dark, cramped space behind a bookshelf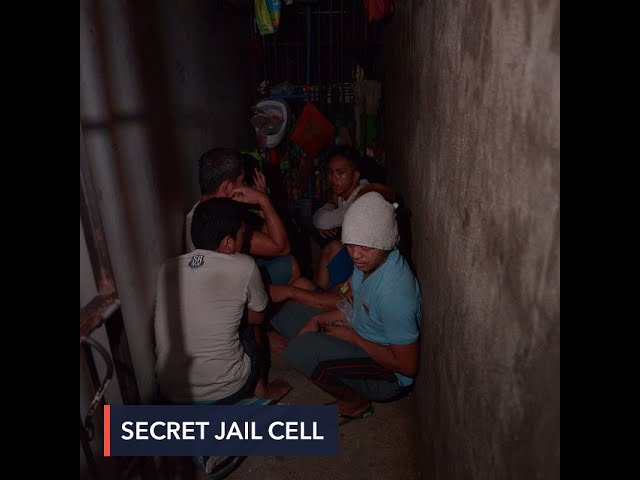 Local policemen of Manila have been cleared of any criminal and administrative liability for detaining people in a dingy secret cell discovered in April 2017 by the Commission on Human Rights (CHR).
The Office of the Ombudsman said there was not enough proof of bad faith on the part of the Manila Police District (MPD) Raxabago Station 1 in holding 12 people in a dark, narrow space behind a bookshelf where there was no ventilation.
"There is no showing that respondents did so in bad faith. Since the burden of proof lies with the CHR, it was incumbent upon said office to prove that there was another available confinement area which is better than the one where said detainees were locked up, but that respondents intentionally and maliciously refused to accord them such," said a 9-page resolution approved on December 22, 2020, by Deputy Ombudsman Cyril Ramos, a copy of which was recently obtained by Rappler.
"Wherefore, the criminal and administrative cases against all respondents are dismissed," said Ramos' resolution.
Ramos is the Deputy Ombudsman for the Military and Other Law Enforcement Office (MOLEO), who has been handling all complaints against law enforcement, particularly those related to the war on drugs.
Ramos dismissed all complaints against the station commanders of Raxabago, which were arbitrary detention, grave threats, grave coercion, extortion, maltreatmeant of prisoners, and even the administrative complaint of grave misconduct.
The CHR, which made a surprise visit to the station to bust the cell on April 27, 2017, and was accompanied by reporters and photojournalists, called the cell "cramped, dingy, and fetid" and alleged that detainees urinated and defecated in plastic bags.
Former station commander Superintendent Robert Domingo had told the Ombudsman that "the holding room has sufficient lighting, ventilation, water supply, and urinals." (Domingo is now a Lieutenant Colonel under the new police ranks)
The CHR confirmed that it filed a Motion for Reconsideration (MR) on February 1, 2021. The MR is still unresolved.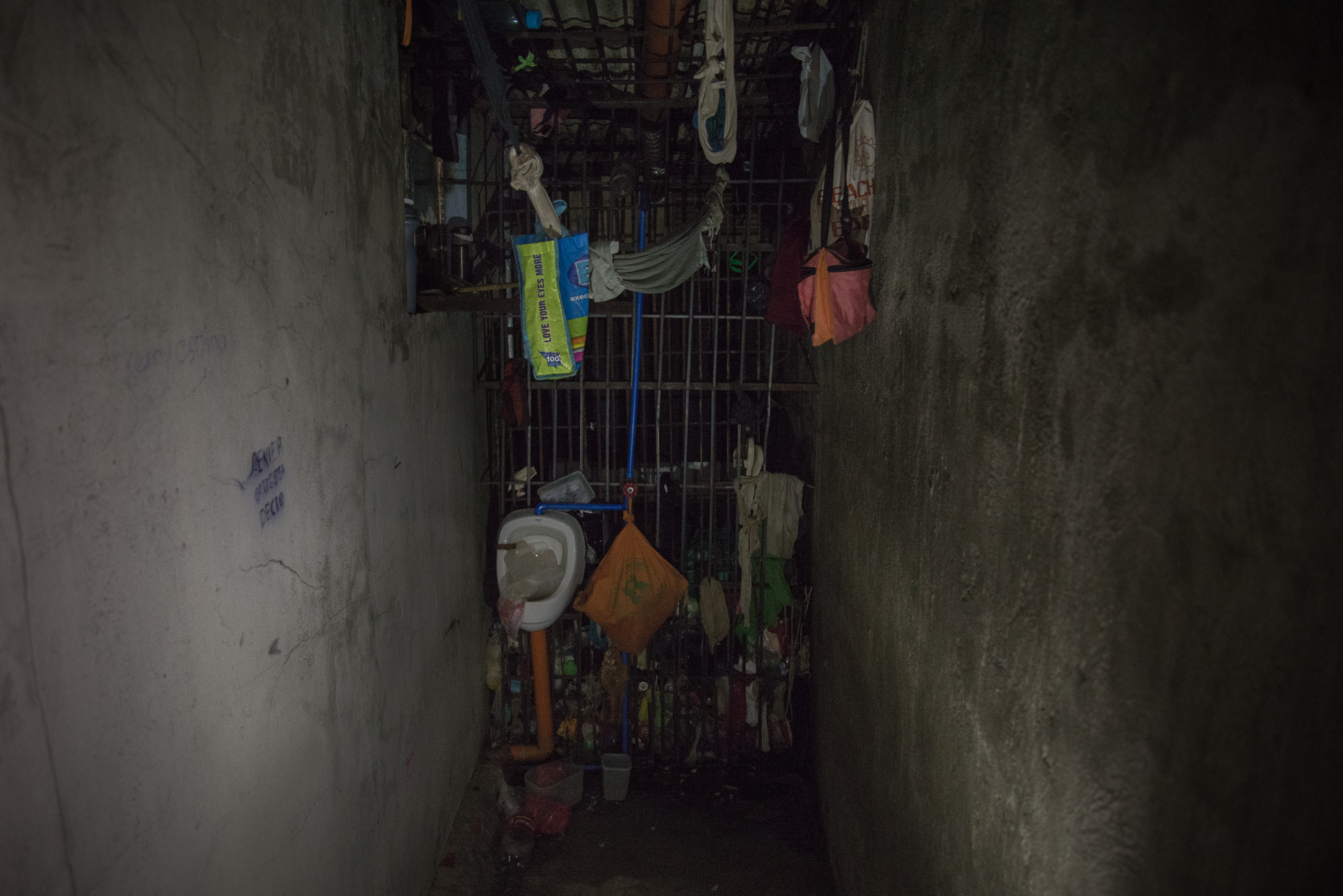 Separate entrance?
Domingo, and fellow respondents Police Officer 2 Dylan Lola Verdan and Police Officer 1 Berly Apolonio, said the cell was not "secret" because it has a visible separate entrance from Capulong Street.
The CHR was able to bust the cell by knocking on a bookshelf inside the small office of the station's Drug Enforcement Unit (DEU).
"The CHR failed to sufficiently controvert the claim that the DEU has a separate ingress along Capulong St. and that the shelf also served as wall or partition," said Ramos' resolution.
Photos and videos do not lie, said CHR Protection Cluster chief Jasmin Regino.
"Makikita mo parang dead end na eh, kasi kung makikita mo na kung may pasukan 'yan edi sana may ventilation na papasok, hangin na papasok, wala," Regino told Rappler podcast Kriminal.
(You can see that it's a dead end. Because if it has another entrance, there should have been ventilation, or air that can come in, but there's none.)
Domingo justified that their station cell can only hold 40, but when the CHR came, they were already in custody of 78.
"PSupt Domingo claims that budget constraints forced them to be resourceful," said the resolution.
One of the laws cited by CHR in its complaint filed back in May 2017 is Republic Act No. 9745 or the Anti-Torture Act, Section 4(b)(3) of which prohibits "confinement in solitary cells or secret detention places."
The CHR also cited Article 235 or maltreatment of prisoners.
"As to the allegations of maltreatment of prisoners, violations of RA 9745 and Philippine National Police (PNP) Operation Procedure, grave threats, grave coercion, and robbery/extortion, the same are not supported by independent, impartial, and credible evidence," said Ramos' resolution.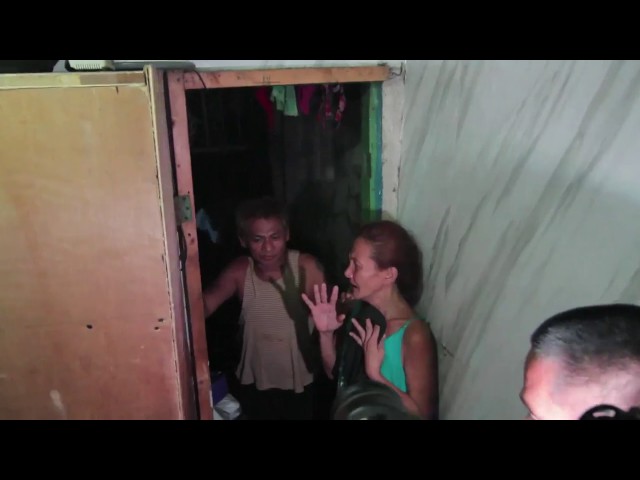 Beaten up and extorted for money?
The CHR claimed that some detainees were beaten up and were asked to pay the cops P12,000 to P50,000 for their release, which were their basis for filing a complaint for extortion.
Regino said they also submitted reports, including psychological assessments, that show "trauma, swelling, and physical infliction of pain."
However, the policemen were able to get declarations from the detainees that there was no torture, inhumane treatment, and extortion that happened.
Shortly after the surprise visit, some detainees retracted their initial statements to the media, such as one woman who later on denied having said that she was being asked for money.
The arbitrary detention complaint was based on Article 125 of the Revised Penal Code that provides only up to 36 hours of detention before they should be brought to court.
When CHR found the cell, none of the detainees had been inquested yet, although some of them claimed to have been detained for a week.
The policemen said they were all just caught either that afternoon or the day before in a one-time-big-time operation, and were being prepared for inquest.
"The CHR failed to establish probable cause against respondents for the crimes of arbitrary detention, and delay in the delivery of detained persons to the proper judicial authority," said the resolution.
Ramos' resolution was not too exhaustive, devoting only 3 of the 9 pages for explanation of his decision. Before it got to Ramos for approval, the resolution was signed July 28, 2020 by Graft Investigation and Prosecution Officer Myra Dela Rama-Gargaceran, Preliminary Investigation and Administrative Adjudication Bureau-C Acting Director Dyna Camba, and MOLEO Acting Assistant Ombudsman Dennis Garcia.
Ramos will retire on May 6. The Judicial and Bar Council has started accepting applications for the MOLEO post, as President Rodrigo Duterte is set to pack the entire slate of the Ombudsman leadership with his appointees. – with reports from Rambo Talabong and Jodesz Gavilan/Rappler.com