The action to protect lawyers 'starts with the Supreme Court, it cannot come from anyone else,' says former SC spokesperson Ted Te
The high number of lawyer killings in the Philippines has cast a shadow on the nearing retirement of Chief Justice (CJ) Diosdado Peralta, as demands grow for the Supreme Court to take more definitive action.
"Maraming maaaring gawin in one week. Baka gusto ni CJ Peralta na kasama sa valedictory n'ya na let's protect our lawyers (There's a lot that can be done in one week, maybe CJ Peralta would want this to be part of his valedictory)," former Supreme Court spokesperson Ted Te said on Rappler Talk on Tuesday, March 16.
Peralta retires on March 27, a year earlier than required. "Valedictory" refers to a tradition in the Supreme Court where retiring justices are indulged with an act to conclude their term in the Court.
The University of the Philippines (UP) College of Law also sent a letter to the Supreme Court on Tuesday urging it "to intervene motu proprio" or on its own.
"Never in the history of our country has there ever been such an open and flagrant attempt to cow the legal community into shirking their sworn duties…Protect the officers of the Court. Ensure the independence of the judiciary," said a letter signed by law school professors and other lawyers.
New consolidated data show that 61 lawyers were killed in the 5 years of President Rodrigo Duterte, compared to 49 lawyers killed in a span of 44 years from former presidents Ferdinand Marcos to Benigno Aquino III.
'It starts with the Court'
Although the Supreme Court is a passive institution, it has the constitutional power to administer over the judiciary and to promulgate new rules.
These are powers the Supreme Court can invoke to address the killings, said Te.
"It starts with the Court, it cannot come from anyone else, it has to start with the Court, the Court has to send a clear signal, and when the Court sends that signal, hopefully it can back it up with its ascendancy to say this is the 3rd branch of government and we are acting to protect our officers," Te said.
The SC's Office of the Court Administrator has asked lower court judges to do an inventory of the cases related to attacks on lawyers. And while that is a good first step, Te said it "might not be reasonable" to burden lower courts already unsettled with pandemic disruptions.
Te said the Supreme Court can consider allotting its own manpower for this, or even subcontracting. It can also be more creative, said Te.
"Let's not just stick to what we know, but let's think of something because maybe this requires an extraordinary measure. 61 lawyers in a span of 5 years is not an ordinary number," said Te.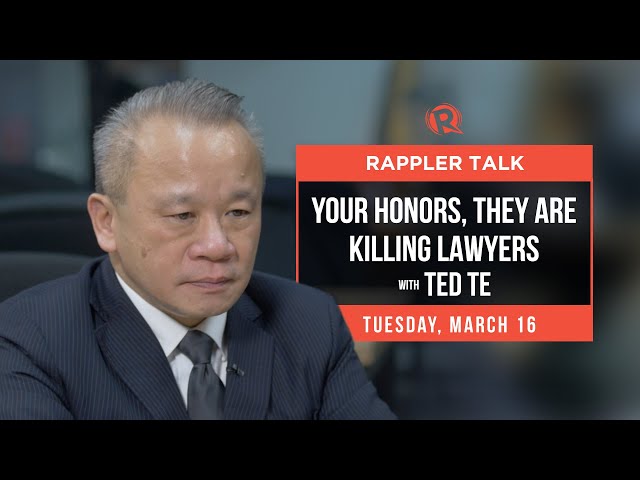 Peralta can step up
The Chief Justice is only one vote in a bench of 15 but Te said "in a very real sense, the Chief Justice leads the Court."
Te compared it to when former chief justice Reynato Puno convened an "extraordinary summit" in 2007 to address killings of activists. The result of that summit was the promulgation of the rules on extraordinary protective writs like amparo and habeas data, which Court Administrator Midas Marquez said, Peralta would review.
"The Chief Justice can set the direction for the Court...kung ano 'yung pananaw n'ya, chances are, 'yung korte susunod eh, kung kaya niyang makuha ang buy-in ng en banc. Doon mo makikita paano nagkakaroon ng pagkakaiba, depende kung sino 'yung chief justice na nakaupo," said Te.
(Whatever his view is, chances are the Court will follow if he can have the buy-in of the en banc. That's where you can see the difference, depending on who is sitting as chief justice.)
And while Peralta only has one week left, "he has one week to start, and once it has started, it can be continued," said Te.
Whoever is appointed chief justice after Peralta must address this issue right away, said Te.
The Judicial and Bar Council (JBC) only passed upon this issue during the public interviews for chief justice, when Associate Justice Ramon Paul Hernando said lawyers can always ask for police escorts.
A study by the Free Legal Assistance Group (FLAG) shows that at least 4 in the 61 killings involved policemen as perpetrators.
So there would always be mistrust, but it's for the Supreme Court to strike that perfect balance, said Te.
The Supreme Court works with the police through the Justice Sector Coordinating Council (JSCC), which met last week but did not talk about issue.
Peralta also made no mention of this in a speech during a special flag-raising ceremony at the Rizal Park this week.
Whose fault is it?
Justice Secretary Menardo Guevarra said that it's difficult to connect Duterte to the high number of killings, saying that lawyering has always been dangerous no matter who the president is.
"To say that lawyering is an inherently dangerous profession, I'm not sure where that comes from, maybe I'd agree if he would say lawyering has become a dangerous profession, and then maybe I would ask, kaninong kasalanan 'yun (whose fault is it)?" Te said.
Duterte, a lawyer himself, has been called on to also condemn the killing of lawyers but the president has remained mum.
Te said the pressure should be on the Supreme Court, more than Duterte, saying, "Kung may mandato na pangalagaan ang mga abogado, dapat ang Korte Suprema (if there's a mandate to protect lawyers, it should be on the Supreme Court)."
"We need to start saying, look, there needs to be something that can be done and that has to start with people who are professional enough to say, look may mga linya na hindi dapat natin tinatawid (there are lines you do not cross)," said Te. – Rappler.com