'It's the ultimate distortion of IPRA - to use a law designed to protect IPs to try to crush their schools and communities,' says legal expert Tony La Viña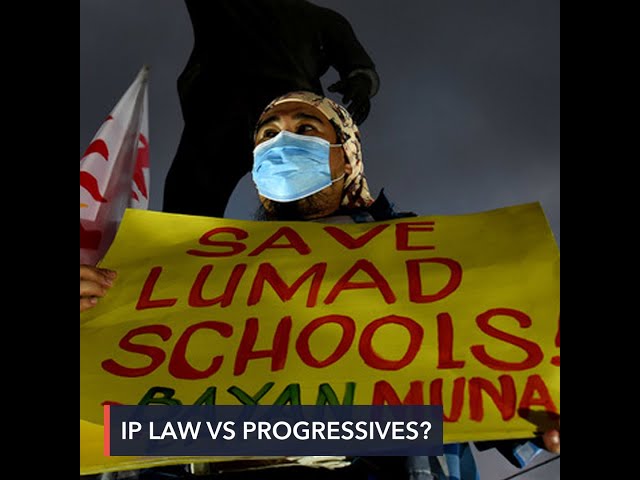 The National Task Force to End Local Communist Armed Conflict (NTF-ELCAC) will explore the Indigenous Peoples' Rights Act (IPRA) to sue more progressives it perceive to be "exploiting" IPs.
"I would like to explore the idea of punishing people for cultural violation because they are the foremost vulnerable in this particular fight," NTF-ELCAC spokesperson Marlon Bosantog, a lawyer, told Rappler's Law of Duterte Land Podcast.
Bosantog's regular designation is regional director for Caraga and the Cordilleras for the National Commission on Indigenous Peoples (NCIP).
Bosantog earlier said that they would file new complaints under IPRA against the teachers and volunteers who were rounded by the police in a raid of Lumad Bakwit Schools at the University of San Carlos-Talamban Campus (USC) in Cebu City last February. The cops called the operation a "rescue."
These teachers and volunteers were recently cleared of kidnapping suits by a Davao prosecutor because of lack of jurisdiction.
"There's a bundle of rights [under IPRA], the right to self-governance, the right to stay in their territories, the act of removing them in their ancestral domain is already a violation of IPRA," said Bosantog.
Section 7(c) of IPRA affords IPs "the right to stay in the territory and not to be removed therefrom."
Legal expert Tony La Viña said this is a misunderstanding "and total distortion of IPRA."
"He obviously does not know his law (IPRA) and the Lumad schools. IPRA allows and in fact encourages indigenous peoples' to establish their own schools," La Viña told Rappler on Friday, May 28. La Viña is a counsel to the petition filed by IPs against the anti-terror law.
'Bakwit' Lumad schools are an alternative learning setup where Lumad children from militarized areas who do not have access to regular schools get their education in a safer, and more conducive space to learning.
La Viña said they possess affidavits of consent from the parents of students.
"There is such a thing as the right to travel and abode for all citizens. As long as the students had the consent of parents, and we have their affidavits of consent, they have that right," said La Viña.
"It's the ultimate distortion of IPRA – to use a law designed to protect IPs to try to crush their schools and communities," said La Viña.
Using law to 'terrorize'
Bosantog said that these cases will be filed after the Supreme Court decides on the anti-terror law. (READ: NTF-ELCAC to go 'full blast' on legal offensives after anti-terror law oral arguments)
"It is really a part of the strategy of the legal cluster to actually file a lot of cases, all of these cases, I think you will probably see months from now the cascade of cases," Bosantog said.
"We look at the political climate, the legal climate right now, whether it's a winnable climate," added Bosantog.
Edre Olalia, president of the progressive National Union of Peoples' Lawyers (NUPL), said this is proof of a state policy to weaponize the law against activists.
"Isn't this a clear demonstration that you are terrorizing people by the threat of this cascade of, may I just add, false or trumped up charges?" Olalia told Rappler.
'Test the waters'
So far, the crimes that activists have been charged and tried of are murder, illegal possession of firearms and explosives, kidnapping and trafficking.
A recent attempt to sue progressive leaders under the International Humanitarian Law (IHL) for recruiting minors to join hostilities has failed at the Department of Justice (DOJ), but Bosantog said they would appeal that dismissal all the way.
"A lot of what we are trying to infuse into the judicial system are novel in character. We're not yet seeing in our country radicalization as a crime. We do not yet see the patterns and layerings of terrorism activities, so I think, it's quite expected that there will be cases that will be dismissed, but we will recalibrate our strategies," said Bosantog.
Olalia said this is part of a government strategy to "test the waters, to see what the reaction of the public will be, the civil society, the international community."
The antidote to this, Olalia said, would be clearer and more legal victories.
"It must increase and must be more consistent," said Olalia, referring to a recent clash of different lower courts over the same facts and events involving 7 activists arrested on Human Rights Day last December.
But what could make rulings more consistent if all lower courts are equal and cannot impose on one another?
"There are ways, like what we told in our letter to the Supreme Court, we had proposals and part of that is to address the possibility of divergent rulings of co-equal courts," said Olalia.
– Rappler.com