(2nd UPDATE) The government's anti-communist insurgency task force says concerned citizens first alerted them about a photo of Patricia Non with a raised fist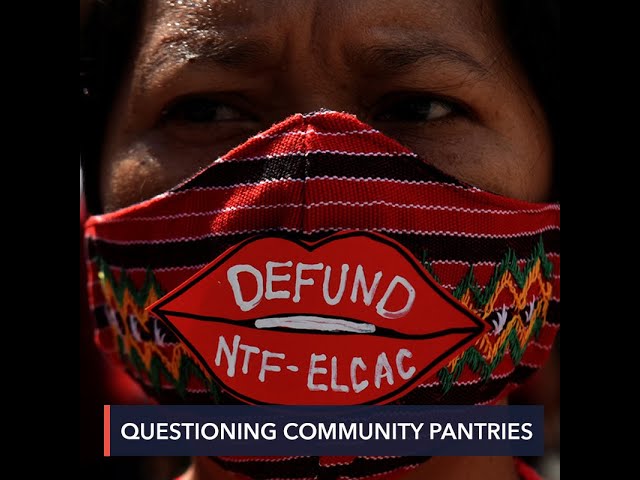 In another attempt to question the background of Maginhawa Community Pantry's Patricia Non, the National Task Force to End Local Communist Armed Conflict (NTF-ELCAC) said it was concerned over a photo of her raising a clenched fist.
During a hearing on community pantries led by the House committee on human rights on Wednesday, May 19, Undersecretary Severo Catura, one of the new spokespersons of the NTF-ELCAC, claimed there were civilians who questioned Non's photo.
"Tao po ang nagreklamo, hindi gobyerno…. Ni-raise nila ang issue na tumaas ang kamao (It was the people, not the government, who raised the issue on a photo of her raising her fist in the air)," said Catura, an undersecretary for the Presidential Human Rights Committee Secretariat. He represented fellow spokesperson Lorraine Badoy, who missed the House hearing because of an activity in Davao Del Norte.
Catura made the statement after Kabataan Representative Sarah Elago called him out for noting earlier in the hearing that the NTF-ELCAC saw photos of Non on social media with a raised fist.
Earlier in the hearing, Catura disputed the statement of Agusan del Norte 1st District Representative Lawrence that Non did not promote her community pantry, and that it went viral when people and the media took and shared photos of the pantry.
"I would like to dispute ko lang ang sinabi ni Congressman Fortun na walang publication. Sa totoo lang, meron tayong mga nakita tayong pictures sa social media na nakataas kamao pa 'yung si Patricia Non," Catura said.
(I would like to dispute what Congressman Fortun said that there was no publication. In truth, we saw photos on social media where Patricia Non even raised her fist.)
To this, Elago said: "Malaya po ang ating kababayan as long as hindi gumagawa ng krimen. Dahil lang may litrato siya na nakataas-kamao, ibig sabihin ba natin na binibigyan natin ng katwiran [ang red-tagging]?"
(Our countrymen are free to raise their fist in the air as long as they are not committing a crime. Do we justify red-tagging just because Non has a photo of her with her fist raised in the air?)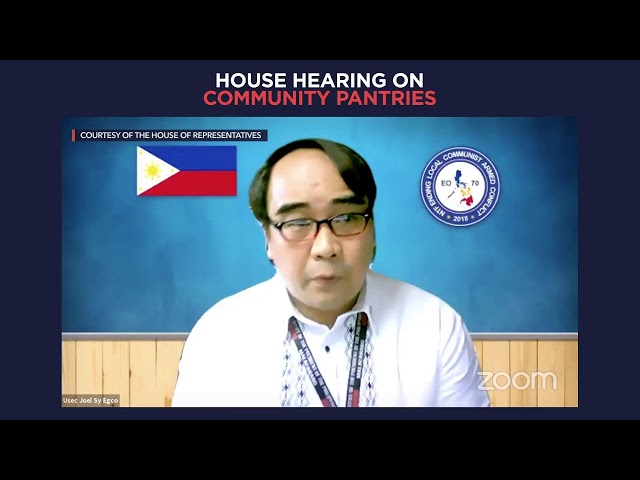 Catura said in response to Elago that not all people are happy with community pantries, as shown by how the NTF-ELCAC received "complaints" from concerned citizens.
"I think we overestimate naman ang capacity ng mga tao natin na magreklamo. Para bang lahat na lang nang naseserbisyuhan ng community pantry ay pabor sa ginagawa ng mga organizers (I think we overestimate the capacity of our people when it comes to complaining. It's as if everyone served by community pantries favor what the organizers are doing)," he said.
Catura, who reiterated that the NTF-ELCAC did not red-tag anyone, said his "heart ached" when the concerned citizens raised the issue of Non's raised fist, since he used to chair an activist group when he was a student at the University of the Philippines.
"Alam na alam ko po 'yan. Ako'y naggaganyan din sa kalsada (raises his fist), ganoon din. Kaya nalulungkot po ako na 'yung dati nating adhikain na pagiging aktibismo, ginawan na ng iba ng narrative (I know that well. I used to raise my fist in the streets the same way. That's why I'm saddened that our activist aspirations has been given a different narrative by others)," he said.
Non is also graduate of UP, where a raised fist is a common sight and not a political affiliation or belief. Non had categorically denied any communist links in a past media interview.
Community pantries 'politicized'?
Catura's statements came as he and fellow NTF-ELCAC spokesperson Antonio Parlade Jr, as well as House Senior Deputy Majority Leader Jesus Crispin "Boying" Remulla, complained about the supposed politicization of community pantries.
Catura lamented how the media highlighted the alleged government incompetence in handling the pandemic, instead of the "bayanihan" (cooperation) spirit, in reporting about community pantries.
"Mag-open po kayo ng Google, type 'nyo ang 'community pantry' (Search 'community pantry' in Google). Chances are there will be reports on the Philippines' alleged incompetence and ineptitude to address poverty, food security in the midst of the pandemic," Catura said.
Non herself said in April that she started a community pantry to fill the gaps in the government's pandemic response.
When Elago further pressed the NTF-ELCAC on the red-baiting of community pantries, Remulla chimed in and said "aiding and abetting to rebellion is a crime also."
"May mga tao na may ibang adhikain diyan sa community pantry na mayroon talagang koneksyon para pabagsakin ang gobyerno (Some people have different goals for community pantries which are connected to efforts to overthrow the government)," Remulla said.
Elago told Remulla that the courts are the proper avenue for such claims.
'Overreaction' instead of encouragement
During the hearing, Fortun came to the defense of community pantries, saying they would not have existed if people affected by the pandemic had enough food provisions.
Fortun said that the "beauty" of the community pantry movement is that such a "little initiative" inspired many people across the country and "showed the capacity of the Filipino to step up during crisis and help other people."
He asked the NTF-ELCAC for the number community pantries in the country that the task force said supposedly used the initiative to "demean the government for its failures."
"We should be very careful in messaging," Fortun said, referring to the NTF-ELCAC's general statements against community pantries. (READ: Parlade likens rapid spread of community pantries to work of 'Satan')
He noted that instead of encouraging community pantries, the NTF-ELCAC's "overreaction" caused some community pantries to suspend operations.
State forces 'just doing their job'
The Philippine National Police Human Rights Affairs Office (PNP HRAO) for its part said there was no order from the top to profile community pantry organizers.
"Iyong mga pagtatanong po ng ating pulis na nagpapatrol sa kalsada, sila po ay may katungkulan na alamin ang anumang aktibidad sa kanilang area of responsibility (It is the police's responsibility to ask questions on any activity in their area of responsibility)," said Police Brigadier General Vincent Calanoga, chief of the PNP HRAO.
Parlade also called out news outfits, including Rappler, for supposedly making a false claim that he admitted to "profiling" community organizers, even though the red-tagging activities of the NTF-ELCAC have been thoroughly documented.
Rappler's report on April 20, 2021 quoted Parlade as saying, "Alam mo, tsine-check. Marami doon eh. Ilan ba iyang naka-post sa social media? So we're just checking 'yung background ng mga 'to (You know, they're being checked. There's a lot among them. How many were posted on social media? So we're just checking the background of these people)."
On Wednesday, he vehemently denied the NTF-ELCAC's activities were tantamount to red-tagging.
"In one of my interviews, I was asked 'Bakit 'nyo nire-red-tag itong mga grupong ito? (Why do you red-tag these groups)' I said, 'No, we don't red-tag them,'" he said, arguing that the NTF-ELCAC was just merely reminding people to be careful about community pantries.
Consequences of red-tagging
Despite the government's efforts to defend itself against red-baiting allegations, the experiences of community pantry organizers speak for themselves.
Non had to pause her operations for a day in April amid fears for her volunteers' safety. Some pantries were also forced to cease operations due to alleged police profiling.
Parlade already drew the wrath of senators, who censured him in April after he called lawmakers stupid for seeking to defund the NTF-ELCAC.
National Security Adviser Hermogenes Esperon Jr also issued a gag order against him after red-tagging community pantries.
However, the government's refusal to remove him from NTF-ELCAC has disappointed critics, including Senator Panfilo Lacson, who said it was arrogant for the task force to retain Parlade as spokesperson. — Rappler.com