Senator Raffy Tulfo slams how 'reactive' Philippine authorities are in putting up Migrant Workers Offices in areas where OFWs are trafficked
MANILA, Philippines – An overseas Filipino worker (OFW) who testified being trafficked to Cambodia to work for a cryptocurrency scam operation was given genuine documents from the Philippine government that allowed him to travel to the dubious job opportunity abroad, a Senate probe on Wednesday, January 25, revealed.
In a hearing of the Senate committee on women, children, family relations and gender equality joint with the migrant workers committee, an OFW only known as "Ron" said that he was able to slip through applying for clearance documents to be an "interior designer" in Cambodia, when he understood the job he applied for was to be a call center agent. He followed the instructions of a recruiter he met online.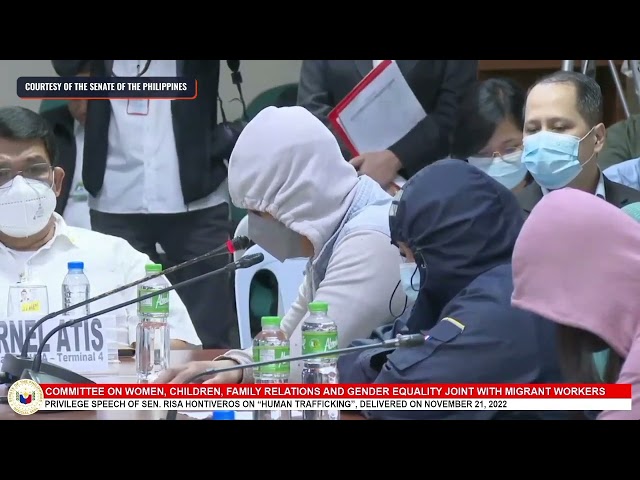 The hearing was investigating reports of OFWs being trafficked to Southeast Asian countries. In November 2022, Senator Risa Hontiveros revealed a report of OFWs forced to work as scammers by an alleged Chinese mafia in Myanmar. On January 18, Hontiveros exposed another report of OFWs brought to Cambodia to perform the same exact crypto scam.
They were forced to work long hours of befriending victims on dating and messaging apps and convincing them to invest in cryptocurrencies. They witnessed their co-workers get electrocuted by their reportedly Chinese employers. Ron said that his $800-salary was cut when he was unsuccessful in finding people to scam.
Ron was able to undergo and receive an attendance certificate for a pre-departure orientation seminar required by the Overseas Workers Welfare Administration. He was also issued an overseas employment certificate (OEC).
In the Wednesday hearing, Migrant Workers Undersecretary Bernard Olalia confirmed that Ron's documents were "genuine and authentic."
Olalia explained that the Department of Migrant Workers (DMW) had two "lines of defense" in verifying legitimate employers. The first is called "verification," where Migrant Workers Offices (MWOs, formerly known as Philippine Overseas Labor Offices or POLOs) require employers or their representatives to physically present themselves to Philippine authorities for a series of interviews. Here, they determine the employers' identity, line of business, industry, and the genuineness of the OFW's would-be position.
But not all host countries have MWOs. In areas where there are no MWOs, the first line of defense is called "authentication," where Philippine embassy or consulate officials verify the documents.
Olalia said that because there was no MWO in Cambodia, Ron's employer was not called to the embassy. But Ron did present his documents to the Philippine embassy in Phnom Penh, which were accepted.
"That is, tinatawag po nating gap (We call this a gap)," Olalia admitted. "Kaya nga po ang ating suggestion, dapat po sa lahat ng destination countries, ideally, dapat mayroon po tayong MWOs." (That's why our suggestion is, ideally, all of the destination countries of OFWs should have MWOs.)
The second line of defense is called "accreditation," where, after authentication, the Philippine post sends documents to the land-based division of DMW, where they are checked for compliance with minimum labor standards. Olalia said this was not done in Ron's case.
Hontiveros said that there should not be any gaps among government agencies, as OFWs continuously seek jobs abroad.
"Ang irony pa po, Usec Olalia, 'yung mga legit naman na kumpanya, 'yung mga legit na OFW, ang hirap daw makakuha ng OEC. Samantala itong pekeng kumpanya na sindikato, na somehow nakalusot sa verification o authentication on our side doon sa Cambodia, eh nakapagpunta at nakapagbiktima ng isang Ron, at malamang hindi lamang siya. May iba pa," said Hontiveros.
(The irony is, Undersecretary Olalia, the legitimate companies, the legitimate OFWs – some say they have a hard time acquiring OECs. Meanwhile, this fake syndicate company which was somehow able to slip past our verification or authentication processes on our side in Cambodia, were able to victimize Ron, and not just him. There are more.)
Senator Raffy Tulfo, who chairs the Senate migrant workers committee, chimed in: "Alam mo kung bakit? May pera ang sindikato eh. 'Yung mga legit, walang perang panglagay (You know why? Syndicates have money. The legitimate ones don't have money for that)."
Olalia said the DMW holds accountability as it has the mandate to protect OFWs. He reported to the senators that as soon as consul general Emma Sarne of the Philippine embassy in Cambodia found out about this modus, she "immediately" physically visited the DMW in July 2022 to report to them.
The DMW stopped all deployment to Cambodia and issued a labor advisory informing prospective OFWs that there are scam operators in Cambodia, Laos, and Myanmar.
Sarne confirmed in the hearing that there was an increase of Filipinos being illegally recruited and forced to work in online scamming activities in the kingdom. She said the embassy has facilitated the rescue of 119 Filipinos from unnamed online gambling facilities in Cambodia.
According to Sarne, the illegal recruiters used to recruit Filipinos who were already in Cambodia. But when the kingdom began loosening travel restrictions during the pandemic, OFWs began coming in as tourists availing of visa-free entry for Association of Southeast Asian Nations member-states.
"These recruiters are actually using legitimate Cambodian companies without the knowledge of these companies… to get valid OECs. There is also a case where my signature and the seal of the embassy was actually forged by these scammers," said Sarne in a mix of English and Filipinos.
'Reactive' approach
In a Malacañang briefing on January 10, Migrant Workers Secretary Susan Ople said that the department plans to put up four MWOs in 2023 in Bangkok, Guam, and two more to-be-determined areas. Apart from Cambodia, there are no MWOs yet in Vietnam, Laos, and Myanmar, despite these countries also having reported victims of human trafficking, according to the Department of Foreign Affairs (DFA).
DFA Usec Eduardo de Vega gives statistics of OFWs who have fallen victim to human trafficking in Southeast Asia since September 2022:
Cambodia – 39
Laos – 109
Myanmar – 58
Thailand – 1

OFWs were not just involved in scamming operations but online gambling. @rapplerdotcom

— Michelle Abad (@michelleabad_) January 25, 2023
Tulfo asked the DMW and DFA for a specific timetable of when the additional MWOs would be up and running. Olalia and Foreign Undersecretary Eduardo de Vega were unable to promise the offices would be up within a week or a month. But De Vega said "more realistically," within the quarter.
De Vega said that the DMW signifies their requests to the DFA to build MWOs in host countries, and the DFA brings these requests to the host governments.
Tulfo slammed how the government agencies' approach was "reactive."
"Ito, madam chair, ang problema sa atin eh. Ano tayo, reactive tayo. Dapat proactive. Kapag meron nang problema, meron nang biktima, saka tayo umaaksyon. Dapat nafo-foresee 'nyo na this could be a problem dahil walang MWO – 'Oh, maglagay na tayo, makipagusap tayo sa host country, sa Cambodia, sa Vietnam, Laos,'" said Tulfo.
(This, madam chair, is the problem with us. We're reactive. We should be proactive. When there is a problem already, when there is a victim already, that's when we take action. You should be able to foresee that this could be a problem because we don't have an MWO – [you should think] "We should put one up, we should talk to the host country, to Cambodia, to Vietnam, and Laos.")
De Vega acknowledged the urgency of putting up MWOs in the Southeast Asian countries with incidents of trafficking.
Gesturing to Olalia, De Vega asked the DMW to supply details, like the name of the prospective labor attachés, to have the new MWOs accredited. – Rappler.com