This is AI generated summarization, which may have errors. For context, always refer to the full article.
At least 50 families in Catbalogan City have appealed for postponement of a demolition scheduled in a week because they will have to wait for more than a year for permanent relocation
The city government of Catbalogan will move about 50 families in Pier Uno, Poblacion 6 to a government property in Barangay Payao within a week as part of clearing operations for a proposed reclamation project in Maqueda Bay.
But the families are asking the city to postpone the demolition as they need to wait 420 days for permanent relocation.

The families also said local officials have promised only a 30-square-meter evenly cut land as temporary shelter, leaving them with no assurance of roofs over their heads.
Local officials have encouraged families to tear the houses down on their own and reuse their old roofs in the new settlement in Payao.
"The city assessor has conducted a survey to provide markings for the temporary shelters. It will be uniformed, with a 30-square-meter cutting per area. For every cut, a comfort room would be provided to them," Project Development Officer Pablo Omar Herrera told Rappler on September 1.
Households who have not self-demolished the structures of their homes by September 20 face summary eviction, Herrera said.

Succeeding phases of the reclamation project will displace 208 more families.
Emilo Balagat, 33, said she would vacate the area only once the local government unit (LGU) fulfills its promise to provide a permanent place for her to move into.
"Diri ba unta kami basta-basta paiwason. Kun waray man gud liwat talaga hira project nga ginpapakita. Tapos mayda liwat unta mamabalhinan. Kay ansya liwat kasi an nakasurat han ira MOA nga an ira responsibility nga matindog hira hin tenement tapos financial assistance para ha amun kay nausungan kami duwa ka beses," Emilo said.
(We hope they don't drive us away especially since they still don't have a concrete project to show until now. And we still haven't found a place to move into. Plus, it's their responsibility to find one for us since it's what was written on the MOA)
City Councilor Alma Uy – one of the city officials supporting the affected families — highlighted the growing concern over the absence of a permanent relocation center.
"Aada kita yana ha pandemya. Diri ada makatarungan an basta hira palayason. Waray na ngani haros tuhay nga makaon tungod han kakuri nga dara han pandemic," Uy wrote in a Facebook post.
(We are in the middle of a pandemic. I don't think it is right to force them to move out of their homes. Most of them are already struggling to make ends meet due to the ongoing threats of the pandemic)
P288-million housing project
The city, with the National Housing Authority (NHA), will build a P288-million project comprising six buildings with 360 condo-style units each. Construction will begin in October.
The city expects to complete the project in 420 days. Until then, affected families will be forced to live in makeshift shelters made of materials from their old house structures.
Families who agreed to avail of a unit will also have to pay P800 a month or approximately P26 per day for 30 years.
Herrera said the offer is cheaper compared to apartments and houses for rent in Catbalogan City proper, where rates average between P5,000 to P10,000.
The provincial government of Samar also plans to build NHA-funded housing projects in five other towns, including one in a 6th class municipality. Each unit will have a 50-square-meter area and cost around P500,000.
Pier Uno families received on July 27 a notice signed by Mayor Dexter Uy. It asked them to vacate the area in 60 days or face a legal battle and possible use of force.
"Kahuman hito nga petsa in mapipiritan an ciudad paggamit hin legal nga pamaagi o pwersa nga pagruba para gud mapadayon ini nga proyekto nga para ha kaupayan han kadam-an," read the letter pinned on the doors of each house.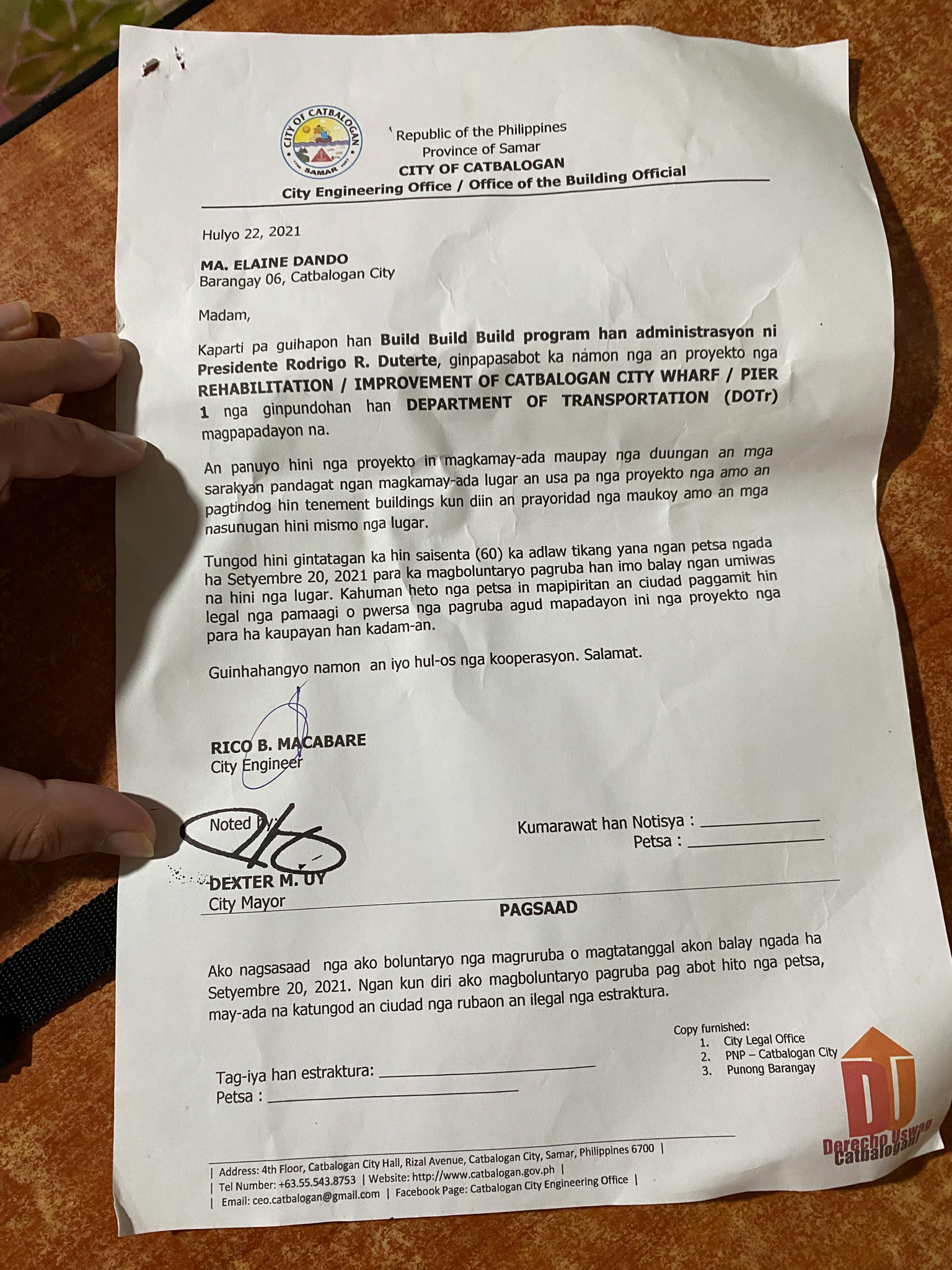 (If you do not vacate the area within 60 days, we will file legal charges against you and use force to demolish your homes to push through with the project intended to benefit the public.)
Armed men from the Catbalogan Law Enforcement Auxiliary Unit or CLEAU) had already stormed the area on May 28, 2020. More than a dozen CLEAU members arrived early morning and started breaking down posts and walls of houses facing the wharf.
An uproar on social media forced the city government to halt clearing operations.
Department of the Interior and Local Government (DILG) Undersecretary Epimaco V. Densing III issued Uy a show cause order a month after, citing a complaint about alleged wrongful demolition and social media videos of houses being torn down.
The order said that demolitions require "adequate consultations on the matter of settlement with the duly designated representatives of the families to be resettled and the affected communities in the areas where they will be relocated." 
A representative from the local government of Catbalogan said the city has since responded to the DILG and has been cleared. The city also defended the use of heavy equipment, saying it's allowed if target houses are made of concrete.
Under Republic Act 7279, demolition is allowed when persons or entities occupy dangerous areas. It also allows demolition to give way to government projects with available funding and about to be implemented.
In September 2020, the Philippine Reclamation Authority wrote to the city mayor, advising him to hold "a dialogue with all affected families/individuals for a 'win-win' compromise on the demolition stand-off."
The project plan calls for the improvement of the "existing wharf with a proposed relocation component" for victims of two fires that hit the community in 2018 and 2019.
The project – which is now at 50% close to completion – will feature a jetty port similar to the ones in Aklan. It will be part of a four-hectare reclamation project from Pier Uno and going south of Catbalogan. The city government said it includes a permanent housing project of four buildings for the homeless in Catbalogan. It will be funded by the Social Housing Finance Corporation (SHFC).
Broken promises?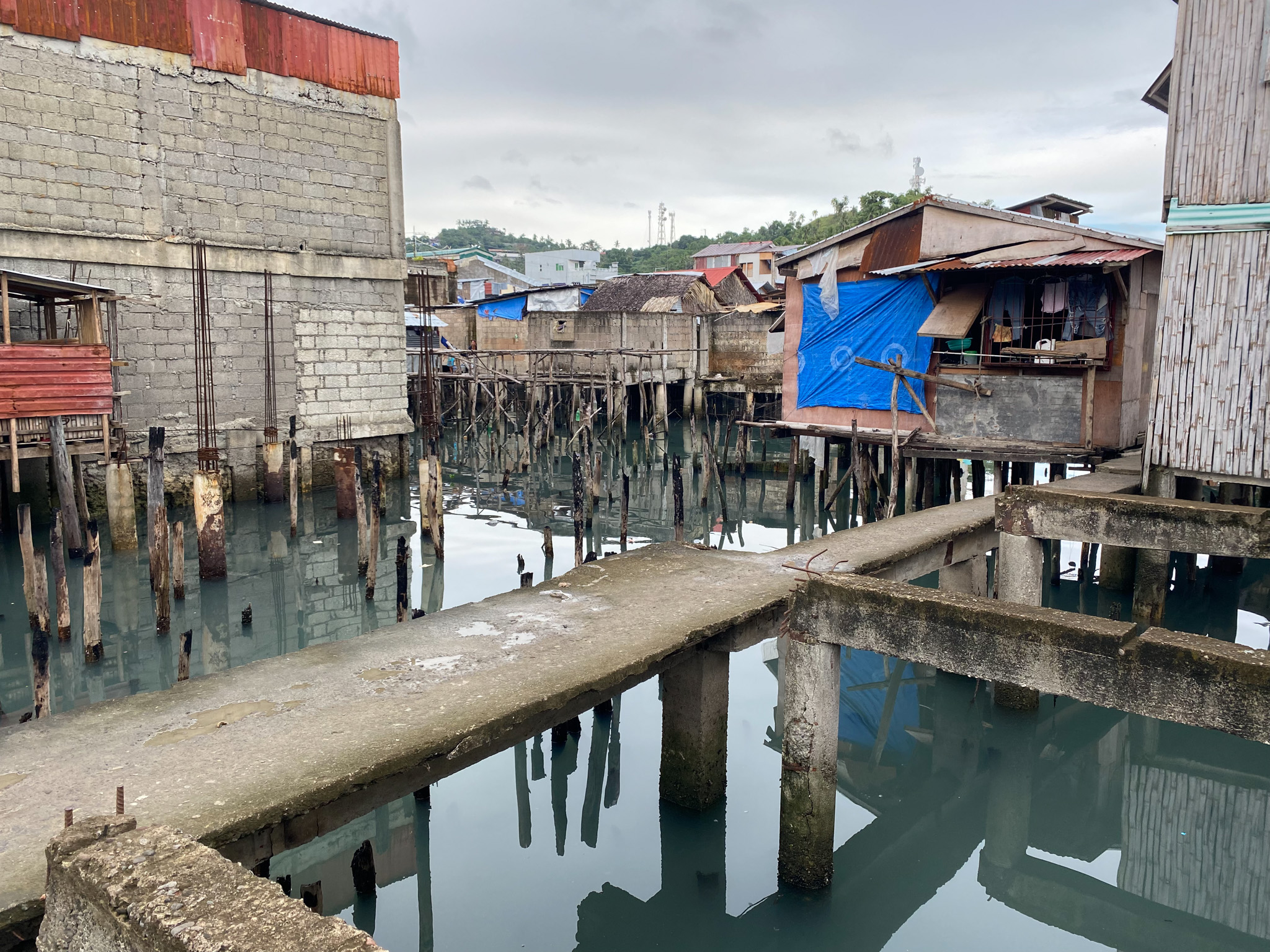 Homeowners said they are wary of promises.
When the 2018 fire razed hundreds of houses, the city offered P50,000 in cash assistance. It gave  P20,000 per household after the tragic incident. But the P30,000 balance – which was supposed to come from different government agencies – has yet to come three years after the fire, said resident Junjun Metante.
A memorandum of agreement came with the financial aid. A clause asked residents never to return to the area.
Poblacion 6 chairwoman Nimfa P. Rosal told Rappler that the cash assistance was intended to defray home rental improvements being made.
"Kay adto nga kuwarta pag-sustain anay adto pamlete-lete agod ma-improve ito dida," Rosal said. (The money handed out to them was supposed to be used to rent houses while the area was undergoing rehabilitation)
She said at least 100 families returned to the vicinity after the first fire.
The Catbalogan City Social Welfare Development Office (CCSWD) in 2018 promised housing to those who declined to accept the financial aid from the local government.
Metante, 30, was among those who refused the cash assistance because getting a relocation slot required downpayment.
Some families said they considered the offer a win compared to finding themselves living on the streets. But the National Housing Authority (NHA) later told them it could not build a tenement in the area due to soil issues.
"Kahibaro naman last year kay gin-survey ini han NHA nga bawal daw kay diri kaya han tuna kay mahumok. Tapos waray daw tenement nga gintitindog ha ligid han kalsada," said Junjun.
(We found out from a survey conducted by the National Housing Authority last year that they cannot build a tenement in the area because the soil is too soft to serve as a foundation. Plus, we learned that it's not allowed to build a tenement near the road.)
Herrera said the city has explained to residents that it needs to reclaim the land first for them to put up a structure in the area.
"We need to clear the area. We need to have land to put up [a building]. If you look at the area, by legal documents, it's considered part of [our jurisdiction]. Once you reclaim the area, it will become public land by virtue of the issuance of the Department of Environment and Natural Resources that the area is inalienable and disposable," he said in a mix of Waray and English.
"Once we acquire certification, it will become [public] land. So, the LGU will now apply for a title of that public land. Once you access government funds for housing, let's say NHA, SHFC, they would need a land title named under the LGU. That's the only time where we can get funding for housing assistance," he added.
Herrera said the city complied with the mandatory 30-day notice, adding the local government gave the families in the community more than adequate time to self-demolish.
"If you check the map of Catbalogan, under our territorial jurisdiction, it's still part of the sea. Therefore, the dwelling should not be allowed. Second, that is actually a hazardous area," Herrera said in a mix of English and Waray.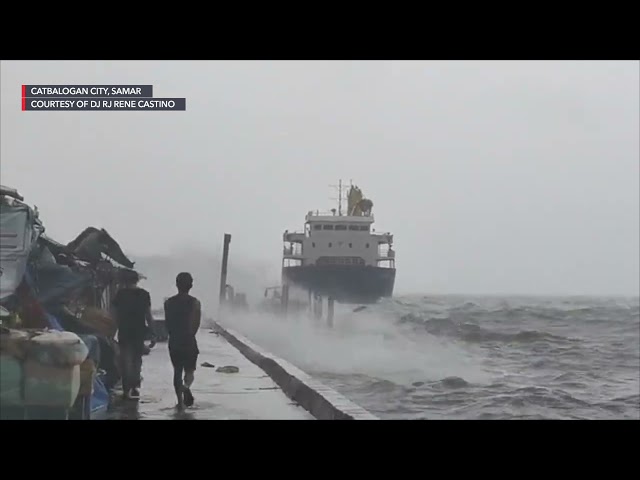 Appeal to mayor
In their letter to the city, the residents said, "Sugad man han iya proyekto nga waray paman iton klaro, sugad man giyapon hiton panahon yana nga makuri iton pangabuhi. Salit, nangangamoyo kami iyo."
(Until now, it is unclear what exactly the project is. We are already having a hard time getting by due to the ongoing pandemic threat. So, we're begging you to help us.)
"Ini nga mga residente han Pier 1, ikaduha na nga nakaranas masunogan. Nahadlok ngan diri hira nahingangaturog, bangin mahikatulo pa," the Councilor Uy said.
(Residents of Pier 1 have suffered from two fire incidents. They are having trouble sleeping at night as they fear a third one would occur.)
Last August 17, local officials met with residents of Poblacion 6 for a dialogue. The city government said it would push through with the project despite the strong opposition from both local officials and the public.
Herrera said the Inter-Agency Task Force (IATF) has given the green light to proceed with clearing operations. Residents who want financial aid should write a formal request, he added.
Herrera told Rappler that a representative from the homeowners association has been collecting the signatures of those who want financial aid.
Herrera said the amount would most likely be equivalent to the prevailing minimum daily wage in Catbalogan multiplied by 60 days. The minimum daily wage in Region VIII is P340.
Herrera said that the law states that temporary or permanent shelter does not need to be available by the time of demolition.
More than 40 individuals have agreed to relocate to Barangay Payao based on a January 2020 list provided by the city government. – Rappler.com