The PCGG was once chided by a Sandiganbayan justice for lack of a 'clear and unambiguous' accounting of Marcos ill-gotten wealth it has to recover
Thirty-five years since its creation to recover the ill-gotten wealth of the Marcos family, the Presidential Commission on Good Government (PCGG) continues to run after P125 billion more from the loot.
"We still have some items in litigation involving assets of around P125 billion," said officer-in-charge (OIC) chairman John Agbayani during the House of Representatives' budget hearing for the Department of Justice (DOJ) last week.
PCGG is an attached agency of the DOJ.
Agbayani said the PCGG is also in possession of assets "worth around P50 billion for sale or for privatization."
As of September 2021, Agbayani said the PCGG has already recovered a total of P174 billion.
The P79 billion has been distributed to farmers through the agrarian reform program; P76 billion to farmers through the coco levy trust fund, while P11 billion has been earmarked for the compensation of human rights victims, according to Agbayani.
"At present PCGG is actively participating in the complete accounting and inventory of coco levy assets of cash and non-cash," said Agbayani.
Proper accounting
The PCGG was once chided by a Sandiganbayan justice for lack of a "clear and unambiguous" accounting of Marcos ill-gotten wealth it has to recover.
One of the first civil suits filed by the PCGG was Civil Case No. 0002 from 1987 involving P200 billion. It was filed against Imelda Marcos, Senator Imee Marcos, former senator Bongbong Marcos, and Irene Marcos-Araneta.
The PCGG computed P200 billion as ill-gotten wealth, comprising of local and foreign bank deposits and investments, residential and agricultural properties in Leyte, real property investments in the United States and United Kingdom, PLDT shares of stock, paintings, jewelries, and "vanity items."
In December 2019, the anti-graft court Sandiganbayan Fourth Division dismissed Civil Case No. 0002, saying PCGG's evidence consisted of "mere photocopies."
Did the dismissal mean the Marcoses have won P200 billion? Not quite.
In her separate concurring opinion, Associate Justice Maryann Corpus Mañalac said it appears that the PCGG may have already recovered some assets out of the P200 billion that was in dispute in Civil Case No. 0002.
Mañalac pointed out final and executory decisions of the Supreme Court, including the 2003 decision that declared as ill-gotten wealth US$658 million worth of Marcos Swiss deposits, and forfeited it to the national treasury.
"The fact that the Marcoses have ill-gotten wealth or illegally acquired properties has already been judicially established and settled in this jurisdiction," said Mañalac.
But "a quandary exists as to what actually the remaining assets and properties are, if any at all, which can continue to be the subject of the present action," said Mañalac in 2019.
"A clear and unambiguous listing of the remaining assets and properties in this case, especially the status of each and every one of them…is necessary not only in order to avoid conflicting rulings but also for purposes of clarity, practicality and expediency," Mañalac had said.
Where to find them?
There have also been awards in foreign jurisdictions, but have not been enforced in Philippine law.
For example, a Hawaii court in 1995 found Marcos guilty of gross human rights violations and awarded $2 billion in damages to victims.
The Court of Appeals (CA) denied the enforcement of that award in a decision in July 2017, saying the US court lacked jurisdiction.
Similarly, there are awards in Philippine courts but these are yet to be obtained from foreign jurisdiction.
For example, in 2014, the Supreme Court upheld the decision of the Sandiganbayan to forfeit in favor of the government at least P147.49 million in what is known as the Arelma loot.
Arelma Inc is among the corporate entities used during the presidency of the dictator Ferdinand Marcos to steal public funds and hide them in a foreign account.
The Arelma assets are in New York, "under the custody of the New York State Supreme Court," said American lawyer Robert Swift, who has been working to obtain Marcos money to award them to human rights victims.
There have been disagreements with lawyers like Swift and the Philippine government, under different presidencies, on the strategy of how to obtain this money.
In an earlier interview, Swift said "no administration since 1986 has supported human rights victims receiving money in the class action."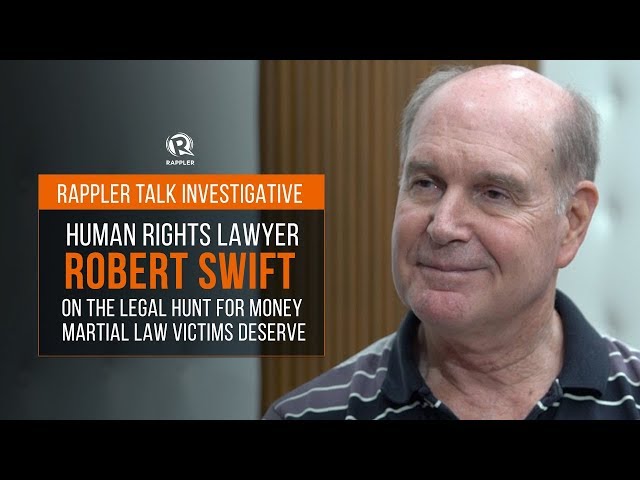 – Rappler.com