(1st UPDATE) The phreatic eruption on Sunday, June 5, produces an ash plume more than a kilometer high and leaves parts of Sorsogon blanketed in ash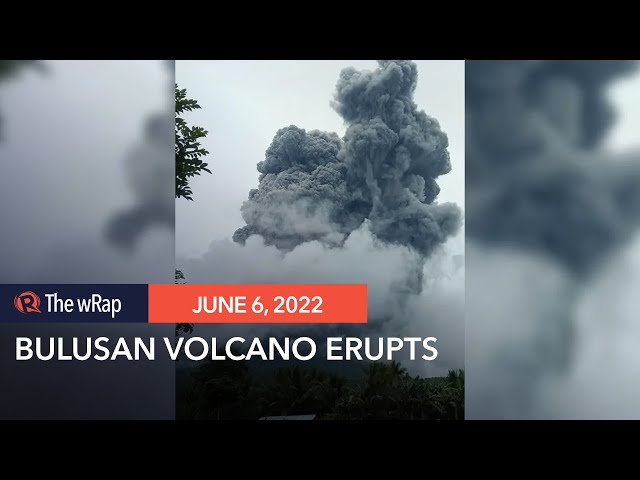 MANILA, Philippines – A phreatic or steam-driven eruption on Sunday morning, June 5, prompted the declaration of Alert Level 1 for Bulusan Volcano in the province of Sorsogon.
The Philippine Institute of Volcanology and Seismology (Phivolcs) said in a bulletin shortly before noontime on Sunday that the eruption started at 10:37 am and lasted around 17 minutes.
Alert Level 1 means the volcano is exhibiting low-level unrest.
The eruption "produced a sluggish gray ash plume that rose more than a kilometer and dispersed wet ash to the west," Phivolcs later said in an 8 pm update on Sunday. The ash was wet due to rainfall in the area.
"Thin fine ashfall fell on the general northwestern sector of the edifice and affected the barangays of Puting Sapa, Añog, Guruyan, Catanusan, Buraburan, Bacolod, and Sangkayon in Juban and Bolos in Irosin," the agency said.
Phivolcs advised residents to use N95 face masks or wet cloths over their mouths and noses for protection.
"Fine ashfall can cause irritation and breathing problems especially among the vulnerable population – the elderly, children, expecting mothers, and those with respiratory disorders – and can be particularly dangerous when inhaled in copious amounts. In addition, ashfall even when thin but having high amounts of sulfur can also cause irritation," the agency said.
Residents of the barangays of Añog, Guruyan, and Catanusan also reported a "rumbling sound and sulfurous odor," added Phivolcs.
LOOK: 5 June 2022 10:37AM Bulusan eruption partially captured by real-time infrared camera at the Upper Slope (VBUS) Observation Station on the western flank. The summit was cloud-covered but gray ash could be seen blanketing the area and causing temporary blackout of the camera. pic.twitter.com/BhVQAmw2YT

— PHIVOLCS-DOST (@phivolcs_dost) June 5, 2022
There were 77 volcanic earthquakes recorded in the past 24-hour period before the eruption. After the eruption, there were 27 weak volcanic earthquakes until 4 pm on Sunday.
Phivolcs has also observed "a sudden but isolated inflation" or swelling of Bulusan Volcano's southeast lower slopes since April.
"These parameters indicate that volcanic processes are underway beneath the edifice that are likely caused by shallow hydrothermal activity," the agency said.
LOOK: Infrasound signal of the 5 June 2022 10:37AM Bulusan eruption recorded by the Bulawan, Irosin, Sorsogon (VBBU) Observation Station rendered into audible sound. pic.twitter.com/6whCxnOOFq

— PHIVOLCS-DOST (@phivolcs_dost) June 5, 2022
Phivolcs reminded local government units and the public not to enter the 4-kilometer-radius permanent danger zone around Bulusan Volcano, and to be vigilant as well in the 2-kilometer extended danger zone "due to the increased possibilities of sudden and hazardous phreatic eruptions."
Prior to Sunday's eruption, Bulusan Volcano had been under Alert Level 0, the lowest level, since August 18, 2021. When the volcano was downgraded back then, Phivolcs had warned that phreatic eruptions could still "occur without warning." – Rappler.com