(UPDATED) The incident marks a first in recent history that police confiscated copies of a magazine considered a threat to the government
(UPDATED) The Philippine National Police (PNP) confiscated copies of a progressive community magazine that allegedly calls on Filipinos to resist the Philippine government.
On Sunday morning, July 26, policemen seized bundles of Pinoy Weekly from the Bulacan office of an urban poor organization and stacked these at the back of a police vehicle before driving off.
The incident marks a first in recent history that law enforcement confiscated copies of a publication it deems to be a threat to government.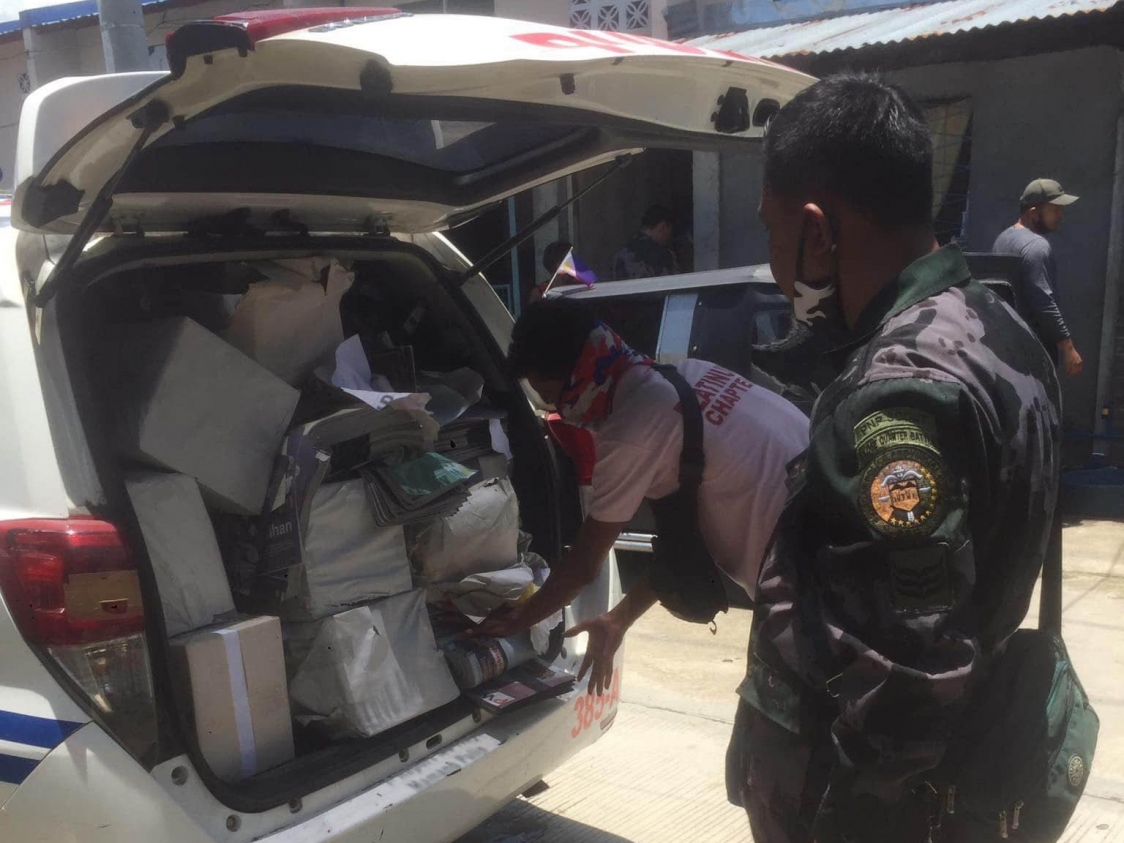 "At about 9:30 this morning of July 26, at least eight elements of the Pandi police station of the Philippine National Police (PNP) went to the local Kadamay office to seize the Pinoy Weekly print copies. Members of Kadamay asked for a search warrant from the cops," Kenneth Roland Guda, Pinoy Weekly editor-in-chief, said on the magazine's official Facebook page.
He said that witnesses heard Captain Jun Alejandrino, the Pandi police chief who headed the raid, say that the magazines were "illegal" and "teaches people to fight the government".
Guda said that witnesses also heard Alejandro order Kadamay members at the office to surrender the magazines or "may mangyayari" (something will happen).
Guda said that on Saturday night, the police arrested Rose Fortaleza, a Kadamay member who lives in the same housing unit in that was raided on Sunday. The police did not have a warrant for Fortaleza's arrest, Guda added.
The Kadamay leaders, fearing their arrest too, eventually told Alejandrino that they could take the magazines, but they still expressed disapproval and dismay. According to a report of PinoyWeekly on the incident, that was when the cops drafted a letter certifying their surrender of the magazines. Under duress, the Kadamay leaders signed it.
The letter was later used by the police and the National Task Force to End Local Communist Armed Conflict on Tuesday night to discredit media reports on the incident.
It is unclear if the police had a warrant to search KADAMAY's office in Pandi and confiscate copies of Pinoy Weekly.
What is Pinoy Weekly?
Pinoy Weekly is published by PinoyMedia Center Inc., a Securities and Exchange Commission-registered non-profit media organization. It is an online and printed magazine that features stories about marginalized sectors.
Guda, also vice chair of the PMC board of trustees, said that since 2002, Pinoy Weekly has been publishing "investigative, explanatory, narrative, and analytical reports in the Filipino language, targeting underreported and marginalized sectors and communities."
"Pinoy Weekly has been given recognition in many award-giving bodies for our journalistic work. More importantly, our readers – who otherwise have little access to news and information platforms – appreciate our reports," Guda said.
Rappler has sought the comment of Bulacan police chief Colonel Lawrence Cajipe and PNP spokesman Brigadier General Bernard Banac on the incident through text messages, but they have yet to reply as of posting.
Guda said that the magazines are property of the residents of Pandi housing projects and members of Kadamay-Pandi. The police's confiscation without proper court orders "may constitute robbery," he said.
Moreover, Guda contended, Alejandro should know that the Constitution guarantees press freedom and freedom of expression, "or he chooses to trample upon it."
"Either way, he and his men are committing a crime," Guda said.
Why this matters
The confiscation of hundreds of copies of Pinoy Weekly came a week after the controversial Anti-Terror Law took effect.
Activists and legal luminaries said the law was unconstitutional and would embolden the government use the law's vague terms against dissenting voices and legitimate media outlets. (READ: Press freedom takes a hit in PH during coronavirus pandemic)
For one, showing of dissent, such as protests, can be acts of terrorism if they are found with an intent "to cause death or serious physical harm to a person, to endanger a person's life, or to create a serious risk to public safety," according to the contested Section 4.
It is unclear if the PNP will be using the anti-terror law as basis for the confiscation of Pinoy Weekly copies and if they will even file a case, given that no arrests were made in their excursion.
Aside from the new law, the Philippine government has been aggressively using the country's libel and cyber libel laws against critics and journalists even during the pandemic.
"It is up to our readers if after reading our reports they exercise their constitutionally-guaranteed right to seek redress of grievances to the government. In any case, 'teaching the people to fight the government' in a lawful manner is still a constitutionally-guaranteed right. But what the PNP apparently wants is to stifle all critical voices and opinions," Guda said in his statement. "What Alejandrino and his men did was an act of tyranny. It has no place in our supposedly democratic society. We will not be silenced and will fight this blatant act of repression." – Rappler.com