Samar congressman Edgar Sarmiento disagrees and calls on the NBI to investigate the killing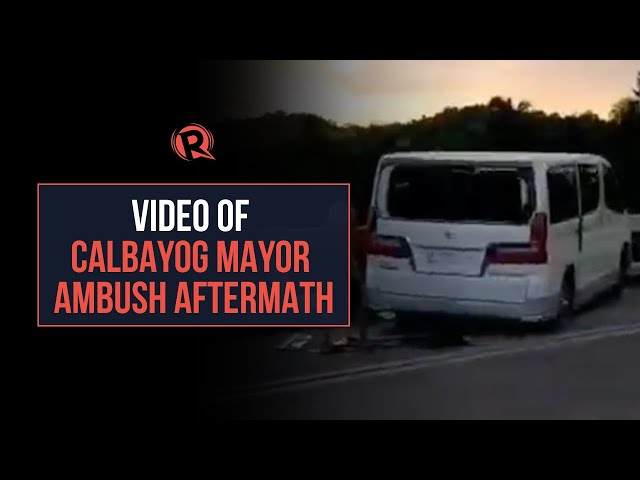 After it was initially reported that Calbayog Mayor Ronaldo Aquino was killed in an ambush in Calbayog City, Philippine National Police (PNP) chief General Debold Sinas said on Tuesday, March 9, that it was actually a shootout.
"Ang mga pulis natin who were passing by, based sa initial findings ng mga pulis natin, ay binaril ng mga escort ni mayor. Hindi nila alam na pulis ang nandoon sa loob, tapos ang mga pulis gumanti na lang," Sinas was quoted on ABS-CBN News.
(Based on our initial findings, it was our police who were shot at by the escorts of the mayor. They didn't know that there was police inside, then the police just fired back.)
Only the deaths of Aquino and his two bodyguards were confirmed on Monday evening, March 8.
According to a statement from the PNP released on Tuesday afternoon, a total of 5 people were killed in the encounter.
"There was an exchange of gunfire between the two groups that resulted to casualties on both sides," the PNP said. "The mayor, his police escort, and his driver died, with one civilian employee wounded. At the other vehicle, two police personnel also died and 1 more wounded," they added.
The PNP said there were two groups involved in the incident.
"One was that of Mayor Aquino on board a van with a driver, a civilian companion and a police close-in security; the other was composed of PNP personnel from the IMEG and Provincial Drug Enforcement Unit," they said.
According to the PNP, the police were conducting "Red Teaming inspection on the operational readiness of PNP units in the area."
Red teaming is a police term meaning they were role playing as the enemy in security drills.
'Not a shootout'
In an interview with Teleradyo on Tuesday, Samar 1st District Representative Edgar Sarmiento, an ally and longtime friend of Aquino, denied it was a shootout.
"Ako nakikiramay muna. Ako'y nasasaktan. Pinalabas na shootout. Doon po sa ground zero na maliwanag ang sinasabi ng mga witnesses. Binaril muna ang sasakyan ni mayor," Sarmiento said.
(I'm grieving first. I'm hurt. They are calling it a shootout. On ground zero, what the witnesses say are clear. They shot the mayor's car first.)
"Ako'y nagtataka, bakit naka-bonnet? Tsaka naka-M203 pa. Talagang handa. Hindi ko maintindihan," Sarmiento added, referring to the shooter.
(I'm confused, why was he wearing a bonnet? He also had an M203 [grenade launcher]. They were ready. I can't understand.)
The Samar congressman said he was not expecting justice if the PNP would investigate the incident.
"Ang pakiusap ko kay presidente, ako po ay tumutulong sa bayan, humingi ako ng tulong (I am pleading with the president, as a public servant, I am asking for help," Sarmiento said. "I cannot get justice from the Philippine National Police, I believe so. That's why I already drafted a letter to Sec Guevara and the National Bureau of Investigation," he added.
Police to form task force, NBI to investigate
Police Brigadier General Ildebrandi Usana, PNP spokesperson, told Rappler in a phone interview that blaming the police was "hearsay."
"Was he there?" Usana said. "If he wasn't then it's just hearsay. As a congressman he should know the law," the spokesperson added.
Usana said they were forming a Special Investigation Task Force to get down to the bottom of the shooting.

"Kung meron pong mga witnesses (if there are witnesses) who could be of help, then the police will just accommodate them, let's not speculate on the basis of conjecture or whatever," Usana said.
Department of Justice Secretary Menardo Guevarra said he would direct the NBI to investigate the shooting.
"We will refer this to the NBI for the simple reason that the other party involved is the PNP," Guevara said. "The encounter was with – allegedly – police officers. So they will have different versions of the story. So of course, so it is an objective and an impartial investigation, I will direct the NBI to investigate the incident."
The order comes two weeks after President Rodrigo Duterte asked the NBI to probe another encounter in Quezon City in February between the PNP and Philippine Drug Enforcement Agency (PDEA) agents which killed two people.
Aquino is the second mayor of Calbayog City to be murdered while in office in the span of a decade. Reynaldo Uy was also murdered in 2011 during his term as mayor.
Calbayog has earned the moniker "killbayog" for being a city that constantly grappled with violence, especially during election season.
During the 2019 midterm election, at least 4 of Aquino's supporters were also killed in an ambush in Calbayog. – Rappler.com