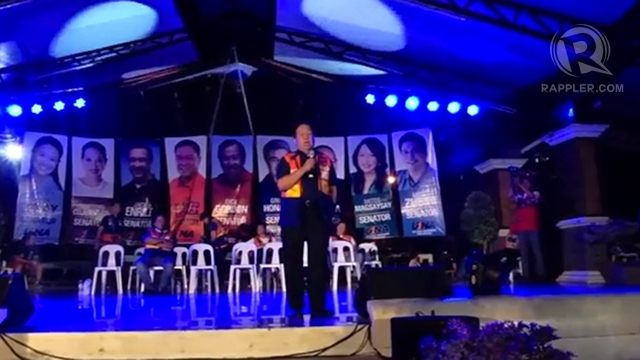 DAVAO CITY, Philippines - The United Nationalist Alliance (UNA) draws smaller crowds in Southern Mindanao without its 3 top leaders.
Ayee Macaraig reports.
It's just not the same.
The opposition's campaign in Davao City draws just 3,000 people, with none of the United Nationalist Alliance's top leaders in the sortie.
A far cry from UNA's Northern Mindanao leg, the sortie crowd is smaller and the energy not as high, save for the usual dance numbers.
UNA senatorial bets admit the absence of former President Joseph Estrada is a big loss in a region traditionally known as his bailiwick.
They also get just a few endorsement from local politicians, with Davao's Duterte family supporting the rival slate Team PNoy.
Still, UNA candidates try to manage on their own.
They campaign in Manay and Mati in Davao Oriental, and nearby provinces.
Besides support for Estrada, they say residents of Southern Mindanao have other reasons to go for the opposition.
RICHARD GORDON
UNA SENATORIAL BET
Walang power lagi, di ka ba magagalit sa administrasyon? Kung ikaw ay kamag-anak ni Jose, yung babaeng binaril sakay sa motorsiklo pagkatapos niyang magprotesta, di ka ba magagalit? Kaya galit ang tao ng Mindanao sa administrasyon.
With the absence of the so-called 3 kings, UNA is shifting to a new strategy: divide the ticket, and make their children lead the smaller groups.
The slate plans to break into 3 teams come April, with Nancy Binay, Cagayan Rep Jack Enrile and San Juan Rep JV Ejercito leading the pack.
UNA says it wants to cover more ground and counter the administration's barrage of ads.
Ejercito says the choice of team leaders goes beyond their fathers' name recall.
REP JV EJERCITO
UNA SENATORIAL BET
Probably more than the strength it's the organization. Tingin nila organized ang aking campaign team, na kaya naming magbuo ng sortie on our own.
The campaign period for local candidates starts on March 29.
By then, local bets are expected to focus on their own campaigns but UNA candidates say it will also allow them to just ride on the events of their allies.
The campaign is about to enter its next phase.
With UNA's top leaders soon busy with their candidacies and work, senatorial bets plan to run a more efficient campaign and maximize local connections.
The opposition admits the challenge is greater as it has fewer resources going up against the administration machinery.
Ayee Macaraig, Rappler, Davao City. – Rappler.com