Representative Claudine Bautista says her wedding is 'an event that was supposed to be separate from my life as a public servant'
A lawmaker representing the working-class public utility vehicle (PUV) drivers, among the sector hardest hit by the persisting health crisis, broke her silence on Thursday, August 19, after drawing flak over her ostentatious wedding ceremony held at the posh Balesin Island.
The public display of the lavish wedding of DUMPER PTDA Representative Claudine Bautista caused a stir on social media.
Bautista, the lone representative in congress of a group for lowly drivers, described her wedding as a private occasion separate from her life as a public official.
The acronym DUMPER-PTDA stands for Drivers United for Mass Progress and Equal Rights – Philippine Taxi Drivers Association. It is one of 50 party-list groups in the current House of Representatives in the 18th Congress.
"I hear you, and I have internalized all of the grievances that were brought up in light of what was supposed to be a private and personal milestone," Bautista said in a statement.
Bautista passed the blame for the publicity gaffe, which some netizens summarized as the height of insensitivity, to her wedding gown designer.
"We had no intention of making our wedding a public affair, so we kept it as intimate as possible. However, access was unintentionally given through the post of my wedding gown designer, Michael Cinco and he mistakenly posted about the private event," Bautista added.
Bautista said her designer Michael Cinco has apologized to her for publicizing "an event that was supposed to be separate from my life as a public servant."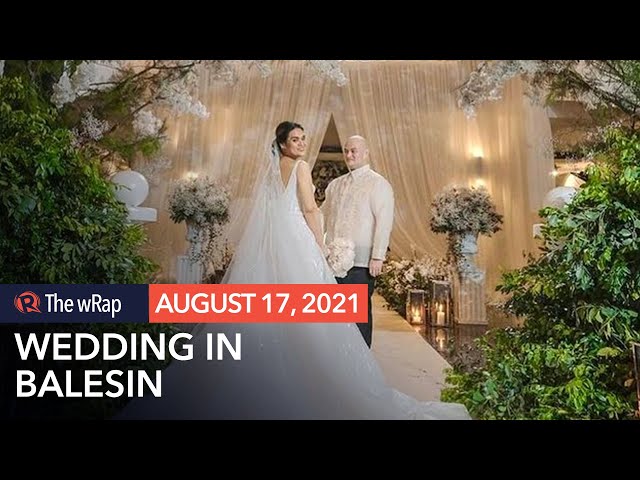 The wedding came into the public's attention after Cinco, who designed the gown for Bautista, published photos of the bride and the groom on an Instagram post geo-tagged in Balesin on Wednesday, August 11.
Bautista's statement though overlooked that according to the law on the conduct of government officials, public servants must live simple lives, without distinguishing between one's "private" or "public" life.
"Public officials and employees and their families shall lead modest lives appropriate to their positions and income. They shall not indulge in extravagant or ostentatious display of wealth in any form," Republic Act No. 6713, the act establishing the code of conduct and ethics for public officials, states.
Also in her statement, Bautista said she has contributed to the lives of PUV drivers by giving out grocery packs and helping out with vaccinations.
"As a public servant, I have always been transparent with my office's accomplishments and ongoing efforts, and we will continue to do so despite detractors aiming to change the narrative and devalue our achievements," Bautista said.
Bautista is the daughter of incumbent Davao Occidental Governor Claude Bautista. – Rappler.com