'Ewan ko ba't hindi pa sila ma-COVID,' says Presidential Spokesman Harry Roque about people supposedly spreading disinformation online
Malacañang doesn't think President Rodrigo Duterte's threat to prohibit unvaccinated persons from leaving their homes is partly the reason why an unusual number of people swarmed vaccination sites in Metro Manila a day before the region goes on lockdown.
GMA7 reporter Ivan Mayrina asked Presidential Spokesman Harry Roque on Thursday, August 5, if this threat from the Chief Executive himself might have something to do with false news that several government officials said drove the crowding.
"I don't think so, ano. Tingin ko, may mga nagpapakalat talaga ng fake news. Mayroon po talagang walang matinong ginagawa sa buhay nila, ewan ko ba't hindi pa sila ma-Covid," said Roque.
(I think there are people spreading fake news. There are really people who have nothing better to do with their life, I dont know why they just don't get Covid.)
He then emphasized that the government was not implementing any policy that restricts movement on the basis of vaccination status. Vaccination is not required for anyone to claim aid from the government, Roque stressed.
Duterte's threat
Only last July 28, or a week before the Metro Manila lockdown, Duterte said he wanted police and barangay officials to prohibit unvaccinated people from leaving their homes.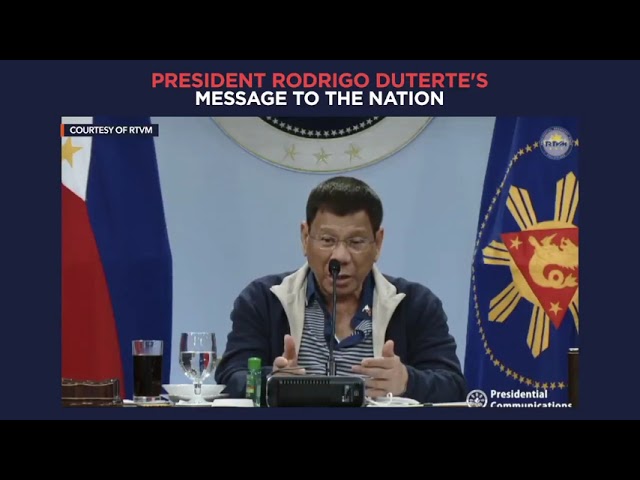 He even said he would not wait for any law to be passed authorizing this, because of the "necessity" called for by the spread of the Delta variant in the country.
In mid-June, the President had even said he would order the arrest of people refusing to get vaccinated.
Roque eventually clarified that Duterte's wish to keep unvaccinated persons in their homes will not yet be enforced and that there is no law criminalizing refusal to get jabbed.
Reminder to local governments
Malacañang also reminded local government chiefs to make sure lines at vaccination sites are orderly and that key health protocols like physical distancing are observed.
"Ang pinagbilin po ng Presidente, dapat, unang-una, kino-control po ang crowd. Pangalawa, kailangan makatao po, hindi po pwede nagkakagulo. Huwag natin gawing super spreader events ang ating bakunahan," said the Duterte spokesman.
(The President wants that first, there is crowd control. Second, it must be humane, there should be no chaos. Let's not turn our vaccinations to super spreader events.)
Meanwhile, national testing czar Vince Dizon attributed the big crowds to Filipinos rushing to get vaccinated because Metro Manila, which has received a bulk of vaccine supply as the country's pandemic epicenter, goes on lockdown on Friday.
He echoed local government personnel and police in saying many of those who lined up came from adjacent provinces and are not Metro Manila residents themselves.
"We expected this because people are scared of the Delta variant that's why we talked to the local governments to prepare well and put the appropriate safeguards to avoid what we saw in the pictures earlier this morning," said Dizon. – Rappler.com