(7th UPDATE) Rose Furigay, former mayor of Lamitan City, Basilan, is among the fatalities. A suspect is in police custody.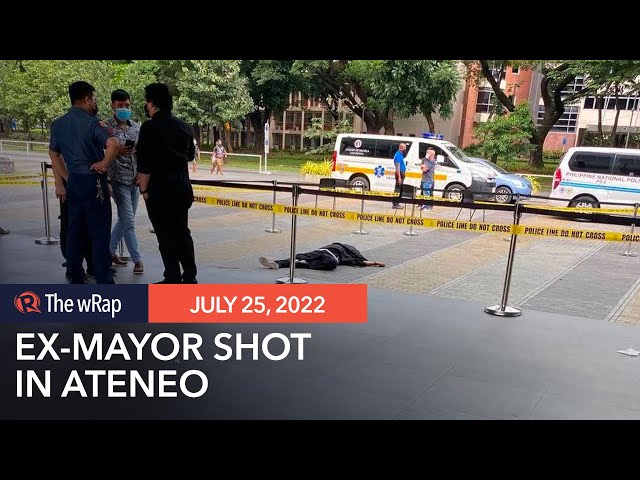 MANILA, Philippines – A former mayor of Lamitan City, Basilan, and at least two others were killed in a shooting inside Ateneo de Manila University in Quezon City on Sunday, July 24.
Ex-mayor Rose Furigay was at the university to attend the Ateneo Law School graduation of her daughter, Hannah Furigay.
Hannah was wounded and rushed to the hospital.
The shooting occurred around an hour before the graduation ceremony was supposed to start at 4 pm. The ceremony was later canceled.
The Quezon City Police District (QCPD) named the two other fatalities as Jeneven Bandiala and Victor George Capistrano. Bandiala was a security guard at Ateneo while Capistrano was an aide of the former mayor.
In an interview with CNN Philippines, QCPD Director Brigadier General Remus Medina said a suspect was captured by police along Aurora Boulevard.
"Ang gusto kong i-confirm nag-commandeer siya ng sasakyan, nakuha niya doon sa Ateneo, tinakbo niya dito papuntang Aurora Boulevard so doon natin siya nakuha sa Aurora Boulevard," Medina said.
(I confirm that the suspect commandeered a vehicle which he got inside Ateneo, and he drove toward Aurora Boulevard so we caught him on Aurora Boulevard.)
The university was placed under lockdown due to the shooting.
Ateneo later said its security protocols are "being reviewed and strengthened further."
"The Loyola Heights campus was immediately secured. The university assures the community that its campuses are safe," Ateneo said in a statement.
According to Supreme Court spokesperson Brian Keith Hosaka, Chief Justice Alexander Gesmundo was supposed to be the guest speaker for the graduation, and was still in transit when the shooting happened. He was advised to turn back and is safe.
Calls for justice
President Ferdinand Marcos Jr. and Vice President Sara Duterte both condemned the incident.
"We mourn with the bereaved, the wounded, and those whose scars from this experience will run deep," Marcos said.
"We commit our law enforcement agencies to thoroughly and swiftly investigate these killings and bring all involved to justice."
Duterte, also the education secretary, said "such an act of violence should have no place in our society, especially in a place of learning – which is supposed to be considered a safe space for everyone, for the students mainly."
Former vice president Leni Robredo described Furigay as a strong supporter of Angat Buhay, the flagship anti-poverty program during her term.
"[The incident] reminds us to keep on pushing back on everything that promotes a culture of impunity," Robredo said in a Facebook post.
Basilan Representative Mujiv Hataman also condemned the shooting and called for justice.
"I urge the authorities to prosecute the perpetrator of this dastardly crime to the full extent of the law," Hataman said in a statement.
He also said Furigay had done a lot for Lamitan, noting that the city was awarded the Seal of Good Local Governance from 2016 to 2019.
Furigay's husband Roderick is the incumbent mayor of Lamitan City. – Rappler.com