'Democratic rights are not given to us on a silver platter. You always have to fight for them. Inaaruga mo,' says Sonia Soto, who signed the Soto-Enrile accord in 1982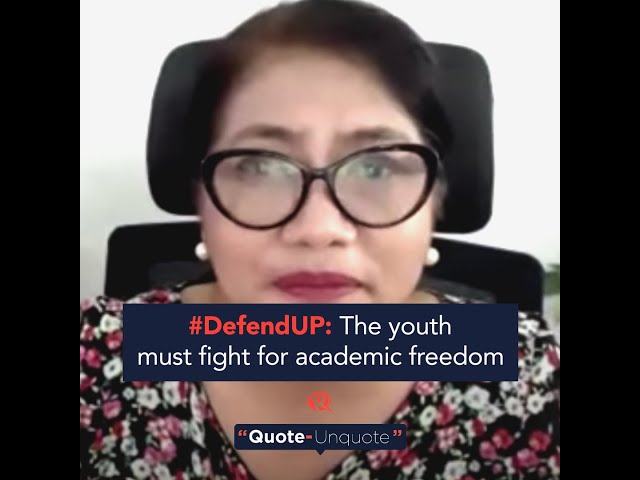 Former student activist Sonia Soto, who signed the 1982 accord with then-defense secretary Juan Ponce Enrile, urged the youth to play their part in fighting for their democratic rights despite threats from the Duterte administration.
"Ginawa na namin 'yung papel namin noon. Aba eh gawin 'nyo naman ang papel 'nyo ngayon. Kung gusto 'nyong tamasain ang kalayaan ng academic freedom, ipaglaban 'nyo," Soto said in a Rappler Talk interview on Tuesday, January 19.
(We did our part back then. It's your turn now to play your part. If you want to enjoy academic freedom, fight for it.)
Soto appealed to current student leaders to not put to waste what her generation fought for during their time.
"Democratic rights are not given to us on a silver platter. You always have to fight for them. Inaaruga mo (You take care of it)," she said.
"Ipaglaban niyo, kasi wala naman nakukuha ng libre. Kasi andiyan naman lagi 'yung threat," she added. (Fight for it because nothing is for free. The threat is always there.)
In the Duterte government's latest crackdown against dissent, the Department of National Defense (DND) unilaterally terminated the 1989 University of the Philippines (UP)-DND accord that prevented state forces from entering any of its campuses.
The termination of the pact was made public on Monday night, January 18. But Defense Secretary Delfin Lorenzana officially notified the university about the abrogation in his letter to UP President Danilo Concepcion on January 15, citing alleged, baseless, in-campus recruitment activities of the Communist Party of the Philippines and the New People's Army.
The UP-DND accord was crafted based on the 1982 Soto-Enrile accord, which was "borne out of the struggle against the Marcos dictatorship."
The agreement, signed in 1989, provides that state forces have to notify the university administration first before they can enter UP campuses.
Lorenzana said that the agreement was a "hindrance in providing effective security, safety, and welfare of the students, faculty, and employees of UP."
During her time, Soto chaired the League of Filipino students that led a nationwide boycott to fight oppressive policies of the government such as commercialization of education and the imprisonment of dissenters.
Sotto said the she fears that student leaders of this time would lose their idealism due to intimidation by the government.
"'Yun 'yung ayaw kong mawala sa kabataan, 'yung ideyalismo ng kabataan. Takot ka pero gagawin mo pa rin 'yung tingin mong tama," she said.
(My fear is that the youth loses their idealism. You may be scared, but you still need to do what is right.)
The scrapping of the agreement has been widely condemned, as students and various groups blasted the Duterte government for militarizing campuses. UP President Danilo Concepcion said that the abolition of the agreement was "totally unnecessary and unwarranted. – Rappler.com