(UPDATED) 'I did not have the faintest idea then that the next time we would be gathered for this purpose would be now, in my last week as Chief Justice,' says Chief Justice Diosdado Peralta in his farewell speech
Outgoing Chief Justice Diosdado Peralta's farewell ceremonies pushed through on Monday, March 22, with at least 25 people in attendance on the grounds of the Supreme Court (SC) despite a revived prohibition on mass gatherings.
Peralta's last flag-raising ceremony was livestreamed, with portions showing some of the attendees practicing physical distancing in the open air grounds of the SC. Wide-shot footage seen by Rappler showed there were at least 25 people present.
Associate Justices Rosmari Carandang and Henri Jean Paul Inting were the only justices spotted attending in person.
Insiders told Rappler this had been an issue over the weekend especially in light of new government rules issued Sunday, March 21, that imposed stricter protocols in Metro Manila and nearby provinces starting Monday, including a ban on mass gatherings.
Events like weddings, baptisms, and funeral services are allowed but only up to 10 people can attend.
By Saturday, March 20, there were already 37 COVID-19 cases in the SC, sources confirmed to Rappler, which led to a scaling down of operations.
Also on Saturday, the SC announced that its flag ceremony on Monday would push through but instead of a free-for-all event, only incumbent justices, chiefs of offices, and officers of employee unions were allowed to physically attend.
There were plans for the Philippine National Police to give arrival honors for Peralta, but this did not push through on Monday.
The SC holds a flag-raising ceremony every Monday, but that practice was stopped during the pandemic, resuming only for Peralta's farewell rites.
During the ceremony, he was awarded the customary certificate of appreciation. Chief Administrative Officer Maria Carina Cunanan, in awarding Peralta the certificate, thanked him for providing free COVID-19 tests "as well as generous benefits, and for being the most approachable chief justice ever."
"After more than a year of not having observed the traditional Monday morning flag-raising ceremony with all of you, as was our routine before our lives were unceremoniously upended a little over a year ago by the pandemic we are still embroiled in, I get to be with you again as we honor and pay our respects to our national flag and our national anthem," said Peralta in his speech.
"I have but vague recollections of the last time we were gathered here, in the Supreme Court courtyard, for our then usual flag-raising ceremony. What I am certain of is that I did not have the faintest idea then that the next time we would be gathered for this purpose would be now, in my last week as Chief Justice," Peralta added.
Peralta retires on Saturday, March 27.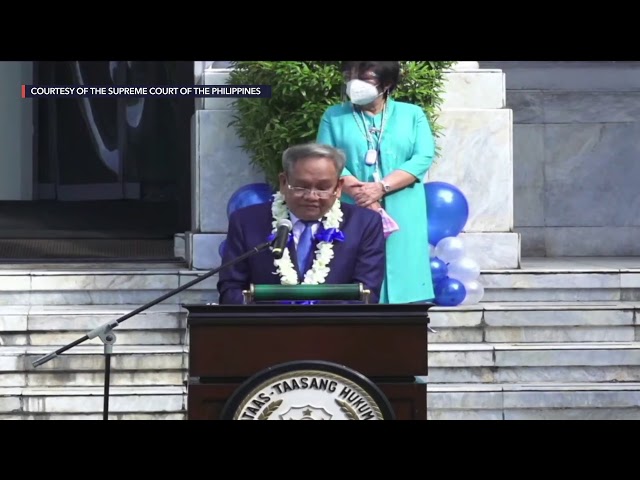 The SC later announced on Monday afternoon that the oral arguments on the anti-terror law are again canceled for Tuesday, March 23, and will resume on April 6. – Rappler.com