'Ang dami ng tinatrabaho natin, 'yun pa ba ang aasikasuhin natin?" asks Vice President Leni Robredo after President Duterte threatened to ruin her if she runs for president in 2022
A day after President Rodrigo Duterte insulted and maligned her in a televised address, it was business as usual for Vice President Leni Robredo as she continued her relief operations on Wednesday, November 18.
Robredo was in Ragay town in her home province Camarines Sur as early as 9 am to check on the status of evacuees, who endured the onslaught of back-to-back typhoons Rolly (Goni) and Ulysses (Vamco).
Much like what she has done in other typhoon-hit areas, the Vice President will help distribute relief goods to the displaced residents in Barangays Amomokpok, Poblacion Ilaod, and Cale in Ragay.
She will then visit and send aid to affected residents in Barangays Balogo and San Cirilo in Pasacao town.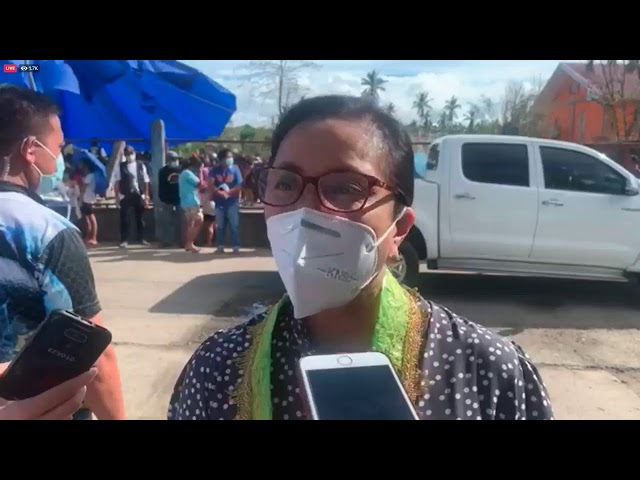 Robredo only had a few minutes to spare for a chance interview with reporters, who asked her about Duterte's meltdown the night before.
Duterte not only lied about Robredo's well-praised typhoon response, but also warned he would ruin the opposition leader should she run for president in 2022.
But the Vice President shrugged it off, saying she is far too busy helping distressed Filipinos to dwell on Duterte's threat. She already debunked the President's lies in a series of tweets on Tuesday night, November 17. (READ: 'Misogynist, pikon': Robredo fact-checks Duterte's lies on typhoon response)
"Karapatan naman niya 'yun. Matagal na niya 'yung sinasabi. Sinasabi niya wala akong alam, hindi, kung anu-ano. Sa akin, ang dami ng tinatrabaho natin, 'yun pa ba ang aasikasuhin natin?" Robredo said.
(It's his right to say that. He has been saying that about me for quite some time. He says I don't know anything, and all sorts of things. But for me, is that really what we should focus on when we have so much work to do?)
She said it was "'very unpresidential" of Duterte to make such false statements.
"Ako, I think that's very unpresidential. Pero karapatan naman 'nyang sabihin kung ano 'yung dapat 'nyang sabihin, siguraduhin niya lang na tama 'yung pinagbabasehan 'nya, and in this case, mali siya," said the Vice President.
(I think that's very unpresidential. But he has the right to say whatever he wants to say, he just has to make sure that his basis is true, and in this case, he is wrong.)
Robredo also said the President should not be onion-skinned when people criticize him for being missing in action in times of crises, noting that his predecessor, President Benigno Aquino III, was also called out with the same #NasaanAngPangulo hashtag.
"Pero 'yung para sa akin, dapat kasi hindi tayo balat-sibuyas sa ganyan kasi traditionally naman kung sino 'yung nakaupo, marami talagang reklamo iyong tao. Pero sa atin, hindi dapat siya nagiging dahilan para mag-away-away lalo na sa panahon na dapat nagtutulung-tulungan," said Robredo.
(For me, we shouldn't be onion-skinned when it comes to these things because traditionally, people have a lot of complaints with whoever is in office. But this should not be a reason for us to fight, especially during a time when we're supposed to help each together.)
Déjà vu
Robredo said the President's false allegations against her reminded her of the time she was asked to resign from her Cabinet post in 2016, because the President believed someone's allegation that she supposedly joined an anti-government rally.
"So sa akin, ang mga sunud-sunod na nangyayari nagpapakita na ang peddlers of fake news, nasa paligid ni Presidente. At tingin kong malaking kasalanan 'yun para kay Presidente. For him to react that way, nagri-react siya sa isang false information," Robredo said.
(The recent events have shown that the peddlers of fake news are around the President. And I think that's a grave sin to the President. For him to react that way, he is reacting to false information.)
"Pero sa akin, 'yung pakiusap ko lang: Ang dami ng peddler of fake news dito sa atin. 'Wag na nilang dagdaagan," she added. (But here's my only appeal: We already have so many peddlers of fake news. Don't add to them anymore.)
She said the President should track down whoever fed her the false information that she looked for him during the onslaught of Typhoon Ulysses because that person outrightly lied to him.
"Kung sino man iyong nagfi-feed sa Presidente ng false information, iyon iyong dapat hanapin. Kasi ako, sa akin, parang nade-déjà vu nga ako, eh, from 2016. Kasi tinanggal ako sa Cabinet also based on false information…sumama raw ako sa rally against sa administration, which wasn't true at all and it's happening again now," Robredo said.
(The person who fed the President false information should be tracked down. I'm experiencing déjà vu, from 2016. I was removed from the Cabinet also based on false information…that I supposedly joined a rally against the administration, which wasn't true at all and it's happening again now.)
"So para sa akin, si Presidente balikan niya iyong nagsusumbong sa kanya kasi nagsisinungaling iyon (So for me, the President should go back to the one who complained about me because that person is lying)," she added.
Political pundits have long named Robredo as a likely presidential bet in 2022 as she is holding the highest position in government among key opposition figures. She is the Vice President, after all.
Robredo herself has not categorically declared her intention to run yet.
Still, this has not stopped Duterte from questioning Robredo's capability to lead the country, previously calling her incompetent and unfit to become president.
Even without a Cabinet position, Robredo has managed to run her flagship anti-poverty program Angat Buhay with the help of the private sector.
Robredo has also earned praise for initiating various recovery programs when the coronavirus pandemic hit the country. She has delivered concise remarks that offer concrete solutions to the pandemic, often contrasted with Duterte's winding speeches. (READ: 'Not time to keep score': Robredo focuses on frontliners, not politics)
The Vice President haa been employing a similar mindset during times of calamities this year, with Robredo tapping into her Angat Buhay partners to solicit donations and send aid to evacuees nationwide. – Rappler.com