Copy-pasted comments on Facebook amplify the false claim made by Martial Law administrator Juan Ponce Enrile in his interview with Ferdinand Marcos Jr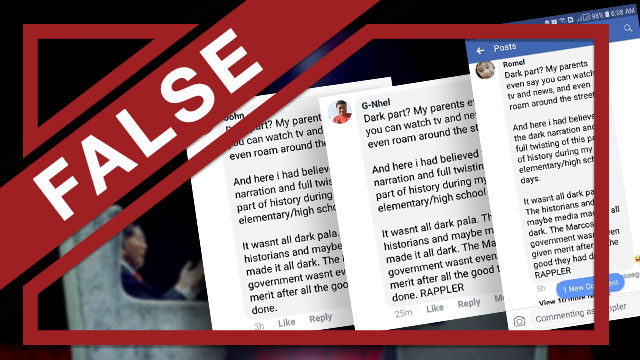 Claim: The idea that the Martial Law period was a "dark" part of the country's history was "twisted" and invented.
This was the message of several completely identical comments on Rappler's post about the 46th anniversary of Martial Law on Friday, September 21.
This was the comment pasted by several users, similar if not word for word, down to the last punctuation mark:
Dark part? My parents even say you can watch tv and news, and even roam around the streets.
And here i had believed the dark narration and full twisting of this part of history during my elementary/high school days.
It wasnt all dark pala. The historians and maybe media made it all dark. The Marcos government wasnt even given merit after all the good they done.
Rating: FALSE
The facts: Historical records and personal testimonies show that personal freedoms and media access were restricted when then-president Ferdinand Marcos imposed Martial Law nationwide starting in September 1972.

Days after the declaration of Martial Law via Proclamation 1081, there were mass arrests of opposition figures suspected of being communist sympathizers.
There was heavy militarization and people were restricted from "roaming around" due to the curfew. Marcos implemented General Order No. 4, s. 1972, which required people to stay inside their homes from 12 am to 4 am. (READ: QUIZ: Would you have survived martial law?)
People had access to news, but access to information was only through media organizations which were either state-run or crony-controlled.
Marcos ordered the military takeover of privately-owned media channels ABS-CBN, Channel 5, and various radio stations across the country via Letter of Instruction No. 1. According to a 2015 Philstar report, 292 radio stations, 66 community newspapers, 7 television stations, and 11 English weekly magazines were closed.
An archived article published on September 29, 1972 by The New York Times, says the Department of Public Information issued policies and guidelines requiring newspapers, radio and television stations to "print and broadcast accurate, objective, straight news reports of positive national value that are consistent with the efforts of the Government to meet the dangers that it said brought on the proclamation of martial law."
The order, according to
The New York Times
, expressly prohibited what it referred to as "materials that tend to incite or inflame people against the Government, or its constituted authorities, and materials that undermine the faith and confidence of the people in the Government or any of its arms." The
iconic newspaper that ran the headline, "Marcos declares martial law"
was the
Daily Express
, which was owned by Roberto Benedicto, a Marcos crony.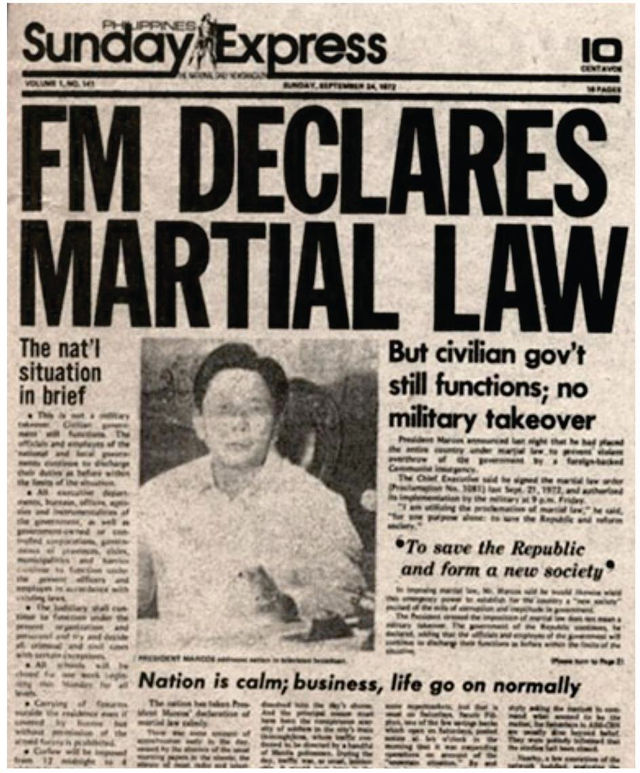 Other newspapers of that period which were all owned by Marcos cronies included: Bulletin Today, which was owned by Marcos aide-de-camp Hans Menzi; Times Journal, owned by Benjamin "Kokoy" Romualdez, youngest brother of former first lady Imelda Marcos.
According to "Martial Law in the Philippines: A Research Guide and Working Bibliography," some of the state-run newspapers like The Government Report, Philippine Monitor, and Philippines Post offered "a rather consistent and predictable point of view about the achievements of martial law."
The newspaper We Forum was also closed down. On December 7, 1982, Metropolitan Command Intelligence Service Group officers raided the paper's office. Along with other journalists, publisher-editor Jose Burgos Jr was also arrested.
Apart from the Maharlika Broadcasting System, which later became PTV 4, dominant television stations at the time were KBS (RPN 9-Radio Philippines Network), the Intercontinental Broadcasting Corporation (IBC), and Banahaw Broadcasting Corporation (BBC) – all owned by Benedicto.
Even entertainment content was censored. One of the most prominent casualties of censorship in entertainment content was cartoon show Voltes V, which was banned in April 1979, just when the series was down to its last 4 episodes. The popular series drew parallelisms with the Marcos dictatorship and the despotic leader.
Ultimately, the Philippine government acknowledged the atrocities committed during the Marcos administration. Republic Act 10368 or the Human Rights Victims Reparation and Recognition Act of 2013 gave reparations to the victims and their families. Incidentally, former Marcos defense minister Juan Ponce Enrile, who was Senate president in 2013, affixed his signature to the measure before it was forwarded to then-president Benigno Aquino III for signing.
Amnesty International lists 3,240 killed, 34,000 tortured, and 70,000 imprisoned during Marcos' Martial Law.
Alfred McCoy, a history professor at the University of Wisconsin-Madison, pegged the number of those killed at 3,257 and the tortured at 35,000 in his 1999 research,"Dark Legacy: Human rights under the Marcos regime." – Miguel Imperial/Gemma B. Mendoza Rappler.com
READ related stories:
If you suspect a Facebook page, group, account, a website, or an article is spreading false information, let Rappler know by contacting us at factcheck@rappler.com. Let us battle disinformation one Fact Check at a time.