Former president Ferdinand Marcos aimed to achieve rice self-sufficiency during his time, but his administration heavily relied on rice imports too
Claim:
During dictator Ferdinand Marcos' regime, the Philippines was primarily a rice exporter. The country began relying on rice imports after Marcos' ouster.
A post on a Facebook page called "Duterte/Marcos Supporters" contained these claims. The post also said that the Philippines became a rice importer during the "Aquino period" but did not specify whether it was referring to Corazon Aquino's administration or to Benigno Aquino III's term.
This claim was posted on the Facebook page "Fact-Checking in the Philippines" for verification. It has 186 reactions, 26 shares, and 12 comments as of posting.
Rating: FALSE
The facts:
While it did export rice, the Philippines also imported rice during the Martial Law period. The same practice continues to date.
Although Marcos made attempts to achieve rice self-sufficiency through the Green Revolution, his administration still relied on rice imports to cope with a dwindling supply of the crop.
The claim said, "Noon, tayo ang nagbebenta at nagturo kung paano mapadami ang tanim na bigas sa iba't ibang bansa sa Asya pero nung napatalsik si President Ferdinand Marcos nagiimport nalang tayo…" (Before, we were the ones selling and teaching other countries in Asia how to plant rice, but ever since President Ferdinand Marcos was ousted, we only import…)
The photo that accompanied this text implied the same, equating the "Marcos period" with "exporter" and the "Aquino period" with "importer."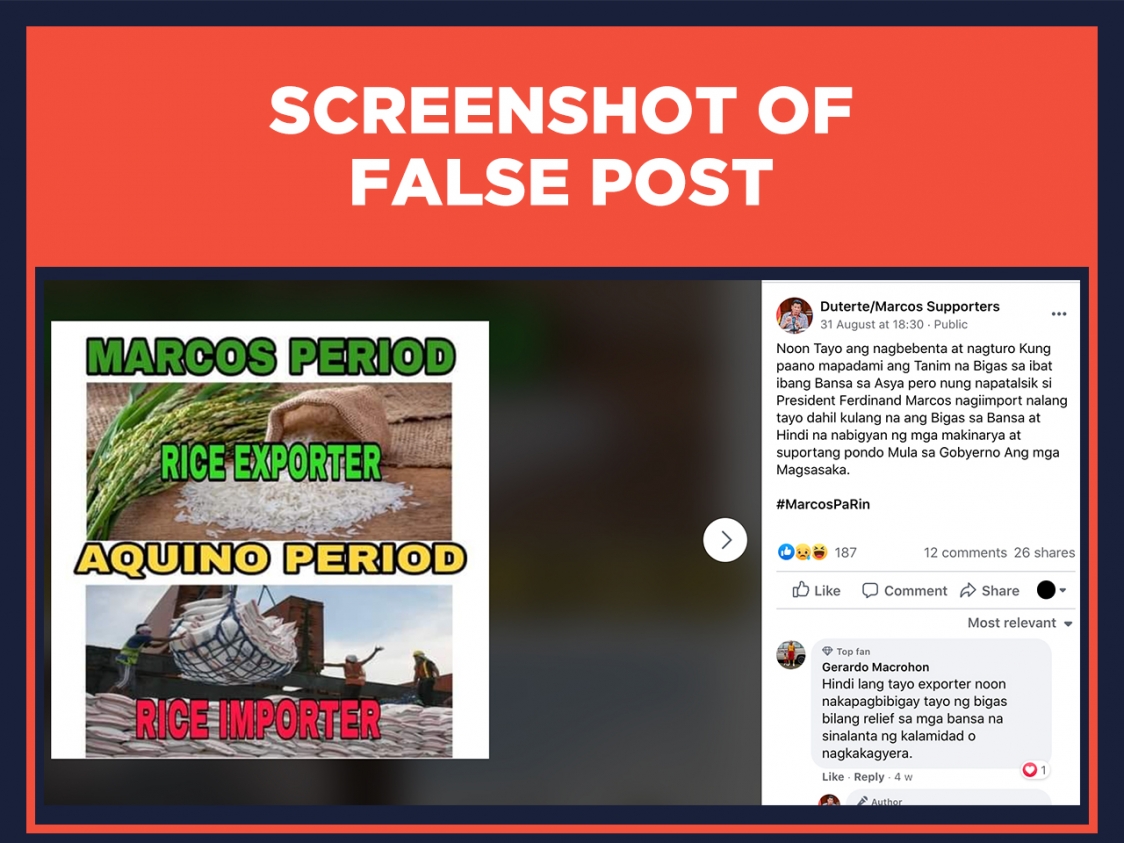 Milled rice imports from Marcos' 21-year term greatly exceeded exports. Data from the Food and Agriculture Organization of the United Nations shows that from 1966 to 1986, the country had imported around 2,679,000 metric tons of milled rice and exported only about 632,000 metric tons.
Former presidents Corazon Aquino and Benigno Aquino III continued to rely on imports after experiencing price hikes on rice. PSA data also shows that the total rice exports between 1986 to 1992 and between 2010 to 2016 did not exceed imports.
During Corazon Aquino's term, the Asian financial crisis and droughts brought by El Niño raised rice prices, and from 1988 to 1990, there was an increase in rice imports.
Years later, Benigno Aquino III also faced a rice crisis in 2014 when rice prices rose to more than P40 per kilo. In response to this, the government added 500,000 metric tons to the original target of rice imports of 800,000 metric tons during that same year. – with reports from Margarita Gonzalez, Vernise Tantuco/Rappler.com