This is AI generated summarization, which may have errors. For context, always refer to the full article.
Christmas is for family, even when Papa is in a coffin and Mama disappears
This compilation was migrated from our archives
Visit the archived version to read the full article.
The playground is crowded with children on Christmas Eve. They sleep under plastic chairs in a tangle of arms and feet. Those who are still awake sit scattered across the room holding paper plates of watery spaghetti. There is tinny music from a mobile phone. Cards are dealt out at a plastic table. Two coffins stand at one corner.
The body of Liwayway Yabut rests inside the first coffin, a plate of spaghetti on the glass lid. Her eldest, Alex, stands guard.
It is 21-year-old Alex who tells the story. How he had bought his mother dinner and left her sitting at a plastic table across a corner Ministop in Mandaluyong City. How he had walked away to the motorcycle parking lot. How he heard the gunshot, and turned to see his mother's bowed head. How he ran, shouting, to find blood running down her face and her pulse gone under his fingers. 
Everyone loved Liwayway, Alex says. The family had been on the streets a year, ever since Alex's grandfather sold their home. Liwayway would survive by begging money from friends. Five pesos at a time, sometimes more. It was Liwayway who patted the heads of the children in the village, who shared what food she had and what money her husband Andy earned from garbage collecting and the occasional stint as village watchman.
After she died, Andy Yabut disappeared, got into a boat one day and never came back.
Now Alex sits, surrounded by children, the cousins and street children who came to join his mother on Christmas Eve. It is Alex who watches over them, the oldest of them 17, the youngest 7 years old, just as his mother did when she was alive. He has sent home the few who have families for Christmas dinner. He has shared out the food a neighbor sent in. He tells them to behave. He tells them to stay away from drugs. He tells them to love their parents, because you don't know how long you have them.
Alex has appointed himself guardian to the passel of children who crowd around the coffins. He worries for them all. He cannot return to work. He cannot bury the bodies. The cost is too high, and there is no more money left to raise. A bucket sits by the playground door. There are coins inside, assistance for the family.
It is Christmas Eve, and Alexander Yabut is alone in a crowded room. He isn't looking for justice, he says. He only wants to bury his mother.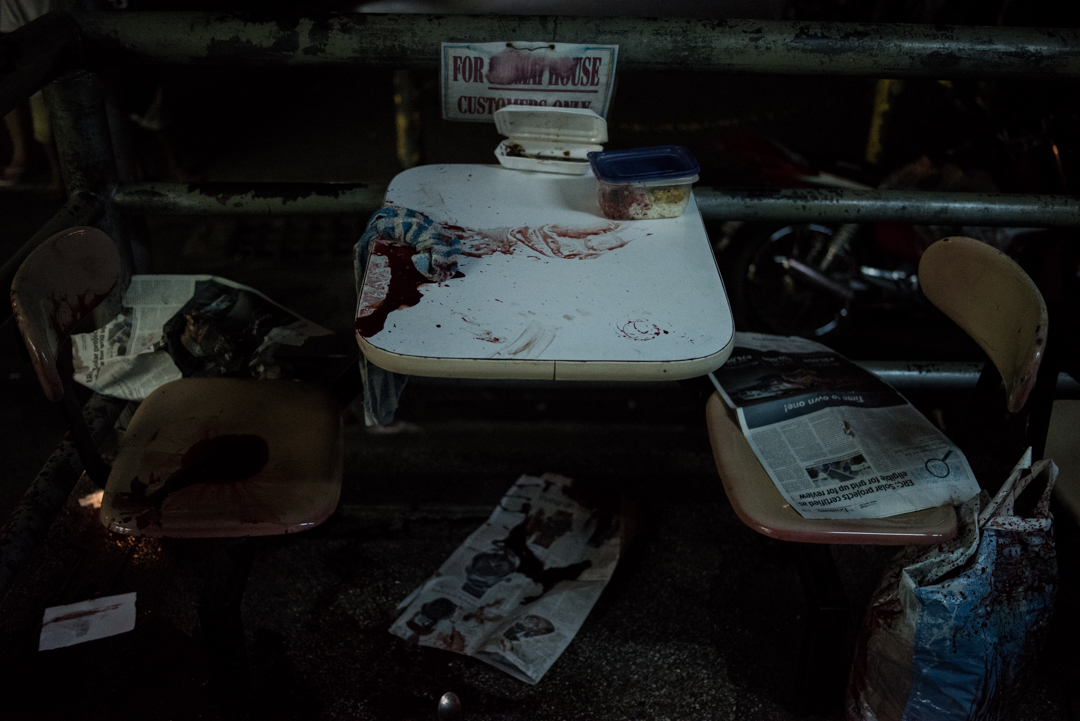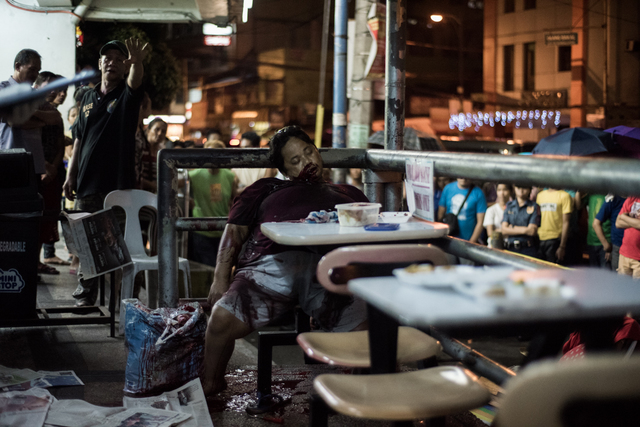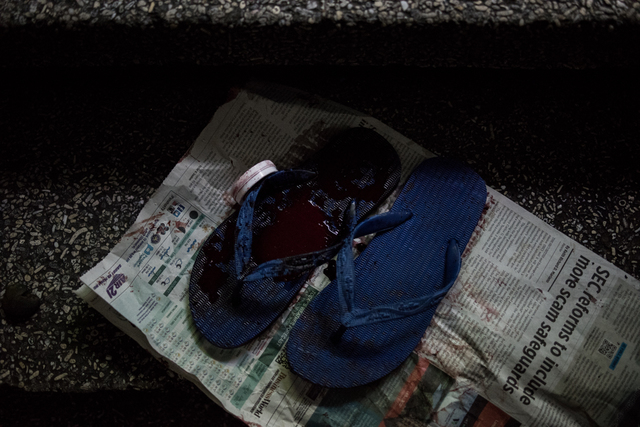 JR's story
In the beginning there were two sisters. Liwayway and Teresita. Liwayway married Andy Yabut, Teresita married Richard Reyes.
Liwayway had two children: Alex, and 18-year-old Cecil. Teresita had 3: JR, 15; Kongkong, 13; and 12-year-old Rose Ann. Five cousins, four parents who were occasional drug users, all living on the streets of Mandaluyong City at Village Harapin Ang Bukas.
One day not long after the declaration of the war on drugs, a cop went up to the sisters and told them to surrender. He told them their lives would be better. All four surrendered on the same day. All four travelled to rehabilitation seminars – to Zambales, to Baguio, to Bulacan, to a church where they were told miracles would happen.
Then the culling began. First Liwayway, dead on a plastic chair. Then Richard, killed at her wake.
It is JR who tells the story. Fifteen-year-old JR, Teresita and Richard's eldest boy. JR says he knew his parents would die, ever since the first surrenderee was gunned down along Boni Avenue. All those who surrender are killed, says JR. Had the killers known that Teresita and Andy were at the crime scene when Liwayway was killed, there would have been 4 coffins on Christmas Eve, not just two.
On the evening of December 19, JR was at the street corner buying peanuts for the wake when the motorcycles passed him – two motorcycles, without plates, two men riding in tandem on each. They wore masks and bonnets. JR ran after them, screaming, Papa, Papa.
Then there were gunshots.
Kongkong's story
It was 13-year-old Kongkong who was at the wake when the motorcycles came roaring in. The men in masks shot Richard just across from Liwayway's coffin. Three shots, one sliding past Richard's cheek to catch on an earlobe, the next two between the eyes. They would have left if Richard hadn't raised an arm.
Don't, said his wife, but the killers had seen Richard move. They shot him again, seven bullets to the body, 10 in all. 
It was at the tenth that Kongkong came running to throw himself at his father. The eleventh bullet hit Kongkong in the leg. He felt nothing, held tighter to his father. 
Shoot the man, said the motorcycle driver. We have a last bullet.
Please, said Kongkong. Please leave my father a breath. Let me speak to him.
The man with the gun stepped back. The poor kid, he said. Let him be.
The killers left.
Richard told Kongkong to take care of his mother and his brother and sister. He said to watch out for them. He didn't say who it was who killed him. 
The killer came back with a warning, while Kongkong was on the ground, still holding on to his father. The killer told Kongkong to go. He said they would be back for another kill, and Kongkong and his family might get in the way.
When they roared off, Kongkong began screaming. One of the men on the street went chasing after the motorcycle. Grabbed a heavy length of metal. Yelled he would beat the killers. The big man was a fast runner and caught up with the motorcycle. He swung back his arm just before they aimed a gun at his face. He stepped away. 
Richard Reyes died that night at the San Jose Hospital, with his son watching his last breath.
Cecil's story
Outside, along Senator Neptali A. Gonzales Street, a quartet of teenaged boys duck behind cars and shoot pellets from toy pistols. A string of blinking lights wrap around a tarpaulin with Liwayway's face.
The photo had been taken recently. Liwayway had insisted on a new picture. It was best to have a record, she said, on the off chance she is killed in the drug war. 
There are no parents left to celebrate Christmas with the children. Liwayway is dead. Her husband Andy is gone. On the morning after Richard Reyes was shot, the Reyes children woke up to discover their mother Teresita gone, their youngest sister Rose Ann with her. There was no note, no phone number, nothing to tell them where she went.
It is 18-year-old Cecil, Alex's sister, who talks about Christmases past – when Liwayway put together spaghetti and fruit salad, when they took what money they had to buy new pants and shoes, when they were all together and everyone was happy.
She is not angry her father abandoned the family – she understands he is afraid. 
Richard Reyes was not the first body in a coffin brought to the playground in December. It began with the wake of Milton Bolos, Richard's godson, killed along the same street on December 6 while sitting on a yellow canvas chair one house away from the village hall. Milton was on a list of 10 suspected drug personalities marked for assassination. Sources say Liwayway and Teresita were among the targeted, along with their husbands. Although it is unknown who created the list, the few who have seen it have warned neighbors and friends – the same way Milton Bolos was warned the night before he was killed.
There are no suspects in the murder of Richard Reyes. The police say the case is "under follow-up." Since July 1, at least 6,199 have been killed in the war against drugs. As of December 25, the police list 2,150 suspected drug personalities killed during police operations, with 4,049 dead from extrajudicial killings. 
"Before, when you're talking about murder, it's people who are innocent. They are victims of drug-crazed people who committed crimes," said Philippine National Police chief Ronald dela Rosa. "Now most of those killed are drug personalities. That's the very big difference."
He added that while the murders should be investigated, "people should appreciate the difference between the innocent and the drug personalities."
The night before Christmas
Kongkong sits slumped on a chair across his father's coffin on the night before Christmas. His pupils are pinpricks. His voice speeds then slurs.

It is a Merry Christmas, he says, because he gets to spend it with Papa. 

The children change Kongkong's bandage every day. Wash the wound, smear it with antiseptic. There should have been a cast around his leg, but he had it removed, said it was too heavy and made it harder to walk. Maybe they could have found the money to get the bullet out of his leg, but Kongkong said no. Bury Papa first. It was his decision, and his cousin Alex says he has a right to it. 

So Kongkong sits and talks, staring at the wall, doped up on over-the-counter painkillers and not much else. He refuses medical treatment. He refuses help. He will not return to any hospital, because a hospital is where his father died. 
Kongkong wants the bodies buried. He will stay until they are, then he will leave, because the killers have promised to come back. He believes his mother and sister are dead. He hopes they are all happy with his father.

It was a good Christmas, he says. It was a merry Christmas, because Papa is here. – Rappler.com
Updated editor's note: The Shrine of Our Lady of Perpetual Help, the Redemptorist Church of Baclaran, has offered to cover all remaining expenses related to the burials of Liwayway Yabut and Richard Reyes. (READ: The Church of the Resistance). All quotations have been translated into English.
.