This is AI generated summarization, which may have errors. For context, always refer to the full article.
(UPDATED) EXCLUSIVE: Desperate to pass their subjects, some students resort to academic dishonesty just to comply with class requirements
It started with a message from her friend back in September 2020. This was about a fellow student who was asking them to write a paper for a class requirement. After receiving good feedback and P150 as payment for her work, Grace* decided to make commissioning for students' classwork a business.
Grace, a sophomore Psychology major, told Rappler in an interview that ever since she started accepting academic commissions 5 months ago, she has been able to save up money to fund her schooling, especially for the requirements of the remote learning setup.
Her mother, an overseas Filipina worker in Saudi Arabia, is the only one providing for them. Her father is left with her and her brother at home, taking care of the household.
She is currently enrolled in a private university in Manila with a scholarship. But with the expenses that come with remote learning, she has to engage in this kind of activity to get by.
This is also the case of *James, an Information Technology student, who also started engaging in this business in September after posting on his social media about the commissioned academic work he offers students.
"I wanted to earn while I have the freedom to do it. And I thought, why don't I use my brain to earn money without sacrificing my grades. Many students are looking for someone to do their class activities so I took advantage of it," he said in a mix of English and Filipino.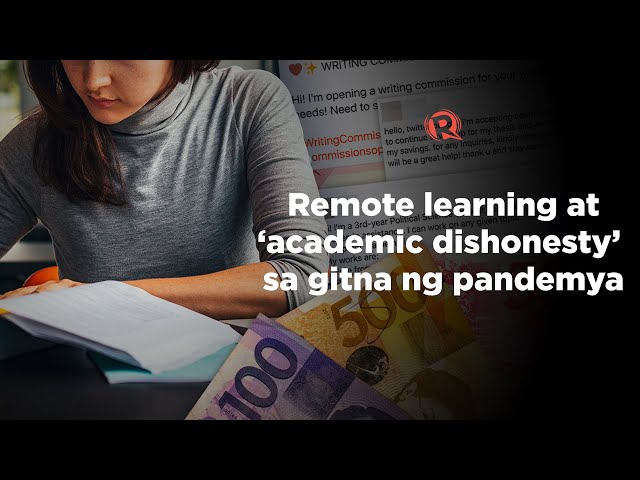 Both Grace and James use social media to amplify their homework services, setting up a Twitter account dedicated solely to engaging potential customers – students – to give them jobs.
Amplified by social media
A quick scan on Twitter using #WritingCommissions, #AcademicCommission, #AcademicService, and #EssayCommission shows students advertising their services through different promotional graphics with corresponding prices.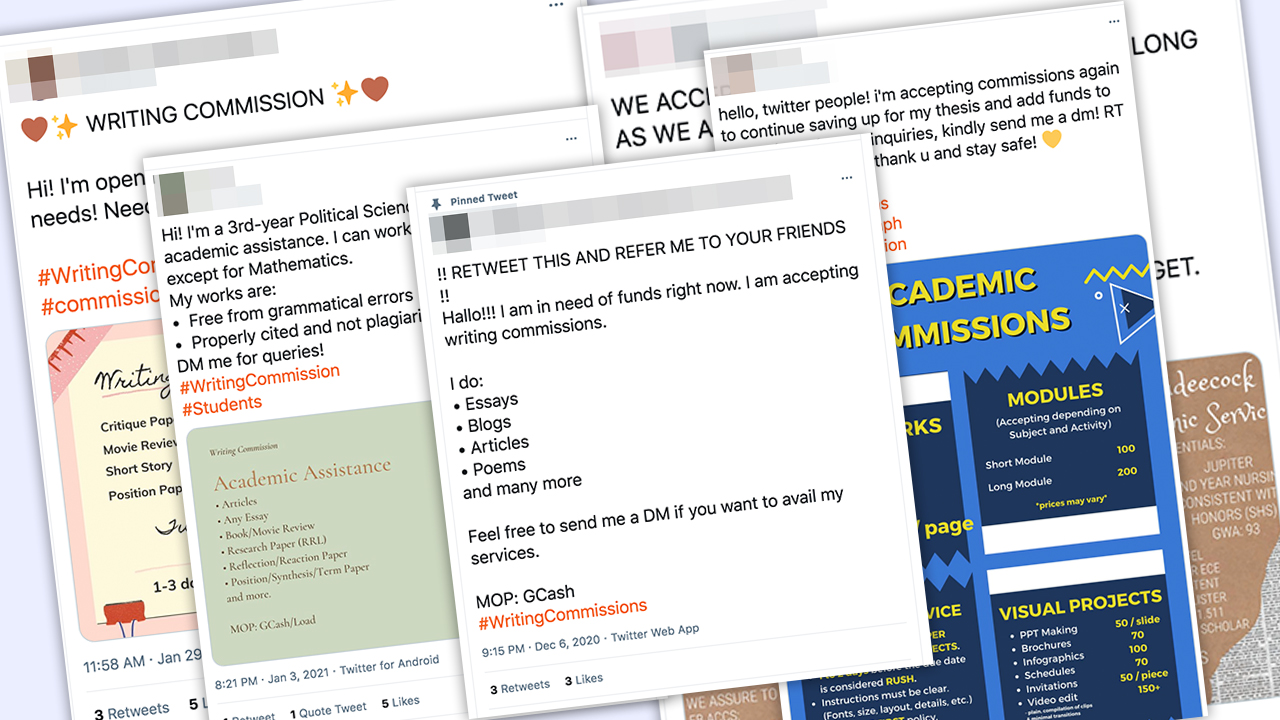 For example, a measly P100 can save a student from failure. But the prices of the commissioned work vary depending on the length and type of the academic requirement. Here's an example:
Essay/Reflection paper – P100 per page
Learning module – P100 to P200 (depending on the length)
Slide presentation – P50 per slide
Concept paper – P100
Video editing – P150
Grace said that she created a Twitter account for her business to reach more customers. This is also where she transacts with them. When a deal is made, she sends a Google form where a customer is asked to indicate the type of service needed.
To make sure that a student does not run away, Grace asks for an initial payment of 50%. Then when the commissioned work is done, she notifies the student to pay the balance before she sends over the accomplished work. Payments are coursed through digital wallet app GCash.
Grace and James said the grade levels of their customers vary – from junior high school, senior high school, to college students.
Grace, however, could not determine where the students are studying because, like her, they are also using dummy or fake accounts for their transactions.
"Mostly college and senior high school, the grade 12 students. Hindi ko po sure kung saang school sila (I'm not sure about what schools they come from) because they also keep their personal identities," Grace said.
For essays or reflection papers, Grace said customers need to give their topic two days ahead of the deadline to give her ample time to do research and write about them.
On average, Grace has 3 to 4 customers a week, and earns P1,000 to P1,300 a month, depending on the type of commissioned work.
"Konti na rin nagpapagawa sa akin kasi ngayon laganap na ang ganitong business," Grace said. (I only have a few customers these days since this kind of business is widespread now.)
Meanwhile, James said that he earns P6,000 a month on average, with 5 to 7 customers a week. But each customer sends him multiple academic assignments.
Professor Jayeel Cornelio, director of Ateneo de Manila University's development studies program, said that this kind of industry involving students is not at all new and can be traced back to the 1980s.
"The reality is that this is not a new industry, if we could call it that. Such services have been common for a time already – just ask those who went to college in the 1980s and 1990s. Recto was known for such trades, for example," Cornelio said.
"Social media as a space has merely amplified this, perhaps as an entrepreneurial endeavor on the part of those who need money. But perhaps the question is really for those who avail of their services," he added.
A Rappler story published in January 2020 revealed that some De La Salle-College of Saint Benilde students allegedly paid to get past thesis requirements.
With the implementation of distance learning for basic education students and flexible learning for college students, it's next to impossible to prevent students from engaging in this kind of academic dishonesty since they are doing their classwork away from their teachers.
'Overwhelming' academic workload
Rappler was able to speak with a student who is one of Grace's customers.
Kim,* a senior high school student in a public school, said that she asked Grace to do a reaction paper for a 3-hour video they were asked to critique.
Kim said she paid Grace P300 for her work. But she only did this because she didn't know what to do since her academic work was already "overwhelming" and piling up. She didn't want to fail any of her subjects.
"Dahil sobrang dami po ginagawa like sunod-sunod po eh, hindi na ma-handle nang maayos. 'Yung submission date po kasi magkakalapit so hindi na po namin alam ang ipa-prioritize talaga," she added.
(Because there's a lot of work that needs to be done, all piling up and I can't handle them properly. The submission dates are so tight so I really don't know what to prioritize.)
The implementation of remote learning has been widely criticized as the country appears to be not fully prepared for distance education. This is evident in the erroneous learning modules and in teachers having difficulty coping with the new mode of teaching they were forced into. (READ: No student left behind? During pandemic, education 'only for those who can afford')
Dr Joan Rifareal of the Philippine Psychiatric Association told Rappler in a previous interview that some of her student clients talked about feeling burnout due to their workload. They struggle with the new system due to inadequate resources.
The Department of Education (DepEd) earlier said that it has ordered teachers to prepare activities that are less burdensome, following reports of students experiencing distance learning burnout.
'Complying, not learning at all'
Recognizing that what they are doing has ethical implications, Grace said she could not blame students who turn to her and others like her to get the work done. But what is clear to her is that education officials should revisit teaching strategies during the pandemic because students are resorting to this kind of work not to learn, but just to comply with their teachers' academic requirements.
"I am hesitant about this because of the ethical implications. Maybe, instead of focusing on academic dishonesty or cheating, figure out why students resort to this in the first place," Grace said in a mix of English and Filipino.
"Students are just complying with the requirements, not learning at all," she added.
In November 2020, some senators urged DepEd to consider resuming face-to-face classes. They were concerned that students are unable to retain much from the current modes of remote learning, especially those unable to take online classes.
The issue of whether students are actually learning in a remote setup is concerning as recent global assessments showed that Filipino students lagged behind other countries, especially their Southeast Asian counterparts in terms of academic performance. (READ: PH lowest among 58 countries in math, science – global assessment)
For instance, the first-ever Southeast Asia Primary Learning Metrics (SEA-PLM)** revealed that only 10% of Filipino Grade 5 students met the minimum reading performance they ought to achieve at the end of primary school. Meanwhile, an even lower 5% of Filipino students attained good writing skills. And just 17% of Filipino students attained minimum math competencies.
Earlier this year, President Rodrigo Duterte recalled his order allowing limited in-person classes in some areas due to the emergence of the more-infectious COVID-19 variant.
Rappler has also found that not all schools in the country have the basic health facilities to allow for a safe return of students to schools. (READ: Are PH schools ready for face-to-face classes during pandemic?)
Academic dishonesty
The students Rappler spoke with agreed on one thing: paying someone else to do their academic work is a form of dishonesty or "cheating." Academic dishonesty is any type of cheating that happens in relation to a formal academic exercise.
"I am having a tug-of-war with my principles regarding the academic dishonesty I'm committing. Many are paying someone else to do their homework because they are bombarded with activities, but I know this is not enough to justify what I am doing," James said in a mix of English and Filipino.
Meanwhile, Grace urged education officials to review the implementation of remote learning as students resort to this mainly because they can't handle the deadlines being imposed on them.
"Why not address that problem na huwag nila tambakan ang estudyante or gawing mas practical ang assessment nila para hindi mag-cheat ang mga students? Kasi nga 'di ba may pandemic so gawing mas practical sana ang assessments," she said.
(Why not address the problem of students' workload piling up and instead make assessment more practical so they won't resort to cheating? There's a pandemic so they should make the assessments more practical.)
Cornelio said that this kind of work can never be justified at all.
I guess its pervasiveness calls into question the design of alternative learning.

PROFESSOR JAYEEL CORNELIO, DIRECTOR OF ATENEO'S DEVELOPMENT STUDIES PROGRAM
"How much can we teach? How heavy should the requirements be? And how exactly do we ensure quality? These are 3 questions for the system," he added.
In a Viber message to Rappler on Monday, February 1, Education Undersecretary Diosdado San Antonio said they had "long issued the guidelines on academic ease. We [will] continuously monitor the implementation and will hopefully issue an academic ease part 2 memo soon."
Rappler also reached out to Commission on Higher Education Chair Prospero de Vera III, but he did not give his comment on the issue.
What can be done?
Philippine Business for Education (PBEd) executive director Love Basillote said that "academic integrity is a challenge in remote learning."
Basillote said this could be solved by investing in digital education because assessment technologies are "improving every day," which means giving students access to digital learning devices and the internet.
She also said that the government should push for the safe return of students to school. This was echoed by Alliance of Concerned Teachers (ACT) Secretary General Raymond Basilio, saying that classrooms should be reconfigured "to enable physical distancing."
He added that the government should also prioritize constructing hand washing facilities and comfort rooms in schools, as well as hiring of school nurses.
Basilio also emphasized that students engage in this kind of activity because lessons are not really designed for "self-learning."
"The main reason na nakikita namin dito ay 'yung kahirapan talaga ng mga mag-aaral na gawin 'yung mga performance tasks dahil nga hindi naman talaga designed for self-learning ang mga materials," he explained.
(The main reason why this is happening is that students are having a hard time accomplishing the performance tasks because the materials are not actually designed for self-learning.)
San Antonio earlier said that the distance learning setup is the "perfect time" to teach honesty among students. But with students' desperation to pass their subjects amid an "overwhelming" workload, can we blame them for engaging in this kind of academic dishonesty?
Students, teachers, and parents can only hope for more sound policies in the education sector this year, especially since there is still no end in sight for the pandemic. – Rappler.com
*Names have been changed for students' privacy
**Graph of SEA-PLM is from JC Punongbayan's piece, [ANALYSIS] Why we need to safely reopen PH schools as soon as possible