In this round, both players – Speaker Alan Peter Cayetano and President Rodrigo Duterte – are winners
President Rodrigo Duterte has a knack for embedding an escape route when making promises and it gave his ally Speaker Alan Peter Cayetano the upper hand in the game of thrones at the House of Representatives.
Duterte's play came in the form of a public statement and, later on, a decision made behind closed doors at Malacañang, that his warring allies Cayetano and Marinduque Representative Lord Allan Velasco could use to their advantage.
Over a year ago, Duterte brokered a deal under which Cayetano would become Speaker for 15 months, followed by Velasco who would then take over in the succeeding 21 months.
"He's hoping na tutupad sa usapan ang partido pero kung wala pong numbers si Cong Lord Allan, eh wala siyang magagawa," said Presidential Spokesman Harry Roque about Duterte's stance on the rivalry a week before the Palace meeting.
(He's hoping for the party to fulfill the agreement but if Congressman Lord Allan doesn't have the numbers, he can't do anything.)
The statement does two things: make it sound like Duterte is backing Velasco by wishing to stick to the deal, and giving Cayetano a window of opportunity to have his way. The message was, if you get most of the lawmakers to rally behind you, I won't insist on the deal.
This was not lost on Cayetano, who masterfully flexed his numbers by offering to resign mere hours after being told to honor the term-sharing agreement. Only a Speaker confident of his control over the majority would pull off such a stunt. And Cayetano did with a convincing plenary victory of 184-1-9.
There's near consensus that Velasco was outwitted, reduced to accusing Cayetano of taking a "cheap shot." But what of Duterte, was he outplayed too?
Political science professor Melay Abao thinks the Cayetano play hurts Duterte politically and makes him look weak.
"It makes him look so out of control. He's beginning to look like a lame duck president," she told Rappler.
A lame duck president is something you don't want to be, especially heading into an election budget year like 2021 when allies are more fickle and likely to gravitate to the political personality who will help them win in the upcoming polls.
But Earl Parreño, a veteran journalist and Duterte observer who wrote a biography about the President, Beyond Will and Power, has a different take.
While he thinks Duterte didn't expect what Cayetano was going to do, the outcome is not necessarily disadvantageous to the President either.
"He respects tuso… Eh naisahan ka Velasco, kasalanan mo 'yan. Okay 'yun sa kanya. I think plus factor pa ito kay Cayetano para sa eyes ni Duterte," Parreño told Rappler.
(He respects cunning…Velasco, you were outplayed, that's your fault. That's okay for him. I think it was even a plus factor for Cayetano in Duterte's eyes.)
It's not unlikely then that the President was nodding appreciatively at his 2016 running mate's political maneuver.
"I disagree that it makes Duterte a lame duck president. The context here is, what would make him stronger in passing needed laws? The biggest hurdle they need to address is the Senate. And if he goes with Velasco now and it becomes clear that Congress under him can't deal with the Senate, because it's the House that usually passes the Malacañang version…. it would look like he is inutile if the Senate doesn't pass these bills, and Velasco could not, does not have that experience to deal with the Senate," said Parreño.
Duterte values a strategist because he knows he can use that, especially in his fight for his pet bills.
The night at the Palace
For a time, it seemed Velasco was finally getting a step ahead of Cayetano. But the 49-year-old tactician from Taguig still prevailed.
It was late evening on September 29. The setting was the Malacañang Golf Clubhouse, a social events venue in Palace grounds now serving as Duterte's pandemic-time office.
Lawmakers from both the Cayetano and Velasco camps had been seated two meters apart as Duterte addressed them, like a teacher addressing pupils, asking for unity for the sake of the country. But Cayetano had a few words of his own. He accused Velasco of plotting a coup against him, in violation of the term-sharing agreement Duterte himself had forged for them.
Velasco insisted he has palabra de honor, that he worked quietly in the chamber so as not to be seen as competing with the Speaker. He told Cayetano to step down by October 14, but his rival wouldn't budge. Both wanted to be Speaker on their birthdays.
So Duterte ushered them into a smaller meeting, one involving just the 3 of them and the ever-present Bong Go, who, as senator, should not be involved in House affairs.
From what various PDP-Laban members were letting on that night, Velasco had emerged the winner of that small meeting. Duterte had supposedly given his blessing for Velasco, his family friend and party mate, to assume the speakership on October 14.
Too bad for Cayetano who wanted to stay in the powerful position and had even garnered declarations of support from a majority of lawmakers in the House of Representatives.
The hours that followed piled on the confusion. Cayetano's allies who attended the Malacañang meeting said there was no consensus on an October 14 turnover and Duterte had, in fact, pushed a December leadership change, which Velasco rejected. What was clear was the President wanted the term-sharing deal honored for Velasco to have his chance.
When Cayetano offered to resign the following day at the Batasang Pambansa, before House members and the public, it was clear something was afoot. More so when 184 lawmakers ended up rejecting his resignation, deciding to keep him as Speaker and effectively thumbing down, at least in the short-term, the chance Duterte had wanted to give to Velasco.
It was a bold move and a checkmate of Velasco who appeared to think Duterte's word was an unbeatable weapon that could clear any obstacle.
His rival Cayetano put it best.
"Very obvious naman, in-announce na ng Malacañang: it's left up to the House leadership who will be their Speaker. So everyone naman reads between the lines," Cayetano said on October 5.
(It was very obvious and it was announced by Malacañang: it's left up to the House leadership who will be their Speaker. So everyone reads between the lines.)
Yet it was crucial for the Taguig City-Pateros congressman to immediately return to Malacañang to express his loyalty to the President. After all, Cayetano defied Duterte himself with his resignation stunt at the Batasan.
"And just as he has put his faith in the leadership of the House to do the right thing – na gawin ang tama – we also reaffirm our support for the President and his vision for a free, strong, and prosperous Philippines," Cayetano said on October 1 after meeting with the President again.
"If there was some other way, a less divisive and political way to do this – I would do it. But for now, let us resolve to move past this as quickly as possible, fix what has been broken, and show the country that we are worthy of their continued high regard," Cayetano said.
Much is at stake for Cayetano in the speakership saga. Political analysts have argued that clinging to the speakership is crucial for the Taguig congressman if he has any plans to run for president in 2022.
Cayetano's hidden ace
But there may be an unexplored factor in Cayetano's winning strategy. Way back in 2019, when multiple Duterte allies were gunning for the speakership after the term of then-Pampanga congresswoman Gloria Macapagal Arroyo, lawmakers said members of Duterte's economic team were influencing the race.
Finance Secretary Carlos "Sonny" Dominguez III, one of the most powerful voices in the Duterte Cabinet, supposedly supported the speakership of Cayetano. Between him and Velasco, he reportedly had more confidence in Cayetano to get economic bills passed.
"To my knowledge, back then (2019), it was the finance secretary's voice that was a major factor in Duterte's decision [to let Cayetano become Speaker first]. They wanted somebody with experience to shepherd any administration bill through the processes of Congress and I think that confidence is still there," said Parreño in Filipino.
A source in the House said Cayetano could also count on the support of Go himself and Executive Secretary Salvador Medialdea, his former Cabinet colleagues.
Cayetano made sure to get on Go's good side ever since 2015, when he wooed Duterte to be his running mate for the 2016 elections. Way back when Go was just the Davao City mayor's assistant, he and Cayetano bonded over a game of basketball, a sport for which they share the same passion.
"'Di puwedeng mag-decide si Digong na wala siyang kakausapin o constantly nire-remind siya na mas magaling, mas kabisado natin si Cayetano. Ang advantage ni Cayetano, former Cabinet member siya," said the source.
(Digong could not have decided without talking to someone or getting constant reminders that Cayetano is more competent, that they are more familiar with Cayetano. Cayetano's advantage is, he's a former Cabinet member.)
At the very least, it may have given Cayetano the added confidence to offer his resignation and expect Duterte not to step in after.
In 2019, Dominguez denied playing a part in Duterte's decision on the speakership, saying "the DOF does not interfere with the internal affairs of the legislative branch." Asked again by Rappler on October 2 if he contributed to Duterte's decision for Cayetano to become Speaker before Velasco, Dominguez did not reply.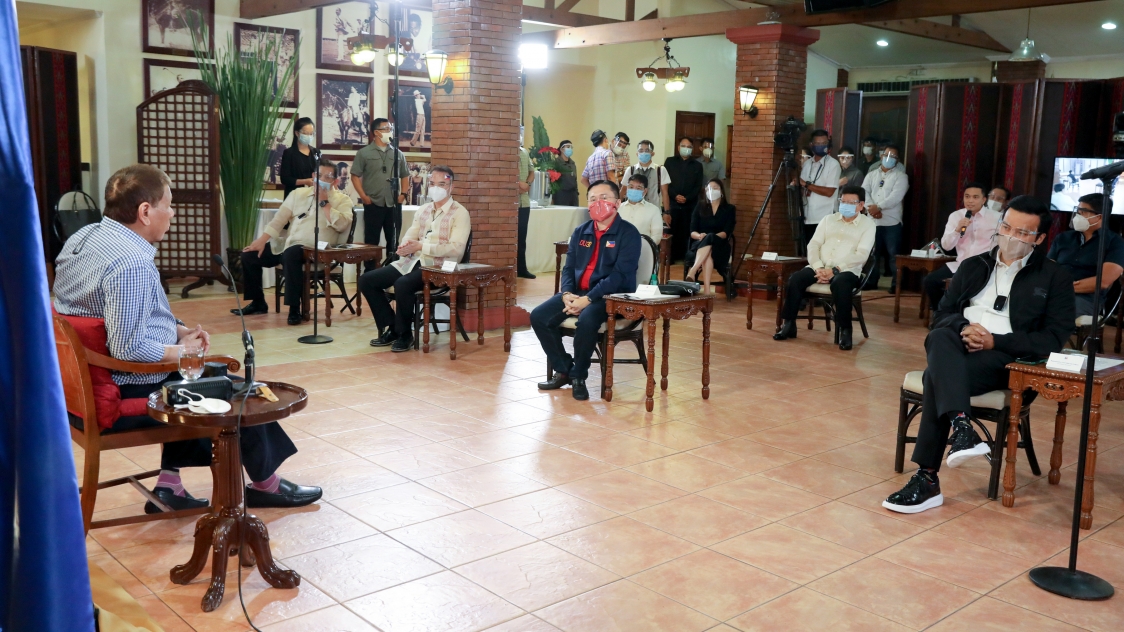 Because Duterte stuck to his two-sided word of honoring the deal and stepping away if Cayetano had the numbers, the President can't be said to have been caught flat-footed by events. This is all thanks to Duterte devising a statement that gave him and Cayetano some flexibility.
Duterte has a flair for crafting statements containing an exit door, allowing him more wiggle room should the remarks end up unpopular.
Take for example his famous 2015 remarks that many took to mean his support for same-sex marriage.
"It's good… Everyone deserves to be happy…Kahit sa mga dormitoryo noon, ayoko talaga 'yung mga bakla na niloloko. I was the first to give a statement sa Davao when [party list] Ladlad was denied registration," Duterte said in the popular show Gandang Gabi Vice hosted by Vice Ganda, a gay comedian.
He managed to sound supportive of same sex marriage, without specifically saying he was going to push for its legislation.
True enough, two years later, Duterte, now President, said he doesn't support same-sex marriage because the Philippine Civil Code allows only men to marry women. "That is our law," he said. At the time, he was in the middle of a rant against Western nations that are more liberal on same-sex unions.
But 9 months later, this time in front of a crowd of LGBTQ+ members, Duterte said he "wants same-sex marriage" and anyway, "we can change the law." He again made use of a loophole in his phrasing months ago that it was the law, and not him, stopping same-sex marriage.
You can hear him in many speeches harking back to "colatilla" he made in his most controversial remarks, from threats to kill drug addicts "unless they fought back," that he never killed a man "blindfolded, kneeling, hands tied behind him."
It doesn't help that most people, including his allies, have a tendency to hear what they want to hear. This may have been the case for Velasco who pinned his hopes only on Duterte pushing for the term-sharing deal and not thinking twice about the second part of Duterte's statement: that he would not intervene if the speakership came down to a numbers game.
The 'misreading' of Sara and Pulong
If there's anything Cayetano's so-called "theatrics" has proven, it is that he is a seasoned politician challenged by a newcomer who expected the speakership to be handed to him on a silver platter.
Yet it wasn't just Velasco whom Cayetano had to outgun in this round. He also had to outwit two emerging political forces in the President's two children: Deputy Speaker Paolo "Pulong" Duterte, the catalyst of the latest power struggle to grip the House, and Davao City Mayor Sara Duterte, known to be close to Velasco.
Badgered by lawmakers disgruntled with their budget allocations, Paolo Duterte had threatened to ask the powerful Mindanao bloc to unseat Cayetano on September 21. But Cayetano knew exactly how to tame the neophyte congressman: with promises of heftier shares in the budget.
The Speaker's plan worked – at least for now. No coup d'état has been staged against Cayetano, and the unpredictable son of the President has gone quiet again.

A reliable House source told Rappler that Paolo Duterte was among the 9 abstentions in the motion to reject Cayetano's offer to resign. This was later confirmed by Paolo Duterte's close friend and House committee on appropriations chair Eric Yap.
"We abstained," Yap said in a Viber message.
These abstentions might have been a disappointment for Cayetano especially after photos of him with the President's son were posted on social media. In the end, this signals that Paolo Duterte will still be watching out for his slice of the budget pie and that he isn't securely in Cayetano's side of the fence.
On the day of the Duterte-Cayetano-Velasco meeting, there were even rumors that Sara, who was then on leave from City Hall for medical reasons, was going to join the Malacañang gathering.
Asked by Rappler a few days later if this was true, she messaged, "No comment."
But in the end, the Duterte siblings' influence did not count for much.
Political analyst Ela Atienza of the University of the Philippines argued that while Sara and Pulong are forces to be reckoned with in their turf Davao City, this power wanes when faced by other political clans that have long been dominating the national arena.
Case in point: Sara Duterte helped unseat Pantaleon Alvarez in 2018, only for the ousted speaker to get reelected as Davao del Norte congressman the year after. Alvarez's PDP-Laban ticket made a clean sweep of the elections in his province and beat the candidates fielded by Sara Duterte's Hugpong ng Pagbabago.
"So this is showing that at the national level, the Duterte siblings also have to learn. They're misreading the dynamics of the more seasoned politicians in the House," Atienza said.
There's no doubt that all these manueverings have something to do with the 2022 elections. As Duterte's term reaches its sunset years, political realignments and factions are coming to the fore.
Working for Duterte and his allies are his high approval ratings, bolstered once again by Pulse Asia's September survey that showed the President retaining his popularity despite the pandemic. It becomes all the more crucial for an ambitious politician to be seen as his ally. But as Cayetano shows, there's more than one way to skin a cat. – Rappler.com