Slain human rights worker Zara Alvarez dedicates her life to documenting abuses and killings in Negros Island, a place known for its long history marred by blood and violence
The life of Zara Alvarez was a life lived for the marginalized. On Monday night, August 17, her relentless struggle to fight for victims of human rights violations was mercilessly cut short.
The 39-year-old was gunned down as heavy rain poured on Bacolod City in Negros Island, the same place that she was witness to injustices she fought in her decades-long work.
She leaves behind an 11-year-old daughter, whom she bonded with over cooking. Most of the time, her work kept her away for days. Her daughter was only 3 years old when Zara was first imprisoned in 2012.
Alvarez became part of a long list of activists and human rights defenders killed in the Philippines. At least 134 have been killed since President Rodrigo Duterte took office in 2016.
Her death leaves a huge dent in the important human rights work in Negros Island, its history marred by blood and violence, especially over the past years. (READ: Death comes unprovoked in Negros Island)
Alvarez worked with a lot of organizations – among others, serving as research and advocacy officer for the Negros Island Health Integrated Program (NIHIP).
She was also campaign and education director, as well as paralegal for Karapatan Negros Island. Before that, she was part of Anakbayan Negros, Bayan Negros, and the North Negros Alliance of Human Rights Advocates.
Clarizza Singson, Karapatan secreretary-general in Negros, said Alvarez was the type of human rights worker everyone aspired to be. They had known each other since 2002.
"Isa siya sa mga pinakamasigasig magtrabaho sa Negros na kahit kung minsan sinasabi niya na pagod na siya, akala niya hindi niya kaya, pero siya 'yung taong hindi umaayaw," she told Rappler in a phone interview on Tuesday, August 18.
"Makakapagpatunay ang lahat ng sektor, political prisoners, at communities kung saan siya nagsilbi kung paano siya magtrabaho at tumulong kahit na alam mo na ibang klaseng threats ang hinaharap niya," Singson added.
(She's one of the most enthusiastic human rights worker in Negros, even if she'd sometimes say she's tired or that she's not sure that she's up to the task, but she's not the type who gives up. Several sectors, political prisoners, and communities she worked with will attest to how she worked and helped, despite the different kinds of threats she faced.)
Karapatan secretary-general Cristina Palabay, meanwhile, described Alvarez as a "loving mother, a thoughtful colleague, and a daring and passionate human rights worker." 
Like any person who chose to work in the human rights field, Alvarez knew well the dangers that came with the job, including the long days in communities, the intense emotions evoked by the rampant abuses, and the "monsters cowardly lurking in the dark, poised to silence the stories and truths we safe-keep and document."
In a Facebook message on Monday, August 17, Palabay told Rappler, "Zara, facing dangers and fears, did what any of us have pledged our life to – that of selfless service, without any reward of accolades, money, or fame."
Drawing strength from the field
Alvarez, a licensed teacher, grew up close to the church. She counted this as one of the reasons why she got involved in cause-oriented work.
"Malapit na malapit talaga siya sa simbahan, sa mga madre, sa mga pari," Singson said. "Lumaki at na-organize siya sa simbahan."
(She was really very close with the church, to nun and priests. She grew up and was molded in church.)
Bishop Gerardo Alminaza of the Diocese of San Carlos said Alvarez was always "ever ready" to organize different sectors – from farmers to drivers, even church workers.
"Her active involvement in the Church People-Workers Solidarity is worthy of emulation," he wrote in a statement. "Always reminding us to be prophetic in our work of evangelization and social justice."
Her work involved fact-finding missions to uncover human rights abuses in faraway areas in Negros Occidental. This landed her in hot water with state authorities, according to her colleagues.
In an interview with D+C Development and Cooperation journal, Alvarez said there were death threats, and that she really did fear for her life given the rise in extrajudicial killings. But she drew strength from the communities.
"The stories of the victims of human rights violations must be heard," she was quoted as saying. "So I prepared myself mentally for an extrajudicial killing, or enforced disappearance, but I was not prepared for the trumped-up charges I am facing now."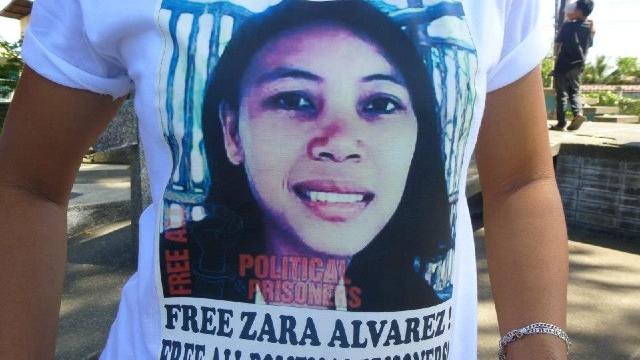 Alvarez was arrested in 2012 over charges of murder, which she and her groups denied.
In an entry posted on the Free All Political Prisoners website, Alvarez then wrote: "Being locked up in a prison cell, deprived of my liberty, could not hinder me in cultivating freedom from injustice…. Many are still languishing in jail and a lot who are threatened face the same situation like us." 
Her detention drew widespread condemnation and even sparked an international campaign for her release.
Alvarez was eventually granted bail in 2014, after spending nearly two years in jail. In March 2020, after almost a decade since the case started, Alvarez was acquitted. 
Relentless until the end
The threats didn't end there. But the threats also didn't stop Alvarez from continuing her work.
The situation in Negros Island was getting worse, along with the intensified implementation of "Oplan Sauron" which aimed to "suppress lawless violence…in order to prevent further loss of innocent lives." 
Human rights workers were killed, as well as farmers and workers belonging to local groups that advocate for land reform and labor rights. The victims included lawyers and organizers she worked with for so long.
Among those killed was human rights lawyer Benjamin Ramos, who was gunned down in Kabankalan City in November 2018. He was the secretary-general of the National Union of Peoples' Lawyers-Negros Island.
Zara, Ramos, and their other colleagues were tagged as communists and enemies of the state.
Alvarez was also one of the of 600 people tagged as terrorists by the Department of Justice in a proscription case filed in 2018. The list of names was eventually trimmed town to two, amid widespread condemnation by human rights groups and activists.
Reacting to the list, the Visayan Daily Star quoted her as saying: "For us, it is not new since, just like me, I had been previously jailed because of made-up cases such as murder and arson. However, the move of the DOJ is very alarming as it puts into serious danger the persons tagged as terrorists."
But she never faltered and instead, with admirable courage, continued with her advocacy and pursued the documentation of killings in Negros Island.
NUPL's Panay chapter worked with Alvarez on numerous cases involving human rights violations. The group remembers her tireless dedication to help victims and their families "get through the hardships brought by state-sponsored terror."
"Her presence was a constant force in the struggle for justice, a beacon of light in a place that, for the past two years, has been shrouded by impunity." NUPL said in a statement. "It has been our honor to have known Zara and stood beside her in that struggle."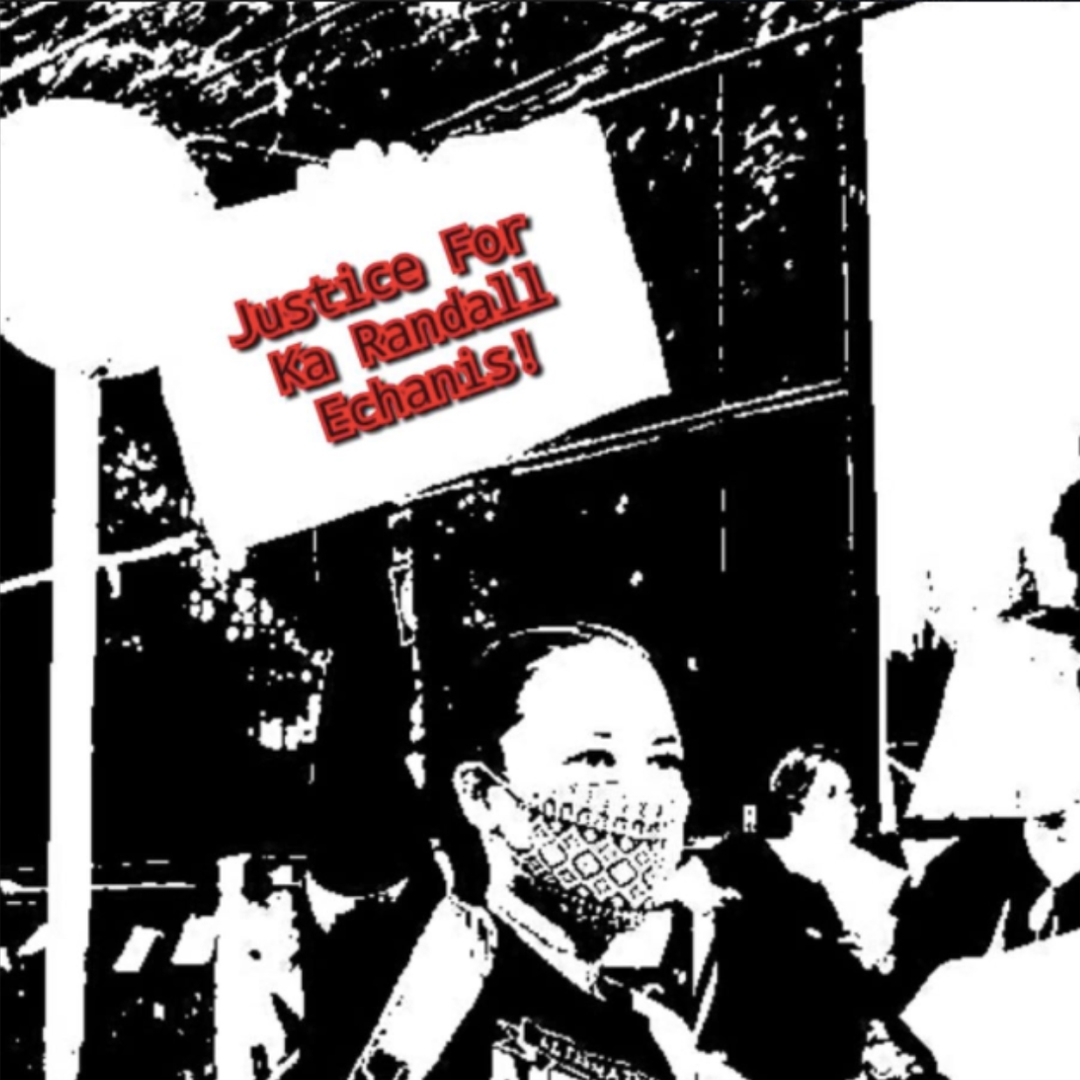 Never relent for justice
Alvarez was killed on the day Anakpawis leader Randall "Randy" Echanis was laid to rest. Echanis was brutally murdered inside his rented home in Quezon City on August 10.
Their deaths are the latest in the killings of activists and members of cause-oriented and progressive groups. In April, Bayan Muna Iloilo coordinator Jory Porquia was also killed inside his home. (READ: They shot my Tatay 9 times)
Recent killings occurred as the anti-terror law was being deliberated on, and eventually signed by the President. The deaths came one after another, amid increasing red-tagging incidents across the country, as the government's war on dissent intensified. 
The Commission on Human Rights, in a report released in July, said Duterte "created a dangerous fiction that it is legitimate to hunt down and commit atrocities against HRDs because they are enemies of the State."
Prior to her death, Alvarez was part of local mobilizations against the anti-terror law, problematic government policies on the coronavirus pandemic, and press freedom issues.
Karapatan expressed grief but vowed to "never relent in pursuing justice" for Alvarez and all the victims of extrajudicial killings, just like how she never gave up working for the marginalized, even if it meant being uncertain of what the future held.
"We will honor Zara's legacy as a passionate, selfless, and dedicated human rights worker, by continuing the struggle for realization of people's rights," Palabay said.
Alminaza, meanwhile, believes Alvarez's death is not the end for the vital human rights work in Negros Island.
"Zara, they took your life, believing that they can silence the cause you are fighting for," the Bishop wrote in a statement on Facebook. "But no, Zara, your martyrdom in the cause for justice will inspire us to advance the cry for justice – the cry of the oppressed." – Rappler.com