Before deciding on Willie Ong, Isko Moreno met with Grace Poe at least five times
A "stroke of genius" or a mad gamble? Depending on how you look at it, either phrase could describe Isko Moreno's choice of doctor Willie Ong as his running mate.
Many twists and turns led to this choice. Definitely Ong was not the first pick.
Moreno had no less than five meetings, a mix of in-person and virtual calls, with his number one choice, Senator Grace Poe, according to a source privy to the discussions.
It is generally acknowledged that an Isko-Grace tandem would be a powerful pair-up. Both Moreno and Poe are in the top five preferred presidential candidates. But Poe supposedly had been reluctant to rejoin any presidential or VP race after the hurtful and highly divisive 2016 elections.
On September 8, Poe finally told Moreno in a one-on-one meeting that she did not intend to run for vice president. Moreno would not give up, asking her to reconsider and think about it some more.
Poe relented, saying she would talk to her mother Susan Roces and wait for the results of a survey, according to two sources involved in the discussions.
A few days later, on September 12, Moreno went on a teleconference with Senator Manny Pacquiao. But neither wanted to slide down to vice president. For Moreno, he would rather seek reelection as Manila mayor if he couldn't run for president.
The next day, September 13, Moreno had a meeting with Vice President Leni Robredo, who was determined to somehow unify non-administration candidates. A week earlier, she told the media she would support their tandem if it pushed through. But "PasKo" was dead in the water.
At this point, it seemed that Poe was really reluctant about a VP run. Political observers know of Poe's close ties with Senate President Vicente Sotto III, who has already declared his intention to run as vice president.
Sotto was campaign manager of Fernando Poe Jr.'s 2004 presidential campaign. Many have thought that Poe would not want to lock horns with a close ally of her father's.
Enter, Willie Ong
Even as September meetings with political big shots were being held, Moreno already had a back-up, in the person of Willie Ong.
It was sometime August when Moreno first saw a running mate in Ong. Up until that point, Ong was looked upon as an ideal addition to his senatorial slate.
In July, Moreno's camp first sent feelers to Ong through his sister in the United States, asking him to run for senator. Ong was reluctant. After persistence from Moreno's team, Ong and his wife doctor Analiza Ong agreed to meet with Moreno in Manila City Hall in August.
Moreno sought to show Ong how big a difference he can make in his mission to help improve Filipinos' health by running for senator.
"You need to be part of the system. Fighting for your cause outside the system can only do so much. Imagine if you can fight for a bigger budget for the right health priorities, then you serve a wider constituency," went Moreno's argument, according to his campaign manager Lito Banayo, who was present at the meeting.
Ong supposedly responded by saying, "Ang daming lumapit sa akin, pero ikaw ang pinakamahusay mambola." (Many people approached me but you are the best at pulling my leg.)
The doctor also supposedly gave one condition: that he wouldn't be made to ask money from anyone.
It was right after the meeting ended, when only Moreno and Banayo were left in the room, that the mayor saw a running mate in Ong. Moreno, according to Banayo, said he had a "gut feeling" that Ong would make a good VP.
Survey shows Ong can help Isko
Ong, told that he was now being considered as a running mate, remained unconvinced. He asked Banayo to commission a survey. Banayo agreed but said it could only be a survey in the Mega Manila area due to lack of time.
On September 14, the survey results came. This was just a day after the back-to-back meetings of Moreno with Pacquiao and Robredo. The numbers astounded Banayo.
According to him, there was 94% awareness of Ong in Mega Manila. Moreno's endorsement value for Ong was at 41% and there was "high" approval rating for their tandem.
Early the following day, Wednesday, Banayo told Ong the good news. But at that point, Ong had also decided to say yes.
That afternoon of September 15, with their wives Diana Domagoso and Analiza Ong present, Moreno and Ong sealed their tandem.
Grace Poe was among the first outside of Moreno's team to know they had decided on Ong, the doctor with over 16 million followers on Facebook.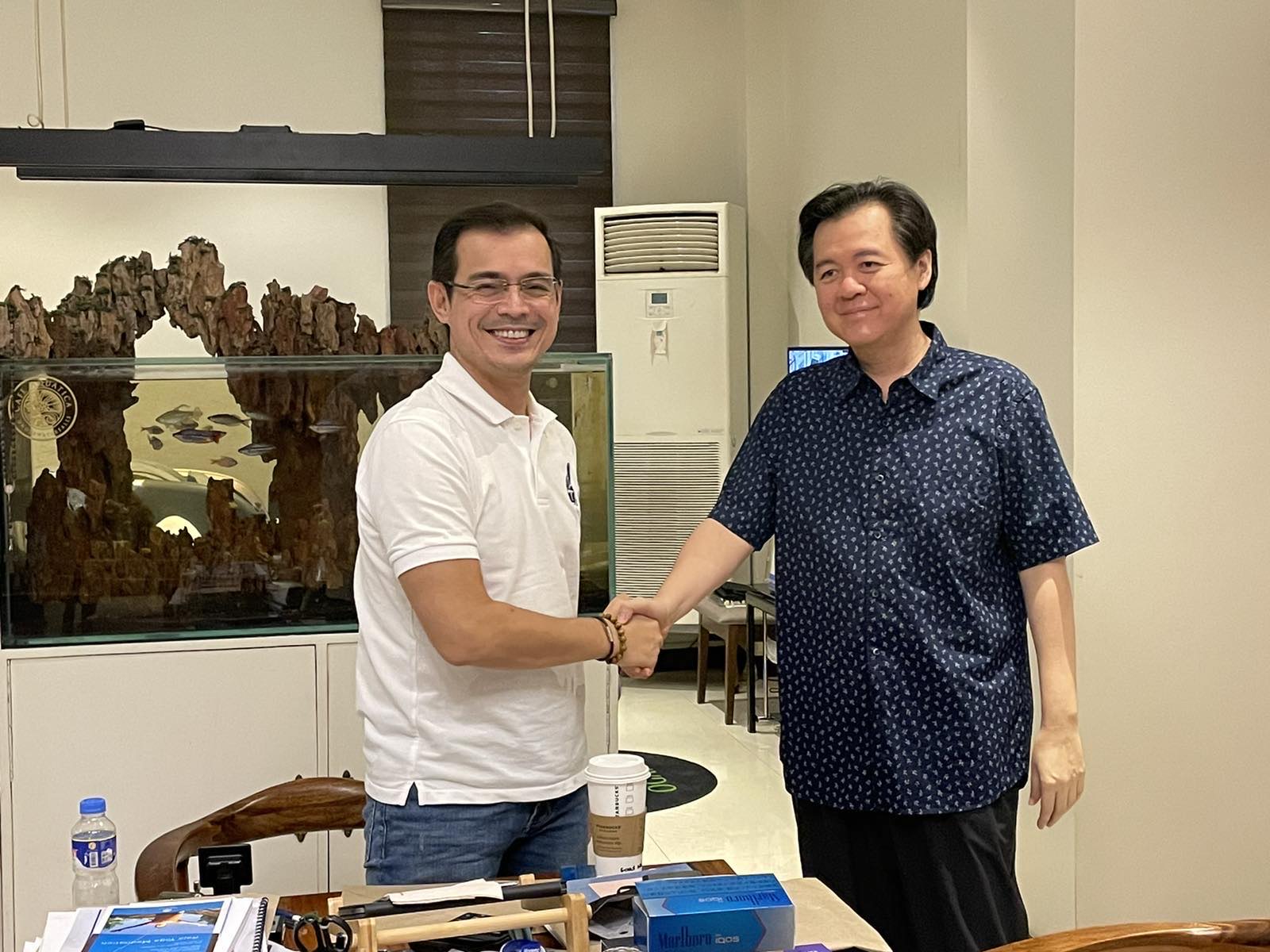 Ong asked if he could first take leave from Lakas-CMD, the party that adopted him in 2019 when he ran for senator. Banayo called Lakas-CMD president and House Majority Leader Martin Romualdez to facilitate Ong's resignation from the administration-allied party.
Aksyon Demokratiko, Moreno's party, is processing Ong's membership, party president Ernest Ramel told Rappler on Wednesday, September 22.
At the Moreno-Ong tandem launch on Wednesday, Ong declared he would champion improved pandemic response and health services for Filipinos. But he also said he sees himself more as a "saling pusa," a term used to describe young children temporarily invited to join a game for older kids or adults.
When he was asked during the launch event about photos circulating on social media that showed him posing with social media influencers who were supportive of President Rodrigo Duterte, Ong replied he has "many friends" in the administration, opposition, and "neutral" groups.
"Siguro lang medyo linalagay nila picture ko sa admin, may ginagawa na medyo fake news. Mayroon din sa opposition, mayroon sa gitna. Wala akong kulay. Ang pinakakulay lang natin ngayon is Isko Moreno color," said Ong.
(Maybe they put my picture with people in the administration, creating some fake news. There is also with the opposition, with those in the middle. I have no color. My only color now is Isko Moreno color.)
Ong said, "Okay lang sa akin matalo eh, basta manalo siya. 'Pag nanalo siya, okay na ako (I'm okay if I lose, as long as he wins. If he wins, I'm okay)." – Rappler.com
Read more stories related to Isko Moreno's presidential candidacy launch: