Metro Manila is no stranger to coronavirus surges, with residents having to endure hard lockdowns in August 2020 and March 2021 as a result of an overwhelmed health care system. Authorities hope the Philippines' capital region is more ready to deal with a highly infectious COVID-19 variant this time.
Four months have passed since Pasay – a city of 400,000 people in Metro Manila – grappled with a surge driven by a COVID-19 variant, but the memories of alarm and crisis management are still fresh for the local government.
The city government is now all hands on deck against the threat of the new, more contagious Delta variant. 
"Our city is preparing for a possible surge, which we hope won't happen," Pasay Mayor Emi Calixto-Rubiano told village chiefs in Filipino in a webinar organized by the local government on Tuesday, July 20. A representative from the Department of Health (DOH) also spoke to highlight the importance of well-equipped barangays in dealing with potential Delta variant cases.
The DOH, on Thursday, July 22, confirmed the local transmission of the Delta variant in the Philippines. Metro Manila, on Friday, July 23, was subjected to another round of slightly stricter restrictions until end-July.
Recent COVID-19 numbers are on the rise, and they could only offer clues as to what lies ahead in the next few weeks for the pandemic-battered Philippines.
COVID-19 surge
The Octa research group on Friday said Metro Manila averaged 851 cases in the current week, a 39% growth rate from the previous week.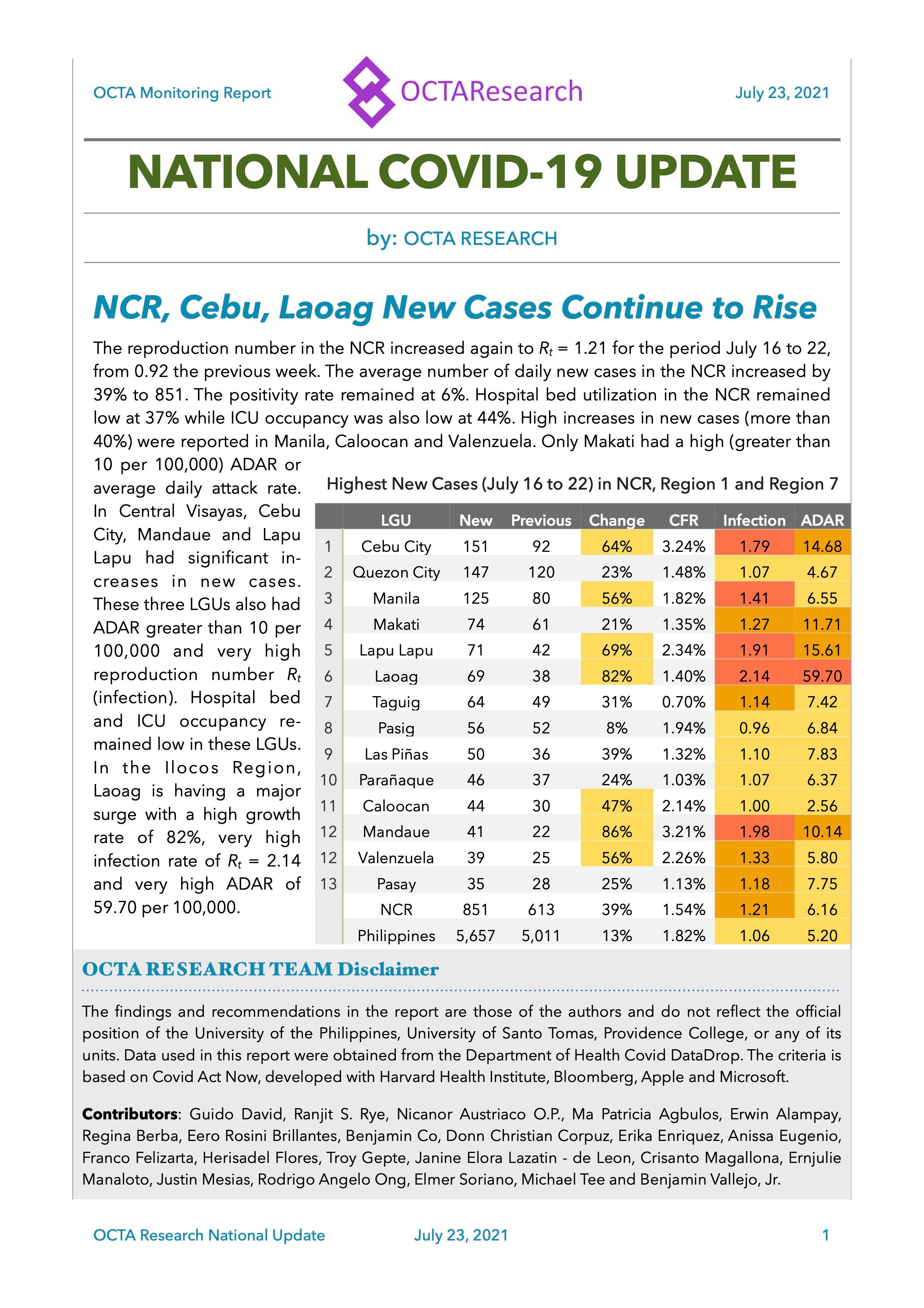 "This is concerning. This is about in the range of the Delta variant," Octa research group fellow Dr. Guido David said in a CNN interview. 
Metro Manila is no stranger to coronavirus surges, with residents having to endure hard lockdowns in August 2020 and March 2021 as a result of an overwhelmed health care system.
An urban sprawl composed of 16 cities and one municipality, Metro Manila has porous borders and a highly mobile population that make it difficult to contain the spread of a virus.
David warned that the country could log 10,000 new cases per day in the next few weeks – a scenario similar in late March to early April – but only if the government would not tighten COVID-19 measures to address the challenges posed by the Delta variant.
"It's not set in stone that we will hit 10,000. If we do actions, it means we can still prevent this, especially because this is in the early stages," David said.
Speeding up vaccinations
Unlike in March, the Philippines has now more, albeit unstable, supply of the COVID-19 vaccine. The threat of the Delta variant further brings a sense of urgency to vaccinate more people.
"We need 30% of the National Capital Region's population vaccinated to slow down the Delta variant," Dr. Tony Leachon, the government's former pandemic adviser, told Rappler on Wednesday, July 21. 
As of late June, only 7% of Metro Manila's population were fully vaccinated against COVID-19. Some 23% have received at least one dose.
Caloocan, which was among the cities in the Philippines that recorded the most number of new COVID-19 cases from July 14 to 20, is ramping up efforts to vaccinate their most vulnerable sector.
"We have mobilized our Office of the Senior Citizen Affairs and the barangay secretariat," Caloocan City COVID-19 vaccination action officer Dr. Rachel Basa told Rappler in a mix of English and Filipino on Wednesday.
"The vaccine drive for senior citizens really needs to be intensified, because they are at a high risk of dying from COVID-19." she added.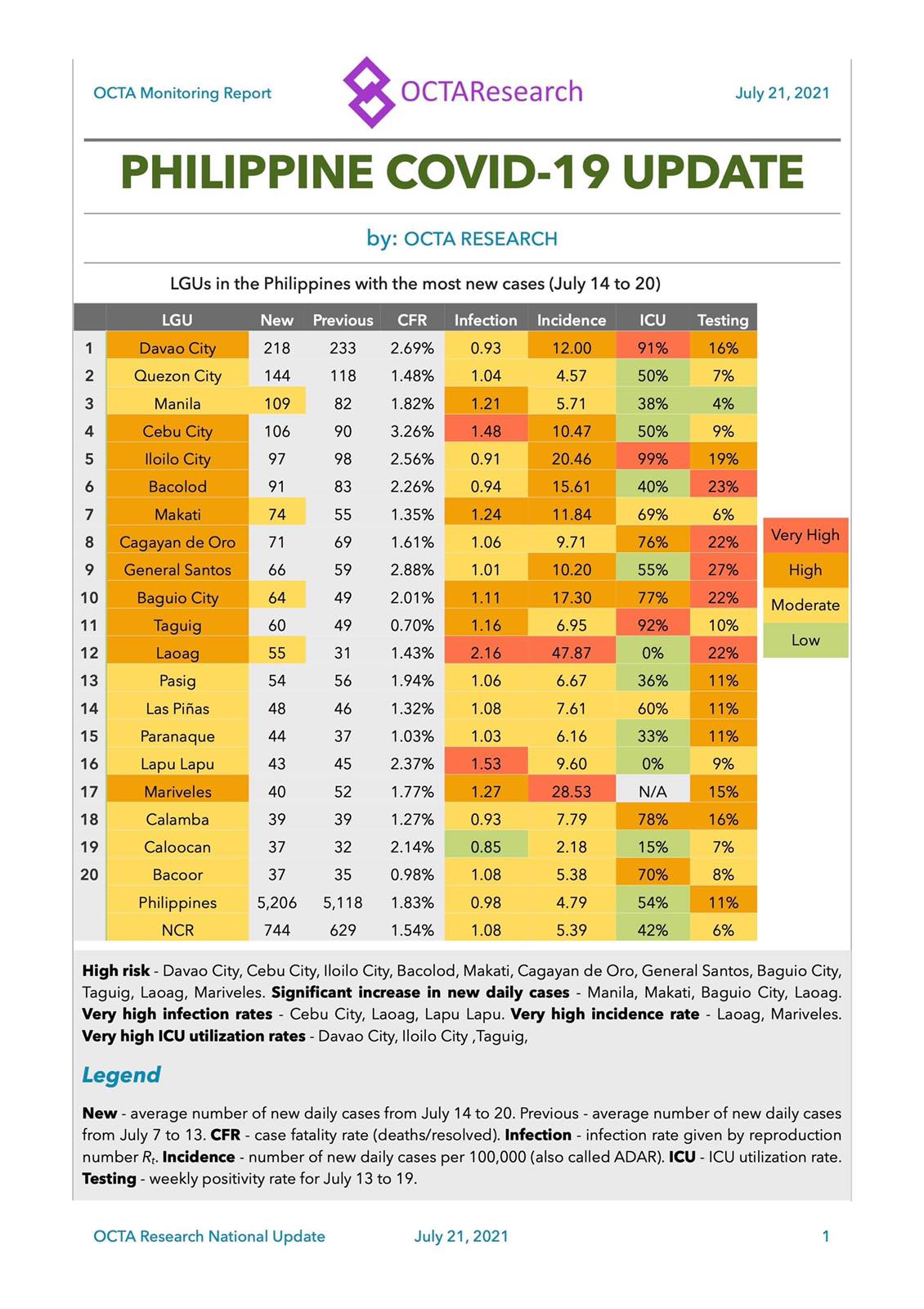 In Pasay, the city government aimed to inoculate more than 800 senior citizens daily from July 23 to 25. A cash prize and maintenance medicine good for one month await eldelry people who will win the raffle. (READ: Sacks of rice, cows, even a house: Prizes await lucky vaccinated Filipinos)
Cities like Pasay and Caloocan are utilizing the single-shot vaccine from Johnson and Johnson (J&J) to inoculate their elderly population.
The arrival of J&J jabs in mid-July "was very timely, it's like God's way of saving us from the worst case scenario," Basa said, referring to the convenience of a one-and-done shot.
Not letting the guard down
Dr. Anna Lisa Ong-Lim, member of the DOH technical advisory group, appealed to local officials to strengthen the usual COVID-19 protocols, in light of the Delta variant.
"We need to help each other in strengthening border control," she told village chiefs in Filipino during the virtual forum in Pasay.
"Barangay officials should monitor new arrivals, in coordination with contact tracers and the barangay health emergency response teams," she added.
In Quezon City, the local government said it was beefing up efforts to proactively locate COVID-19 infections.
"The task force has identified key areas to concentrate on, including revisiting the city's disease surveillance, active case finding and contact tracing capacity," it said in a statement on Wednesday.
"Task Force Disiplina was also ordered to ramp up monitoring and inspection, to ensure that minimum health protocols are followed in all public places," it added.
The new lockdown classification in Metro Manila – the so-called general community quarantine with heightened restrictions – also meant that some high-risk business establishments may again not be allowed to operate. 
This, of course, may feel like a déjà vu for many Filipinos, who grappled with hard lockdowns in late March to mid-April, bringing the country's economy to a near-standstill.
Are we seeing a repeat of that scenario?
Quezon City Mayor Joy Belmonte is optimistic that authorities are more prepared this time around.
"Lockdowns were necessary during the second surge because there was no preparation for it, and lockdowns were the only recourse during the time," Belmonte told Rappler on Wednesday.
"We have already mapped out a plan of action that does not include the option of widespread lockdowns, although this is of course ultimately a decision of the national government," she added.
Octa also believes the Duterte administration can still turn things around.
"The delay in response led to the deadly surge last March, [resulting] in a great loss to lives and livelihoods," Octa said in a statement on Friday. "We have a window of opportunity to reverse this surge."
Leachon is also holding on to the hope that the public is now more aware of the situation. 
But Leachon also asserts that imposing lockdowns is just scratching the surface, as he echoes persistent calls by frustrated critics of the government over the Duterte administration's mishandling of the pandemic.
"Honestly, I don't like lockdowns," Leachon tweeted on Friday. "I want full government funding support [for] and focus [on] COVID-19 testing, contact tracing, and genome sequencing." – Rappler.com