Lawyers say if it's proven that some authorities mishandled Kian's autopsy, they can be held administratively liable
MANILA, Philippines – At the height of former president Rodrigo Duterte's bloody campaign against illegal drugs, 17-year-old Kian delos Santos was mercilessly killed by Caloocan cops in August 2017.
Surveillance videos from closed circuit television in the area, along with eyewitness accounts, revealed that the teen was dragged by cops to a dark corner, where he was reported shot by Police Officer III Arnel Oares, PO1 Jeremias Pereda, and PO1 Jerwin Cruz.
Later on, the court found the three police personnel guilty of killing Kian. Prior to that, at least two agencies – the Philippine National Police (PNP) and Public Attorney's Office (PAO) – had conducted post-mortem examination on Kian.
But after almost six years and two autopsies, forensic pathologist Dr. Raquel Fortun revealed in a press conference on February 2 that Kian's body was not properly examined by authorities.
Randy delos Santos, Kian's uncle, became visibly emotional during the press conference. At one point, he had to step out after hearing the latest findings about his nephew. Reporters asked Randy what he felt at that moment – and he said he was horrified after learning that the authorities did not do their job properly.
In an interview with Rappler, Randy said he was dismayed by the actions of the PNP and PAO.
"Una, dismayado. Nanlumo ako dahil umasa kami na iyon na 'yong impormasyon na ibinigay kasi two bodies na 'di ba? Coming from the PNP, tapos nagre-autopsy pala. Eh irregular pala 'yong ginawa 'di ba? As explained by Dr. Fortun, hindi naman pala autopsy. Ano ba 'yong sinabi niya kahapon sa inyo? 'Autop-silip."
(First, dismayed. It was depressing because we pinned our hopes on the information that was supposed to have come from the two bodies already, right? Coming from the PNP, then the reautopsy. But what they did was irregular, right? As explained by Dr. Fortun, it was not an autopsy. What did she tell you? "Autop-silip.")
Randy said he has yet to talk to his brother, Kian's father, about Dr. Fortun's findings. Meanwhile, he also assailed the PAO's post-mortem examination, which was done in Kian's house.
"Dapat pala sa laboratory nila chineck, 'di ba? Eh hindi eh, pinuntahan nila sa bahay. Parang isda. Sabi ko nga kahapon, parang binaliktad na isda 'di ba? Luto na 'yong kabila, binaliktad lang. Ta's may nakitang butas, parang gano'n," Randy added.
(They should have examined my nephew in a laboratory, right? But no, they went to the house. My nephew was treated like a fish. Like what I said yesterday, he was like a fish that was flipped, one side cooked and flipped on the other side. And then a hole was found, something like that.)
Fortun's findings
The rules on autopsy are spelled out in Presidential Decree No. 856, particularly in section 95. Health officers, medical officers of law enforcement agencies, and medical staff of accredited hospitals are allowed to do autopsies based on the said law.
Under the presidential decree, an autopsy shall be performed in the following cases:
Whenever required by special laws
Upon orders of a competent court, a mayor and a provincial or city fiscal
Upon written request of police authorities
Whenever the Solicitor General, provincial or city fiscal as authorized by existing laws, shall deem it necessary to disinter and take possession of remains for examination to determine the cause of death
Whenever the nearest kin shall request in writing the authorities concerned to ascertain the cause of death
In Kian's case, his body was examined by both the PNP and the PAO to determine how he died and his cause of his death.
In 2017, PNP Crime Laboratory chief medico-legal Jane Monzon said Caloocan medico-legal officer Jeselyn Cruz, citing Kian's autopsy, said there were only two confirmed gunshot wounds in Delos Santos' head. They also denied that he was shot at close range. The PAO contradicted the PNP's report and said Kian sustained three gunshot wounds: two in head, and one at the back.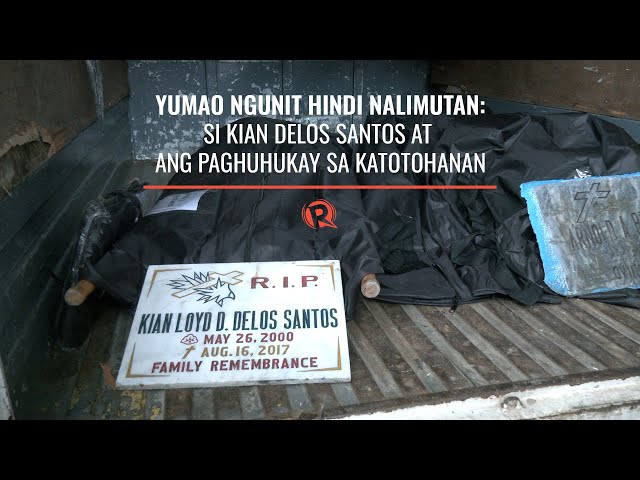 However, based on Fortun's latest findings, Kian's body was not properly examined by both the PNP and PAO because there was only a superficial cut in his body. Not only that, a bullet was also found in Kian's neck area almost six years since he was killed.
This means his body was not properly checked by both authorities, and yet the two agencies came up with a report. Fortun said she believes an autopsy was never done at all.
In a statement, the PNP said they acknowledged Fortun's findings, but reiterated that the country's justice system is "robust, efficient, and effectively functional." Justice Secretary Jesus Crispin "Boying" Remulla, meanwhile, said his agency and the National Bureau of Investigation are already dealing with the findings.
Rappler has already reached out to PAO chief Persida Acosta for her reaction, but she has yet to respond as of writing.
What legal actions can be taken?
Lawyer and University of the Philippines College of Law lecturer Oliver Xavier Reyes told Rappler that those proven to have mishandled an autopsy can be charged with administrative cases.
"Those who conducted the previous autopsy (whether PNP or PAO), as well as any superior officers who directed them to mishandle the autopsy, could also be charged administratively under civil service rules for grounds akin to neglect or dereliction of duty; it would be hard though to see that their behavior could form the basis for damages to which Kian's heirs would be entitled," the law lecturer told Rappler.
National Union of Peoples' Lawyers (NUPL) president Rey Cortez shared the same position that government officials and personnel can be held administratively liable for botched autopsies. "For government officers involved in such botched autopsy, negligently or maliciously, they can be administratively dealt with, and can even be charged with obstruction of justice."
Reyes, meanwhile, added that if the new findings would lead to other persons being implicated in the case, that could also be additional basis to file new complaints. He also noted that on a case-to-case basis, other victims of extrajudicial killings can push for justice taking off from Fortun's findings.
"The survivors of victims of wrongful killings could also cite the findings of Dr. Fortun in relation to their own cases, especially if they can establish that wrongful/mishandled autopsies had led to the non-filing of charges vs perpetrators, or their acquittal," Reyes explained. "However, that could only be actually addressed on a case-to-case basis involving individual review of cases, similar to what Dr. Fortun did to Kian's remains."
Cortez also noted the importance of autopsies in criminal proceedings, especially in determining both the cause of death and the "manner of how the killing was carried out."
"A botched autopsy impacts on the admissibility of the autopsy report. It raises doubt on its credibility and therefore its weight as evidence," the NUPL president explained. "It is not enough to prove the fact death, there is a need to prove that the killing was intentional, and a defective autopsy will not be able to extract evidence to prove this."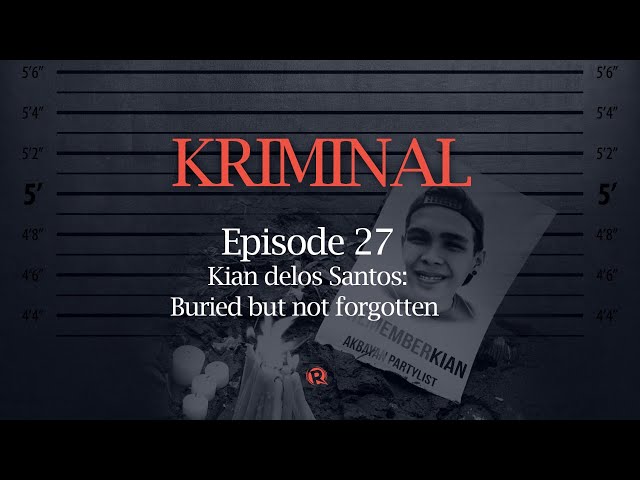 State probe and ICC
The latest findings, Reyes said, supported the narrative that the state had a hand in the delay of justice for drug war victims.
"The more viable impact of Dr. Fortun's findings, I think, is in supporting the narrative that the State deliberately withholds justice [from] the victims of wrongful killings under the drug war, to the extent of employing a practice of tampering with evidence through haphazard or falsified autopsies," he said.
"This would be especially material for purposes of possible ICC (International Criminal Court) intervention, where overall State policies would receive greater scrutiny," Reyes added.
Carlos Conde, a senior researcher for rights group and nongovernmental organization Human Rights Watch (HRW), told Rappler in an interview that the "sloppy autopsy" did not only prove that Philippine authorities are incompetent, but that they "didn't care enough about the process, about the investigation."
Conde also sounded the alarm over the fact that the bullet was only found years after Kian's death.
"The bullet that Dr. Fortun found in Kian's remains was a key piece of evidence. Keep in mind that the conviction of the three police officers hinged mainly on the CCTV footage – what if the footage didn't exist? This sloppy work also points to a larger issue, which is that, in the whole, the authorities were not investigating many of the killings at all," he said.
The HRW senior researcher added that Fortun's findings also belie the government's assertion that it has been investigating and prosecuting the killings. He also noted that the latest revelation "bolsters" the ICC's position that the Philippine government is unwilling and unable to probe into the drug war deaths.
Conde said, "This also underscores the impunity that we've been seeing: quite apart from being told that it is state-sanctioned violence, the killers knew that the investigative capacities of the government, including forensics, is not up to par. So they just left or dumped the bodies with all the key pieces of evidence in it. They were confident that they could get away with murder." – Rappler.com