Government documents bare the story of a small new company edging out those with a long history of public procurements
On September 4, 2019, a person named Huang Tzu Yen – Filipino according to a document submitted to regulators – registered the company Pharmally Pharmaceutical Corporation with the Securities and Exchange Commission (SEC).
Huang owns 40% of the company, and his co-owners are Twinkle Dargani (10%), Mohit Dargani (30%), Linconn Ong (16%), and Justine Garado (4%).
The company had nothing much in its financial statement: a paid-up capital of P625,000, with Huang contributing P250,000 to it.
Shareholders promised to subscribe a total of P2.5 million worth of shares.
The company had no sales or revenues in 2019 and just incurred losses amounting to P25,549, as it spent for taxes and licenses.
By the end of 2019, its total asset was P599,540.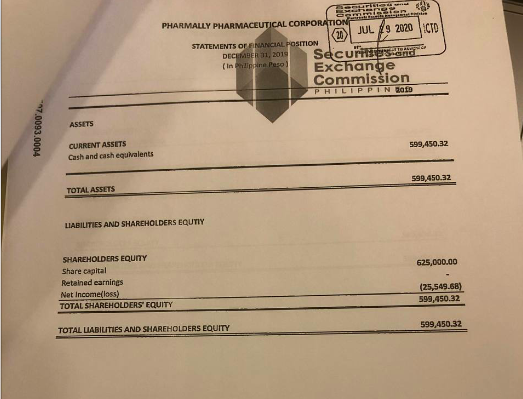 Then the COVID-19 pandemic broke out, and the Philippines was on lockdown and scrambling to get supplies by March 2020.
Pharmally edged out other suppliers, including those with track record of dealing with the government, and bagged a total of P8.7 billion worth of contracts funded by President Rodrigo Duterte's Bayanihan 1 and 2 laws.
It was the biggest amount of contracts awarded among pandemic suppliers, with XuZhou Construction Machinery Group a far second for bagging P1.9 billion in deals.
Rappler has found that Huang is connected to Duterte's former economic adviser Michael Yang through a network of companies, some named Pharmally too.
Rule of procurement
In the Philippines, to be able to qualify to bid for a government project, a company must show that it has previously completed a similar project worth at least 50% of the prospective contract budget.
Pharmally does not show up in government database Philippine Government Electronic Procurement System (PhilGEPS) for any previous contract from the time it incorporated in September 2019.
The company's financial state is also crucial to be eligible to bid. Philippine procurement law also requires what is called the Net Financial Contracting Capacity (NFCC), which should at least be equal to the project budget.
The company was new, had not incurred liabilities yet, and details were scarce if it had completed projects in the short time it existed before the pandemic, making it hard to compute its NFCC.
There's also this thing about Duterte's Bayanihan laws – it allowed frontline agencies to make the procurements "in the most expeditious manner, as exemptions from the provisions of Republic Act No. 9184 (Procurement Law) and other relevant laws."
But, to senators, this much was clear – Pharmally was too small a company for big-ticket procurements, considering the first contract it bagged was P54 million for 2.4 million pieces of surgical masks for P22.50 per piece. The contract says it was won from the Procurement Service of the Department of Budget and Management (PS-DBM) by public bidding.
Its next contracts in April and May 2020 were smaller – P619,200 for thermometers, goggles ,and face shields, and P500,000 worth of test kits, won from the Philippine National Railways (PNR).
The Senate tried to subpoena the owners of Pharmally to its hearings, but their messengers found the addresses were either non-existent, left vacant, or were barely occupied.
"It is either there was no due diligence for reason of collusion, or they were lazy to exercise diligence, or they're sloppy, which I don't want to believe…being the PS-DBM, a trained and experienced procuring entity of the government…. I wonder how they were able to award the procurement of billions of these items?" said Senator Panfilo Lacson during a Senate hearing on pandemic spending on Friday, August 27.
Former PS-DBM undersecretary Lloyd Christopher Lao, who signed most of these procurements, said, "We failed to check on the articles of incorporation" of Pharmally.
This merits a graft investigation "at the very least" by the Office of the Ombudsman, said Senator Franklin Drilon.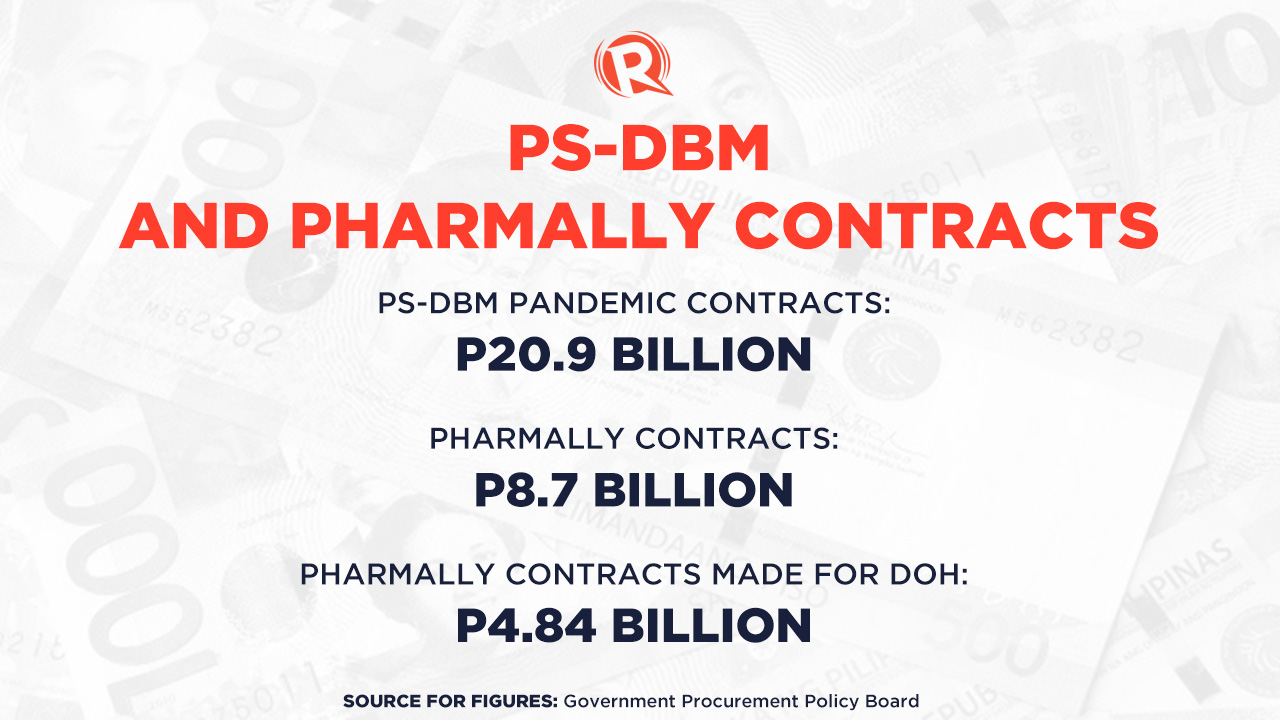 Devil in the details
PS-DBM, then headed by Lao, was the government's biggest procuring agency, awarding a total of P20.9 billion worth of contracts for supplies of test kits, extraction machines, and mostly personal protective equipment or PPEs, according to records on the Government Procurement Policy Board (GPPB) database.
The very young Pharmally got almost half of that – nine contracts worth a total of P8.7 billion. The two contracts from PNR worth P1.2 million are a miniscule amount compared to what the PS-DBM awarded.
Of all of Pharmally's PS-DBM contracts, at least three worth a combined P4.84 billion were awarded on behalf of the Department of Health (DOH).
These were:
Extraction machines worth P245.85 million awarded on June 10, 2020, by Lao
Personal protective equipment sets worth P1,910 per set, or a total of P3.82 billion awarded on May 6, 2020, by Lao
RT-PCR test kits worth P774.35 million awarded on May 14, 2021, by new PS-DBM chief Jasonmer Uayan
Uayan, a fellow Davaoeño, replaced Lao when the latter took a leave of absence last May.
Pharmally edged out medical supplier Biosite Medical Instruments, which has a long track record in government procurement – 257 contracts from 2015 to 2018, according to PHILGEPS records.
In the pandemic, Biosite supplied the same items, and actually got more contracts – 99 from various agencies, but these were small contracts amounting only to a combined total of P779.4 million. Biosite is the company with the fifth largest total amount of contracts won in the pandemic, but not a single one from the PS-DBM.
The sixth highest combined amount, P727.8 million, was won by Ferjan Healthlink Philippines Inc. Lao told the Senate in September 2020 that they canceled this procurement because of failure to deliver.
Ferjan the corporation is linked to Ferjan Healthlink Enterprise, a blacklisted company. While Lao claimed the two companies had different licenses, one of the stockholders of the corporation was the sole proprietor of the blacklisted company.
The Davao boys
Lao used to work in Malacañang, in the office created by President Duterte specially for now-Senator Bong Go – the Office of the Special Assistant to the President.
Lao moved to the Housing and Land Use Regulatory Board (HLURB) as its chief executive officer (CEO), where it turned out he was accused of an extortion racket – a complaint he said he didn't know about. By January 2020, he was head of the PS-DBM.
Before he resigned from the DBM, Lao tried but later withdrew his application for Overall Deputy Ombudsman.
The person who got the plum spot is his fellow Davaoeño, and fellow DBM executive, Warren Liong. Liong was Duterte's former legal consultant, and was also in the PS-DBM the same time as Lao before he got the second highest post in the Office of the Ombudsman in November 2020.
Lao's batchmate in Malacañang, fellow Davao lawyer Anderson Lo, is shortlisted to become the Deputy Ombudsman for Mindanao, making him the officer who will sign off on resolutions involving Mindanao officials, including the Duterte children. – Rappler.com