If approved by Comelec, Erwin will be the fourth Tulfo in Congress
Broadcaster Erwin Tulfo, whose stint as secretary of the Department of Social Welfare and Development (DSWD) lasted only six months, is eyeing a new post in government: the legislative branch.
Rappler learned from a reliable source that Tulfo, who left DSWD after being bypassed by the Commission on Appointments (CA) twice, is seeking to enter the House of Representatives as a replacement of a recently resigned congressman.
Tulfo is hoping to fill the seat vacated by ACT-CIS third nominee Jeffrey Soriano, who submitted his resignation letter to the House leadership on February 6, and was accepted on Wednesday, February 22.
Tulfo has been the face of ACT-CIS in its election campaign advertisements, and the Tulfo brothers' mass appeal helped catapult the group to the top of the party-list races in 2019 and 2022.
In both elections, ACT-CIS secured the maximum three seats allowed for a party-list group.
Ahead of the 2022 elections, ACT-CIS listed Erwin Tulfo as its fourth nominee.
Before he gets to assume the post, however, the Commission on Elections (Comelec) first has to approve a new set of nominees for ACT-CIS, and issue a certificate of proclamation to Tulfo.
If successful in his substitution bid, Erwin will be the fourth Tulfo in Congress: brother Raffy is senator, sister-in-law Jocelyn is ACT-CIS representative, and nephew Ralph is a lawmaker representing Quezon City's 2nd District.
Tulfo, who was selected by President Ferdinand Marcos Jr. to lead the DSWD in May 2022, was twice bypassed by the CA over his US citizenship and a libel conviction that was upheld by the Supreme Court in 2008.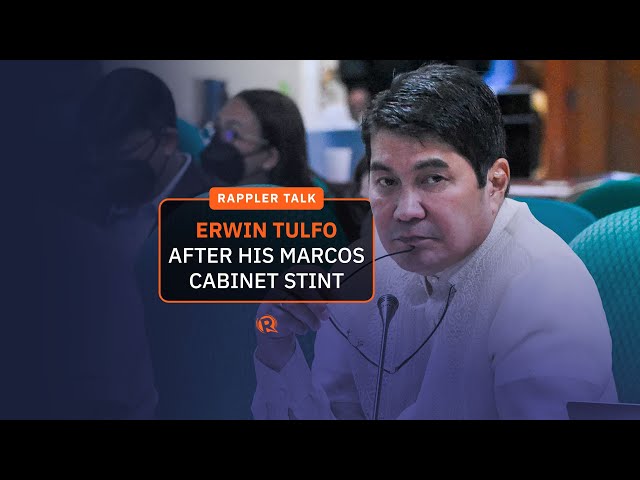 The former broadcaster previously said he renounced his US citizenship prior to taking the government post.
Ad interim secretaries, like Tulfo, can only be reappointed two times if they are bypassed by the CA.
In January, nearly a month after Tulfo's exit from the Cabinet, Marcos said he hoped to keep the broadcaster in his administration. – Rappler.com