The accompanying bill to the House resolution on charter change does not have prohibitions on relatives of elected officials seeking to be part of the proposed constitutional convention
If Cavite 5th District Representative Roy Loyola would have it his way, relatives of political families would be prohibited from being elected as delegates to the proposed constitutional convention to amend or revise the 1987 Constitution.
But a majority of his colleagues in the House constitutional amendments panel thought differently, and his proposal was rejected.
Loyola made the motion on Monday, February 27, during a hearing of the House committee which he vice chairs.
He and other lawmakers were discussing the accompanying bill that would operationalize the committee-approved Resolution of Both Houses No. 6, which calls for charter change through a constitutional convention.
The bill details qualifications that constitutional convention delegates must meet: they must be natural citizens of the Philippines, at least 25 years old, with a college degree, and registered voters and residents of the district where they would be elected.
"I would like to propose an amendment to Section 3 as to the qualification of delegates…[that an elected delegate] must not be related within the fourth civil degree by blood or affinity to the incumbent local and national elected official," Loyola said.
Cagayan de Oro 2nd District Representative Rufus Rodriguez, the House panel chairman, said it was a "very good point," calling it the "prohibition on dynasties." House Deputy Majority Leader Wilter Palma said he would accept the motion.
But an opposition from House Deputy Majority Leader Tonypet Albano of Isabela's 1st District triggered a vote on the proposal.
"I object to that provision knowing that the quality of people might be diminished. We know for a fact that just because you're a relative of a political national figure should not also infringe on the right of the relative, especially if he or she is very much qualified, if he's an attorney or a former con-con delegate," Albano said.
"That is very restrictive," he added.
The 21 lawmakers who voted were split on the subject, but the majority sided with Albano.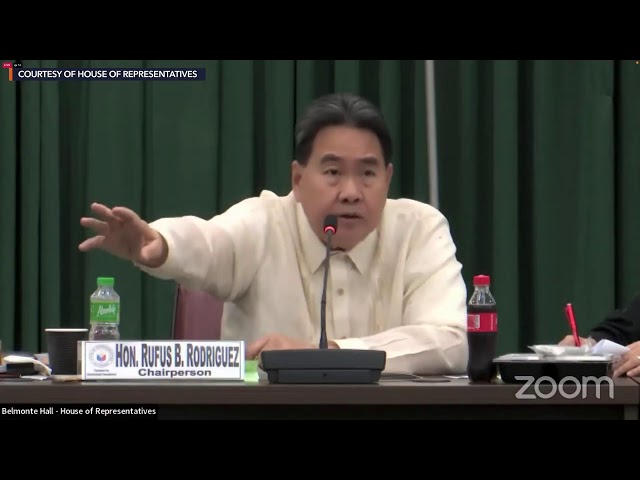 Even though President Ferdinand Marcos Jr. has said charter change is not a priority, the proposal is gaining momentum in the House of Representatives led by his cousin, Speaker Martin Romualdez.
Rodriguez, currently the face of the charter change push in the legislative branch, has maintained that they are proceeding with discussions because Congress is an independent branch of government.
Some opposition lawmakers worry that a constitutional convention would pave the way for controversial political amendments in the charter, such as lengthening the terms of office of politicians.
After all, the constitutional convention of 1971 produced the 1973 Constitution, which the president's father Marcos Sr. used to cling to power beyond term limits.
To ward off concerns, proponents agreed to reword a provision in RBH No. 6, to attempt to limit revisions to economic provisions only.
In a voice vote, the resolution hurdled second reading in the House on Tuesday, February 28. Only one more round of voting – and a nominal one – is needed before it fully hurdles the lower chamber.
Rodriguez said that no one can prevent constitutional convention delegates from tackling political amendments, despite parameters set by the resolution.
"If it's a con-con, we have elected and appointed delegates, and they will be holding constituent plenary powers, and we cannot prevent them even if our resolution really says 'amendments to economic provisions.' We hope our delegates will really just stick to economic amendments so that it will not be controversial and divisive," he said on Wednesday, March 1. – Rappler.com