(1st UPDATE) The Sulu plane crash is the 4th accident involving military aircraft this year alone
A C-130 Hercules military plane carrying 96 people crashed in Patikul, Sulu, on Sunday, July 4, killing at least 49 military personnel and three civilians, according to latest reports as of 6 pm Monday, July 5.
The Sunday tragedy is the latest in a string of military aircraft accidents. It happened less than a month after six were killed in a helicopter crash in Tarlac on June 23.
Rappler counted at least 15 accidents involving military aircraft in the past decade, or since April 2011, based on published reports. The number of fatalities in Sulu is the biggest crash casualty in recent Philippine military history.
Six killed in helicopter crash
Capas, Tarlac – June 23, 2021
Six people were killed when an S-70i Black Hawk Utility helicopter crashed evening of June 23, 2021 in Tarlac.
The crash site was a few miles from the Colonel Ernest Rabina Air Base in Capas, Tarlac.
The chopper of the 205th Tactical Helicopter Wing of the Philippine Air Force (PAF) missed its estimated time of arrival at Clark Air Base, prompting authorities to conduct search and rescue operations.
The remains of the aircrew were retrieved almost a week after – on June 29.
Senator Richard Gordon called for a Senate probe into the crash, adding that "it would be best to give the right support to our men in uniform."
Pilot killed in helicopter crash
Getafe, Bohol – April 27, 2021
A pilot was killed while three were injured when an MD520MG helicopter they were on crashed in Getafe, Bohol, on April 27, 2021.
They were conducting an engineering flight when the aircraft from PAF's 15th Strike Wing crashed due to mechanical failure.
PAF grounded the fleet after the crash and assured the public that "all of its air assets are undergoing strict, regular, and redundant maintenance inspections before and after flight missions."
Seven killed in helicopter crash
Impasugong, Bukidnon – January 16, 2021
All seven people on board were killed when a military aircraft crashed in Impasugong town, Bukidnon, on January 16, 2021. The chopper was on a supply run in the mountains near the town.
According to witnesses, the UH-1H Huey helicopter went "in nose dive position before hitting the ground." The fatalities included five military personnel and two from Citizen Armed Force Geographical Unit (CAFGU).
Authorities told Rappler that the crash site was a "geographically isolated area and 6 hours away from the town proper. "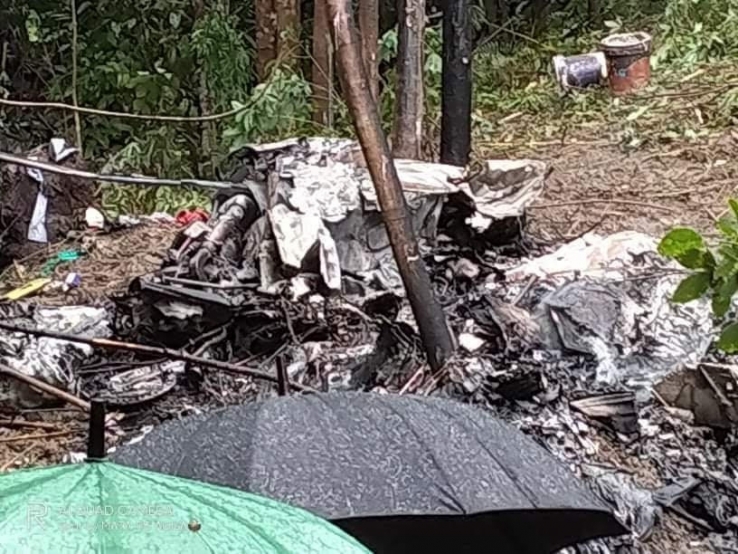 Four killed in helicopter crash
Lantawan, Basilan – September 16, 2020
Four soldiers were killed when a helicopter crashed in Lantawan town, Basilan, on September 16, 2020.
The S76 Sikorsky helicopter, according to a report from the Philippine Daily Inquirer, was an ambulance aircraft from PAF's 505th Search and Rescue Group.
Initial assessment by authorities showed that the crash might have been caused by "bad weather."
Four killed in helicopter crash
Cauayan, Isabela – July 23, 2020
Four military personnel were killed while one was injured when a PAF helicopter crashed while taking off on July 23, 2020 at the Cauayan Air Station in Isabela.
The crew members of the UH-1D Huey helicopter were conducting proficiency training for night flying when their helicopter crashed.
The chopper was assigned to the PAF's 205th Tactical Helicopter Wing, according to a report by the Philippine Daily Inquirer.
Two pilots survived aircraft crash
Sangley Airport, Cavite – May 24, 2019
A North American Rockwell OV-10 aircraft from PAF's 15th Strike Wing crashed as it neared landing at Sangley Airport in Cavite on May 24, 2019.
The aircraft was used for a scheduled proficiency flight. The two pilots survived after being safely ejected.
PAF grounded its OV-10 fleet after the mishap as it conducted investigation.
Congressman survived military chopper crash
Capas, Tarlac – November 22, 2018
A Sokol helicopter of the PAF crash-landed at Crow's Valley in Capas, Tarlac, on November 28, 2018, injuring crew members and passengers, including Cooperative NATCCO Network Party (COOP-NATCCO) Representative Anthony Bravo.
A soldier's arm had to be amputated due to injuries, according to ABS-CBN.
Bravo called for "genuine" modernization of the AFP following the crash.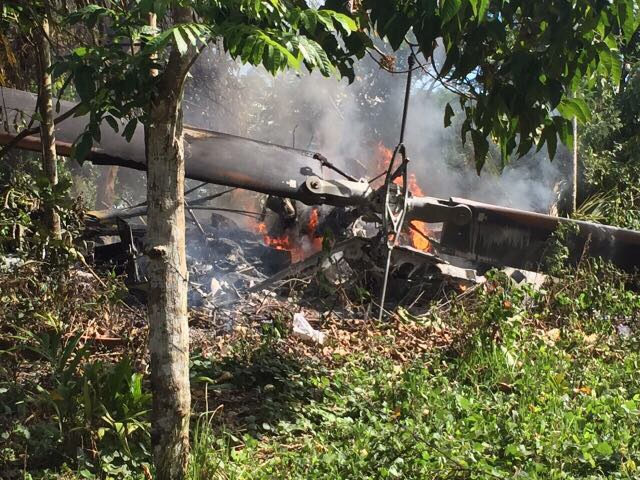 Three killed in helicopter crash
Tanay, Rizal – May 4, 2017
Three soldiers were killed while one was injured when a PAF UH-1D helicopter crashed in Barangay Sampaloc in Tanay, Rizal, on May 4, 2017.
The chopper, which was being used for training, had trouble as it prepared to land, according to authorities.
Four people injured in helicopter crash
Palawan – November 8, 2016
Four people were injured when a PAF Sokol helicopter crash landed in Palawan on November 8, 2016 after experiencing a mechanical problem while on a reconnaissance flight.
Among those injured were then-Mimaropa police regional director Chief Superintendent Wilben Mayor and 3 others.
The aircraft was carrying 13 passengers. The pilots, according to reports, was attempting an emergency landing when the chopper crashed.
Nine injured in helicopter crash
Malapatan, Sarangani – November 7, 2015
A PAF UH-1D helicopter crash landed in Sitio Lamsalo in Malapatan, Sarangani, on November 7, 2015 due to strong winds while it was landing.
The aircraft was on a casualty evacuation mission for members of the 73rd Infantry Battalion when the incident occurred.
The nine people on board suffered minor injuries.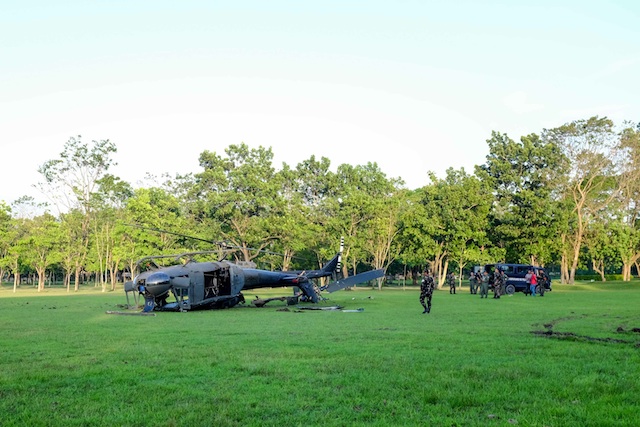 Four people survived helicopter crash
Cagayan de Oro – February 4, 2015
A Huey UH-1H helicopter from the PAF crashed while it was about to take off inside the 4th Infantry Division headquarters in Camp Evangelista in Cagayan de Oro on February 4, 2015.
According to reports, the chopper was only three to five feet above ground when it crashed and rolled over. The four people on board – two pilots and two crewmembers – survived.
The aircraft was on its way back to the Lumbia Airport after transporting military personnel. Following the mishap, the PAF grounded its UH-1H fleet.
Two pilots killed in aircraft crash
Nasugbu, Batangas – January 31, 2015
Two pilots were killed when a PAF trainer aircraft crashed 500 meters off the coast of Barangay Bucana in Nasugbu, Batangas on morning of January 31, 2015.
The aircraft was part of a 3-aircraft formation training mission and took off from the Fernando Air base in Lipa City.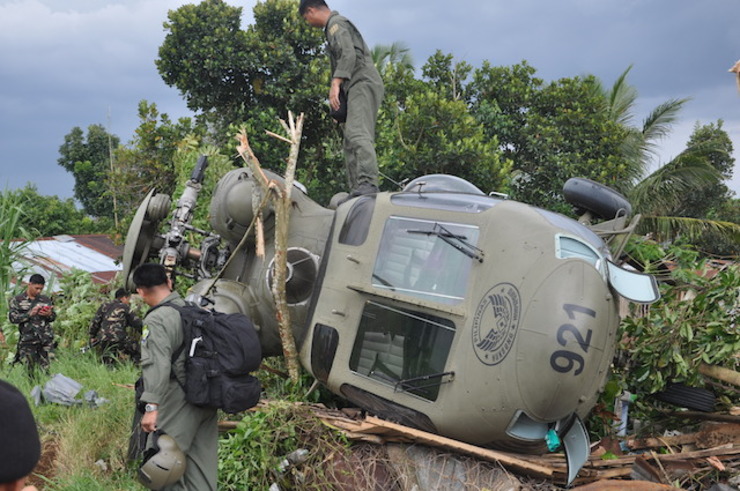 Two people injured in helicopter crash
Marawi City – August 7, 2014
A Sokol helicopter crashed inside Camp Ranao in Marawi City on August 7, 2014, injuring 2 of its passengers.
The passengers on board included then 4th Infantry Division commanding general Major General Ricardo Visaya, who was accompanying other government officials.
The aircraft just took off when it crashed due to sudden loss of engine power, according to authorities.
PAF attributed the mishap to "human error."
Two pilots killed in aircraft crash
Puerto Princesa, Palawan – June 23, 2013
An OV-10 aircraft from PAF's 570th Air Wing crashed off the coast of Palawan on June 23, 2013.
It was initially reported missing after failing to return to base from a training flight. The aircraft's two pilots made last contact with authorities 7 nautical miles from the airport.
Authorities located the nose of the aircraft and other floating debris off the coast of Puerto Princesa Bay.
The body of one of the two fatalities were recovered in December 2013.
Two pilots killed in aircraft crash
Bagac, Bataan – April 28, 2011
An AS-211 jet aircraft crashed off the coast of Bagac, Bataan on April 28, 2011, killing two pilots on board.
The aircraft was conducting routine proficiency flight when the incident occured, according to a report by ABS-CBN. – Rappler.com