(UPDATED) US soldier Joseph Scott Pemberton, convicted of killing transgender Jennifer Laude in October 2014, is pardoned by Philippine President Rodrigo Duterte almost 6 years later
It's been a long justice-seeking journey for transgender woman Jennifer Laude.
On September 7, President Rodrigo Duterte granted absolute pardon to Joseph Scott Pemberton – a United States Marine convicted of killing Laude in an Olongapo lodge in October 2014.
Pemberton was granted an early release by a regional trial court through Good Conduct Time Allowance (GCTA), which was questioned and challenged.
Pemberton was part of around 3,500 US sailors and marines who participated in the Amphibious Landing Exercise (PHIBLEX) in September 2014 under the Visiting Forces Agreement (VFA). Pemberton was on rest and recreation after the drills ended on October 10, 2014.
Here is a rundown of events of the case from the evening of Laude's death all the way to Pemberton's release:
October 11, 2014
Laude, 26, and Pemberton, 19, meet in Ambyanz Nightlife Bar in Olongapo City. Soon after, the pair leave with Laude's friend Barbie Gelviro for Celzone Lodge, a motel not too far away.
Laude, Pemberton, and Gelviro arrive at the motel at around 10:55 pm. After checking in, Gelviro leaves the pair in the room. Approximately 30 minutes later, Pemberton walks out of the room alone.
Elias Gallamos, the lodge's cashier, discovers Laude's body and reports it to the police.
October 12, 2014
A police report reveals Laude was found dead naked on the floor of a comfort room in Celzone Lodge. Her head "was leaning" on a toilet bowl, while her "lower body was partially covered with a color cream blanket." Police also saw injuries on Laude's neck.
Gallamos says Laude entered the lodge with an "unidentified male white foreigner" who sports a marine "style of hair cut" and is between 25 and 30 years old.
The Philippine National Police (PNP) says it is working to arrest the suspect.
October 13, 2014
The United States embassy expresses sympathy to Laude's family, and vows to investigate the possible involvement of an American in her death.
The US Pacific Command stops the departure of the two US ships from Subic Bay while authorities investigate the killing.
October 14, 2014
The PNP names Private First Class Joseph Scott Pemberton as a suspect in Laude's killing. Police reports call it a hate crime, and say "a case of murder is being readied against the suspect."
Pemberton's discovery that Laude was "gay," the investigation report says, "prompted him to kill the victim."
Following the VFA, the US takes custody of Pemberton, who is being held onboard USS Peleliu – one of the two ships that brought the US troops to the Philippines.
The Philippines wants the US to hand over custody of Pemberton. The jurisdiction of the case remains with the Philippines.
October 15-24, 2014
Laude's autopsy report says she died due to "asphyxia by drowning."
Marilou Laude, Jennifer's sister, files a murder complaint against Pemberton. The Laude family is represented by human rights lawyer Harry Roque.
Protests erupt in front of the USS Peleliu.
The Philippine government promises justice for Jennifer. She is laid to rest on October 24.
December 15-18, 2014
Olongapo prosecutors charge Pemberton with murder.
"This means the private complainant proved not just the killing of Laude but that she was killed in a brutal manner," says Roque. The lawyer calls the filing of the case "a huge victory."
After the US denies the Philippines' request for custody of Pemberton, Philippine Department of Foreign Affairs (DFA) Spokesperson Charles Jose says the government will no longer insist on it, and will instead wait for the court's advice on when the trial will start.
February 2015
The Department of Justice junks Pemberton's appeal to overturn the murder charge.
In Pemberton's arraignment, the suspect refuses to enter a plea. The court enters a plea of not guilty on his behalf.
March 23, 2015
Pemberton's murder trial begins.
August 24, 2015
Pemberton admits attacking Laude, but adds it was "in self-defense." Roque tells reporters Pemberton told the court Laude was performing oral sex on him when he suddenly felt a penis.
Shocked at the discovery, Pemberton says he pushed Laude who fell from the bed, but got back up and slapped him in the face. Pemberton says he retaliated by choking her, which left her unconscious. He claims he tried to revive her with water in the bathroom, but decided to leave after finding no water. He says she was alive when he left her.
Pemberton's defense attorney Jay Tolosa says in an ANC report the soldier "felt that he was being raped… he was so repulsed and so disgusted because he did not give his consent to allow a man to do that to him."
December 1, 2015
In a 68-page decision, Olongapo City Regional Trial Court (RTC) Branch 74 finds Pemberton "guilty beyond reasonable doubt" of homicide in Laude's death. The court finds the crime did not have the legal elements of murder, a heavier crime.
The court says Pemberton acted out of "passion and obfuscation" when he "arm-locked the deceased, and dunked [her] head in the toilet."
Pemberton is sentenced to 6 to 12 years imprisonment. The Philippine and US governments clarify provisions of the VFA over where the Marine should be incarcerated.
Pemberton's homicide conviction is the first under the VFA since the two countries signed it in 1998.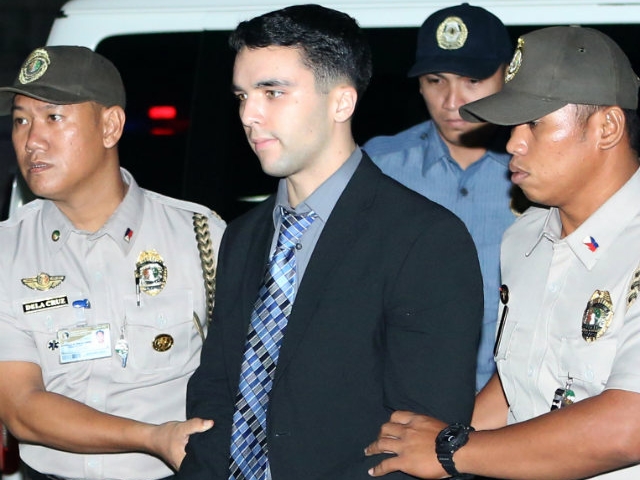 January 6, 2016
Pemberton's defense files an appeal seeking to reverse the conviction.
March 29, 2016
The Olongapo RTC reduces Pemberton's jail term from 12 years to 10 years. He is also denied bail.
August 15, 2017
The Court of Appeals (CA) affirms the Olongapo court's decision on Pemberton's 10-year prison sentence.
June 2, 2020
Pemberton withdraws his appeal from the Supreme Court and accepts the 10-year sentence from the earlier ruling.
August 25-26, 2020
The Olongapo court begins hearing Pemberton's motion to avail of his Good Conduct Time Allowance (GCTA).
Pemberton pays the Laude family P4.6 million in civil damages.
September 1-3, 2020
The Olongapo RTC gives Pemberton full GCTA credits and approves his early release, 4 years ahead of his full sentence. The Laude family questions how his GCTA was computed, given that he was isolated in a special military facility in Camp Aguinaldo.
Roque, now the presidential spokesperson, says he "deplores the short period of imprisonment meted on Pemberton who killed a Filipino under the most gruesome manner."
"Laude's death personifies the death of Philippine sovereignty," says Roque.
The Philippine government refuses to immediately release Pemberton.
September 7-8, 2020
Philippine President Duterte grants "absolute pardon" to Pemberton. (READ: What you need to know about presidential pardons)
"Correct me if I'm wrong, but ito ang tingin ko sa kaso: You have not treated Pemberton fairly. So ni-release ko. Pardon," says Duterte in a televised address. (Correct me if I'm wrong, but this is how I view the case: You have not treated Pemberton fairly. So I released him. Pardon.)
Just days after crying injustice, Roque justifies Duterte's pardon by saying Duterte cleared only the punishment imposed on Pemberton, not the US soldier's conviction.
The DOJ confirms Pemberton did not go through the usual procedure – as his lawyer Rowena Garcia Flores says she did not apply for the pardon, and neither did the US government, according to Foreign Affairs Secretary Teodoro Locsin Jr.
September 9, 2020
The Philippines is set to deport Pemberton, escorted by the Bureau of Immigration. The DFA says it will not intervene.
September 11, 2020
As Pemberton's release process continues, Jennifer's mother Julita says Duterte broke his promise to keep Pemberton behind bars for as long as he was president.
"Ayos lang sana kung hindi siya nagbigay ng absolute pardon, para kahit papaano ay may laban naman kami – 10 taong pagkakakulong lang sana ang hinihingi naming kabayaran para sa buhay ng anak ko. Napakaiksing panahong kabayarang pagkakakulong para sa buhay ng anak ko," says Julita.
(It would have been okay if the President did not give absolute pardon, so that at least we could have had a chance – we were only asking for 10 years as payment for the life of my child. That's a very short period of imprisonment compared to the lost life of my child.)
September 13, 2020
Pemberton is deported from the Philippines' Ninoy Aquino International Airport and flown out on a US military aircraft. – Rappler.com