This is AI generated summarization, which may have errors. For context, always refer to the full article.
How concerned citizens can help improve Metro Manila's train system for commuters and especially for persons with disabilities
MANILA, Philippines – Persons with disabilities, students, the elderly, the working class, people from all walks of life, all deserve to commute with ease and dignity.
After Rappler published a report and documentary about how Metro Manila's train system fails persons with disabilities, we've received numerous suggestions for further investigations about our transport system. The report was brought up during the transportation department's budget hearing in the House of Representatives. To Rappler, many readers aired complaints about other aspects of the commuting experience.
There are many actions regular citizens can take to improve the system. We asked experts and civil society organizations who helped us with our train system story for concrete ways concerned citizens can make change happen.
Here's what you can do.
1. Document violations of the Accessibility Law and National Building Code and inform the government offices in charge.
Did you know that the Accessibility Law and National Building Code penalizes architects, engineers, building owners, contractors, and agencies for violations? Under the Accessibility Law, for example, they can be slapped with a fine as high as P200,000 or even serve jail time up to six years.
Building officials who issue a building permit for non-compliant structures can also be held liable. This applies to transportation terminals and hubs used daily by commuters. So if you see blocked wheelchair ramps or missing seats of persons with disabilities, take a photo and report it to relevant government offices:
Buildings, transport terminals, streets, sidewalks, and highways – City or municipal engineer
Public utility vehicles on land like jeepneys, tricycles, taxis, and the like – Land Transportation and Franchising Regulatory Board (LTFRB) and Land Transportation Office (LTO)
Ships, boats, ferries – Maritime Industry Authority
Ports – Philippine Ports Authority
Airplanes – Civil Aeronautics Board
Airports – Civil Aviation Authority of the Philippines
2. Ask about, or initiate, accessibility audits in your locality.
Every local government is supposed to have a Persons with Disability Affairs Office (PDAO). They should also have a building official in charge of issuing building permits for new structures. You can ask these offices if they plan to conduct accessibility walkthroughs and audits of all or specific buildings and facilities in your community. The walkthrough or audit should reveal lapses or shortcomings in the design or maintenance of these facilities – whether it's transport terminals, bike lanes, or sidewalks.
An accessibility walkthrough, like what we conducted for our report, involves a systematic inspection of features and user experience of a facility. An audit, which typically involves architects and engineers, includes taking measurements of key structures or features of facilities to see if they comply with minimum standards set by law.
If the PDAO and building official in your locality have no such activities planned, ask them to.
3. Call on lawmakers to pass the Commuters' Bill of Rights, amend the Accessibility Law, or tackle other similar bills.
A law is one way to make government agencies and the private sector more serious about accessible and dignified transportation. There are many efforts toward this like the Magna Carta of Commuters or Commuters' Bill of Rights being pushed by mobility groups or amendments to the 40-year-old Accessibility Law being supported by persons with disability groups.
You can write to the member of the House of Representatives from your district. Here's the directory.
You can also write to the House committee on transportation, chaired by Antipolo Second District Representative Romeo Acop. In the Senate, the relevant committees are those on public services, chaired by Senator Grace Poe (gracepoe2013@gmail.com); and Public Works, chaired by Senator Ramon "Bong" Revilla Jr. (sen@bongrevillajr.ph)
What are these committees doing for commuters? Demand to know what they're working on and if they're holding public hearings.
4. Ask DOTr and DPWH when they'll update the implementing rules and regulations of the Accessibility Law.
The 40-year-old Accessibility Law is the main law citizens depend on to ensure buildings and facilities are inclusive of the needs of persons with disabilities. Pending a law to amend it, changes can be made by updating its implementing rules and regulations or IRR.
A new IRR for a specific portion of the law, Rule II, has already been sent to the desks of Public Works Secretary Manuel Bonoan and Transportation Secretary Jaime Bautista. They need to approve the proposed IRR.
You can write to them, urging them to expedite the approval and implement it vigorously. You can send letters to these email addresses: bonoan.manuel@dpwh.gov.ph and jaime.bautista@dotr.gov.ph or osec@dotr.gov.ph. Let us know if you get replies.
5. Ask government to craft an Accessibility Law IRR specific to public transportation, public vehicles.
The IRR for Rule II of the Accessibility Law covers only public buildings, which include public terminals like train stations and airports. However, it does not cover the public conveyances or vehicles themselves, like train carriages and airplanes.
You can call on DOTr and DPWH to finally formulate IRR for Rule IV of the law, which deals with public transportation specifically. This would cover buses, jeepneys, tricycles, boats, airplanes, and trains. In the four decades of the Accessibility Law, there has never been an IRR for these, says Architect Armand Eustaquio.
6. Call on President Ferdinand Marcos Jr. to pass an executive order instructing government to implement the Accessibility Law.
Accessibility advocates, including those working with the National Anti-Poverty Commission, point to a draft executive order that has long been proposed to the President of the Philippines who instructs the entire executive branch to fully implement the Accessibility Law.
You can write to the President's office asking for the status of the draft EO or if there is any plan to vigorously remind government to implement the Accessibility Law. Letters can be sent to op@malacanang.gov.ph.
7. Challenge public officials to commute.
The officials who have the power to improve public transportation and the commute experience won't understand the urgency of the situation unless they get down in the trenches too. Mobility advocates like the Move As One Coalition have long called on public officials to commute. Ira Cruz of the group said they should take public transportation at least thrice a week.
These suggestions were compiled with the help of Kasali Tayo, an accessibility group; Move As One Coalition, an inclusive mobility group, and Armand Eustaquio an architect who helped craft the existing IRR for the Accessibility Law.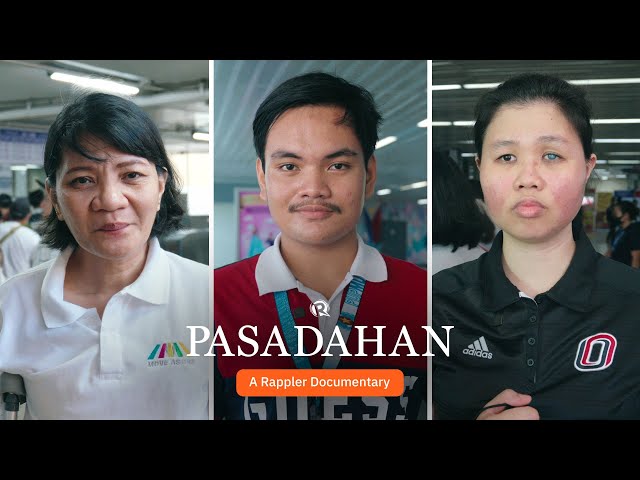 – Rappler.com