(1st UPDATE) Here's how the nationwide COVID-rollout will be done starting November 3
Eight months after the Philippines rolled out its COVID-19 vaccination program – first, among health workers – the government will start inoculating minors aged 12 to 17 against the deadly virus beginning Wednesday, November 3.
"We will have [the] initial kick-off on November 3…. Then, by November 5, we will have a full implementation," Health Undersecretary Myrna Cabotaje told reporters on Thursday, October 28.
Cabotaje said that, due to a stable supply of the COVID-19 vaccines, the government decided to do a nationwide rollout of pediatric vaccination instead of implementation by phases. Before this, the government was planning to do the pediatric vaccinations in regions where the inoculation coverage of the A2 sector or senior citizens had reached 50%.
"The supply of COVID-19 vaccines is no longer an issue. In terms of operationalization, when we have limited vaccines, we did prioritization. Now, not anymore. They can just walk in," Cabotaje said in Filipino.
The health official said the move to hasten the vaccination for minors was due to the the planned gradual reopening of schools for limited face-to-face classes.
"We are now opening schools for face-to-face classes. The 12-to-17 are both K to 12 and college students. It will also build confidence that face-to-face classes can be done as children can now be vaccinated.. They can now go to school," Cabotaje said in a mix of English and Filipino.
Citing the data from the Philippine Statistics Authority, the Department of Health (DOH) said that there are around 12.7 million minors aged 12 to 17 eligible for the pediatric vaccination.
Cabotaje said that DOH is targeting to vaccinate 80% of the target pediatric population by December 2021.
Before the nationwide rollout on November 3, a number of areas in the Philippines have started vaccinating their minors with comorbidities in a pilot run. (READ: How the pilot run of COVID-19 vaccinations for minors will be done in Metro Manila | SPOTLIGHT LUZON | SPOTLIGHT VISAYAS | SPOTLIGHT MINDANAO)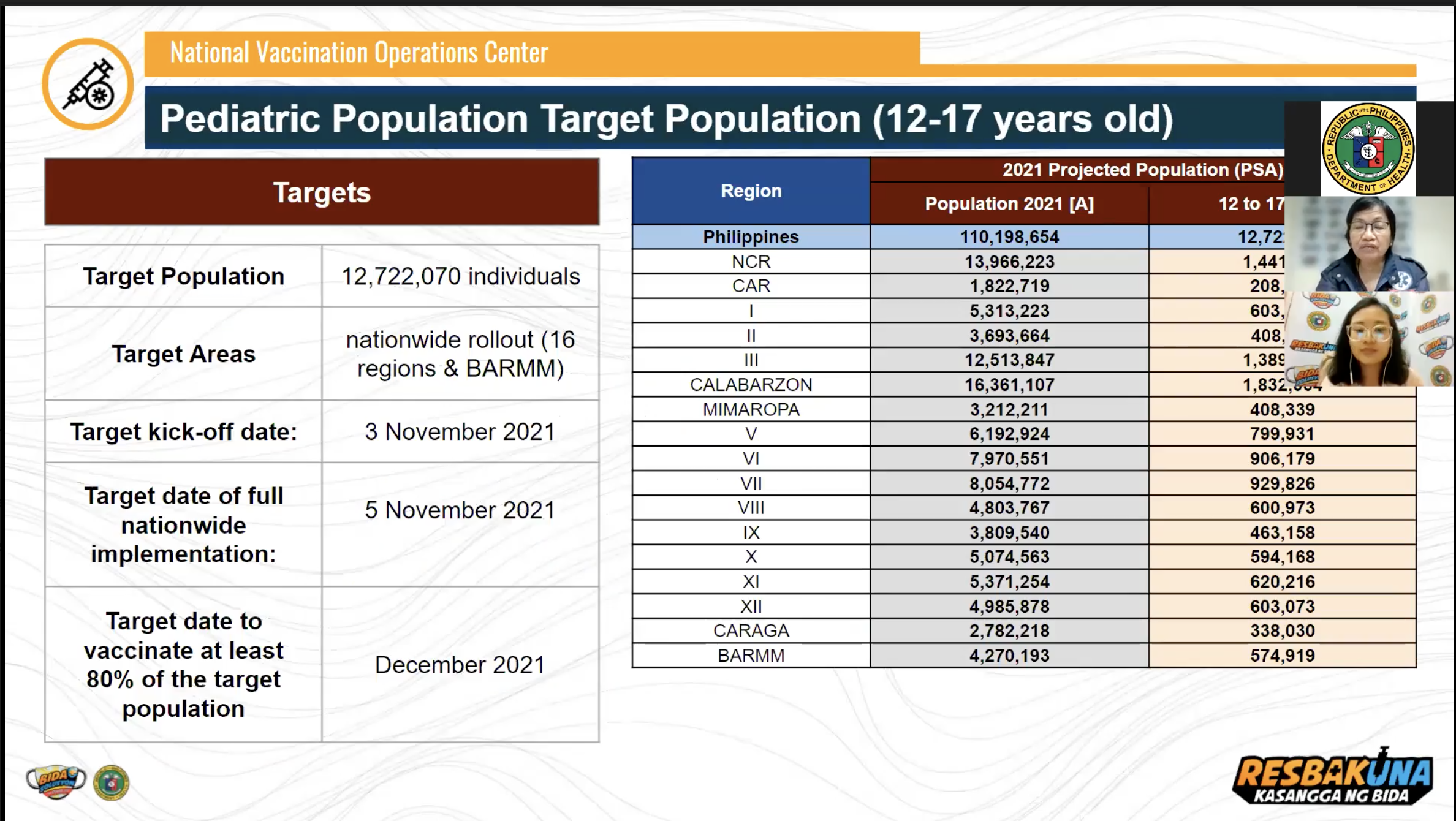 What's the process?
The vaccination process for minors is similar with the adult group, except that minors need to present a signed consent form from their parent or guardian.
The minors must also be accompanied by their parents or guardian on their vaccination day.
Cabotaje said the guardian needs to present any documentary proof showing the relationship of the vaccine recipient and the parent or guardian, and identification cards.
Aside from hospitals, local government units (LGUs) can also do the pediatric vaccination in sites where the adult inoculation drives are also happening. But a special lane should be provided for minors.
The health official said that LGUs may opt to provide separate schedules for the adult and pediatric vaccinations to prevent crowding.
Cabotaje said that there should have a separate vaccine carrier allocated for pediatric vaccination "to prevent inadvertent administration of non-EUA (emergency use authorization) approved vaccines for pedia."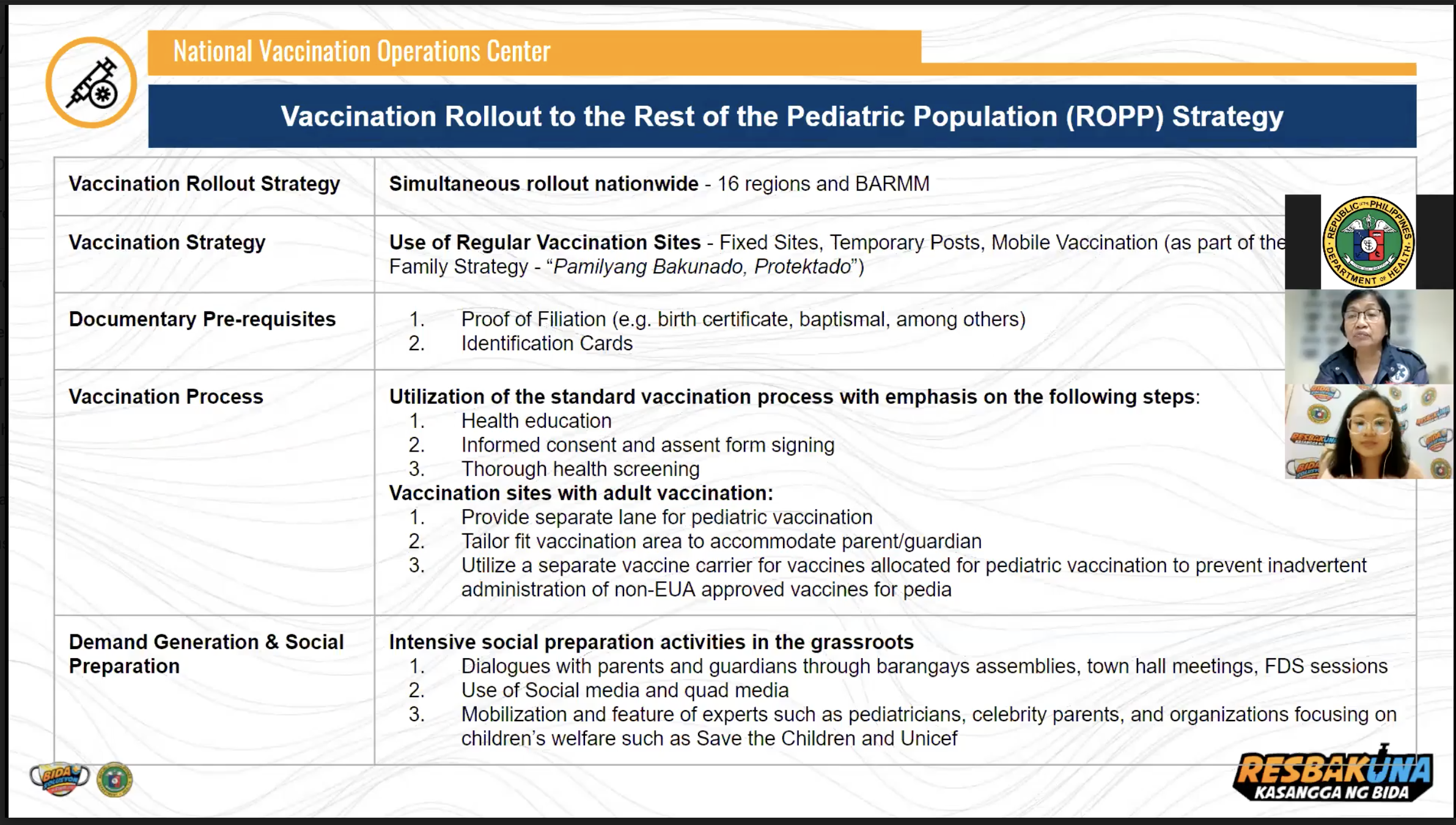 Philippine drug regulators granted emergency use authorization to Pfizer and Moderna vaccines for minors as young as 12 in June and September, respectively.
Health Undersecretary Maria Rosario Vergeire said that these vaccines would be used among children during the nationwide rollout.
Is a medical certificate required?
On Thursday, November 4, the DOH clarified that a medical certificate is not a requirement for minors without comorbidities.
The agency said that parents only need to present documents that will prove "filiation/guardianship between the child and the parent/guardian and valid IDs be presented at the registration area."
A medical clearance, however, is required for those with comorbidities.
What's the registration process?
A number of LGUs have started their pre-registration for the pediatric group. Parents may coordinate with their LGUs to enlist their children for the COVID-19 vaccines.
The DOH earlier said that parents may also contact their pediatrician or hospital to schedule the vaccination of their child.
Are walk-ins allowed?
"In principle, we allow walk-ins," Cabotaje said. However, she noted that it's still up to the LGUs whether they will allow walk-ins or not.
"It's a standard for local governments that, as much as possible, they (children) need to register so they (LGUs) could control the crowd. But given that we enough vaccines, they will check their response. Some areas may allow walk-ins," she explained in a mix of English and Filipino.
The COVID-19 vaccination of minors is a welcome development for parents, students, and teachers, as this could be a possible game changer for high school-age students who have had to stay at home for two pandemic school openings. – Rappler.com
Editor's Note: An earlier version of this story had a statement by Cabotaje which said a medical certificate was required for all minors eligible for vaccination. This has been corrected.
Read Rappler's series of guides on the Duterte government's vaccine program below:
Read Rappler's series of explainers on the Duterte government's vaccine program below: