Back home for a break, teen star Alex Eala shares some of the big tennis dreams that she aims to complete in the coming years
MANILA, Philippines – Five years since her first major international title in the Le Petit As tournament in France, Alex Eala has solidified her presence in the sport, but still wants more.
"As for my long-term goals, it's to win a Grand Slam, join the Olympics and maybe medal, to be world No. 1," Eala shared during her recent homecoming press conference. 
Eala, ranked No. 217 in the world, is currently the top Southeast Asian women's tennis player. She got a boost after advancing to the main draw of the Thailand Open and participating in the qualifiers of her first women's Grand Slam in the Australian Open. 
This came after a year of milestones including winning her third junior Grand Slam title, but her first in the singles event in the 2022 US Open.
In early 2022, she won her first women's $25,000 tournament in Chiang Mai, Thailand and pocketed a trio of bronze medals in her Southeast Asian Games debut in Vietnam.
At 17 years old, the Philippine teen tennis sensation is on track of getting the best out of her tennis career while representing both the country and region in doing so.
Exceeding past legends
Eala's path to top-level tennis is different, but it can surpass the achievements of big names from the region.
Former world No. 19 Tamarine Tanasugarn from Thailand achieved the highest ranking of a Southeast Asian women's tennis player in 2002, matching Indonesia's Yayuk Basuki's peak back in 1997.
Both the Thai and the Indonesian have retired, but they gained Grand Slam prominence after making quarterfinal appearances in Wimbledon. Tanasugarn had a thrilling story as she faced Venus Williams in the last eight, but the American went on to win the 2008 Wimbledon title.
While competing in the WTA, Tanasugarn also won a gold medal for Thailand in the 2014 Asian Games in Incheon and tallied six golds out of her total of 18 medals from the Southeast Asian Games throughout her career. Basuki, on the other hand, collected four Asian Games golds for Indonesia and six SEA Games golds.
Tanasugarn, who played tennis professionally for 22 years, has already found Eala's growth to be impressive after winning her first professional title at 15 years old and winning a pair of junior Grand Slam doubles titles at 16 years old.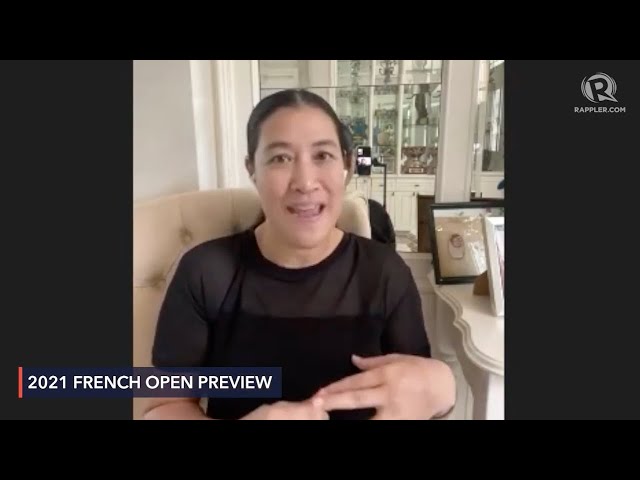 On Eala's second year of professional tennis, her participation in the Australian Open qualifying round marks another milestone, which sets her up for another bright year ahead.
The Filipina teen will be focused on qualifying for the French Open, where she needs to rack up enough points in five more tournaments before her birthday on May 23.
But like the Southeast Asian legends Tanasugarn and Basuki, Eala also dreams of a chance to play in the Asian Games despite her busy schedule.
"I've heard very good stories and good experiences from other players [about the Asian Games]," said Eala. "But definitely, I'm open to joining and representing the Philippines in the Asian Games."
World-class mentorship
Eala's meteoric rise in international tennis also came with big help from the Rafael Nadal Academy. In 2018, the teen tennis sensation earned a scholarship to the Academy, which aims to pass on tennis great Nadal's techniques and discipline to the next generation.
The 17-year-old continues to be mentored by Brazilian-Spanish coach Dani Gomez and French coach Adrien Vaseux as she continues her studies at the Academy.
Eala's victories have also garnered the attention of Rafael Nadal himself, who has publicly congratulated Eala for reaching her peak rank in the ITF juniors at world No. 2 and for winning her past junior Grand Slam titles.
Being under the Spanish great's radar, Eala has gained personal advice from Nadal himself.
"He said multiple times to surround yourself with good people. Being on the tour and traveling so much at such a young age, I believe that it is an important guideline," shared Eala.
"Aside from that, he doesn't need to directly talk to you to give you advice. There are so many things you can learn just by observing how he is on and off the court. How he is humble and his work ethic and attention to detail."
On tour, Eala gets to meet tennis stars who are equally as hardworking and determined. She practiced hitting with high-level players like Canadian former world No. 4 Bianca Andreescu, and has met current world No. 1 Iga Swiatek, who she currently looks up to.
"I'm currently impressed by how Iga Swiatek has been playing. I think she's a player a lot of people could look up to because she's very nice on and off the court. I met her a couple of years back and she's very down-to-earth," shared Eala.
She also picks up from Ashleigh Barty of Australia, who retired at world No. 1 at the age of 25 years old last year. 
"I'm also really into the recently retired Ash Barty because she's also very nice off the court and she has an intense work ethic and that's also something that I could take away from the players on tour," added the tennis ace.
As Eala continues to level up her game, she's excited and ready to dive into the WTA.
"It's a new experience for me, another opportunity for me to improve my tennis and get more experience. And I think with every match, I get better and better," said Eala.
"It's a different feeling when you're walking on the court – you have escorts, there are ball boys, the backstop is wider. I get goosebumps a little bit, but when it comes to the match, the intensity is the same as all other matches whether you're playing on a court with a wooden fence or Rod Laver.
"I believe the intense moments will all feel the same." – Rappler.com