This is AI generated summarization, which may have errors. For context, always refer to the full article.
Head coach Royal Ivey looks back on challenging times when South Sudan practiced outside 'with eagles flying around' as the Bright Stars end their FIBA World Cup debut as the best African nation
MANILA, Philippines – From flooded courts to the biggest sporting stage.
South Sudan punched its ticket to the Paris Olympics as the best African nation in the FIBA World Cup after concluding its campaign with a 101-78 demolition of Angola in the classification phase on Saturday, September 2.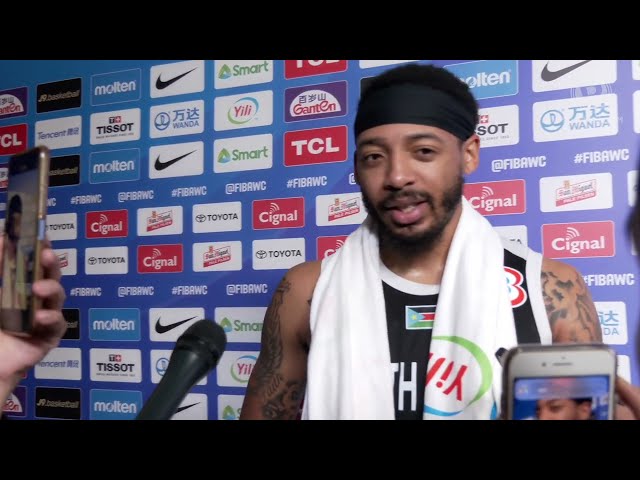 One of the four debutants in this World Cup co-hosted by the Philippines, Japan, and Indonesia, the Bright Stars exceeded expectations and topped Group M with a 3-2 record to finish between the 17th and 20th spots.
It was a result that few expected from the youngest nation in the world which has sent only five athletes to the Summer Games over its 12-year existence as an independent country.
"The Olympics? That is crazy," said South Sudan head coach Royal Ivey in disbelief.
"A year ago, we were practicing outside with eagles flying around while we were practicing and the courts were flooded. To go from there to come and play in front of these fans in the Philippines, I'm on cloud nine right now."
Chicago Bulls guard Carlik Jones turned in another stellar performance for the Bright Stars, who raced to a commanding 30-16 lead at the end of the first quarter and never looked back.
Jones finished with 26 points, 15 assists, and 7 rebounds, an impressive follow-up to his near triple-double outing in their 87-68 win over Gilas Pilipinas as South Sudan swept the classification phase.
Marial Shayok and Nuni Omot backstopped Jones in scoring with 18 and 17 points, respectively, while Wenyen Gabriel produced 15 points, 10 rebounds, and 6 blocks.
"These guys worked, they persevered. They listened," said Ivey. "Kudos to my guys, because without them, we would not be standing right here. They did everything we asked them to do and now we're reaping the benefits."
New light
For South Sudan players like Nuni Omot, what the team accomplished in the World Cup goes beyond basketball.
The Bright Stars have become a beacon of hope and togetherness for their compatriots back home who are grappling with conflict, poverty, and corruption.
"Obviously, a lot of people see South Sudan as just war, they see violence. What we're doing right now is we're trying to unify [the country] as one," said Omot.
The Paris Games will mark the first time that South Sudan will be represented in a sport other than athletics, with all of their five Olympians competing in running events.
Omot hopes the Bright Stars' spirited World Cup campaign and historic Olympic appearance will only be the start for South Sudan basketball.
"For us to be able to do this is very inspiring for the next generation. It comes to show it will give a lot of young guys in the future opportunities," said Omot. – Rappler.com