PATAFA president Philip Juico confirms EJ Obiena paid his coach, but continues the investigation on the liquidation forms submitted in the last three years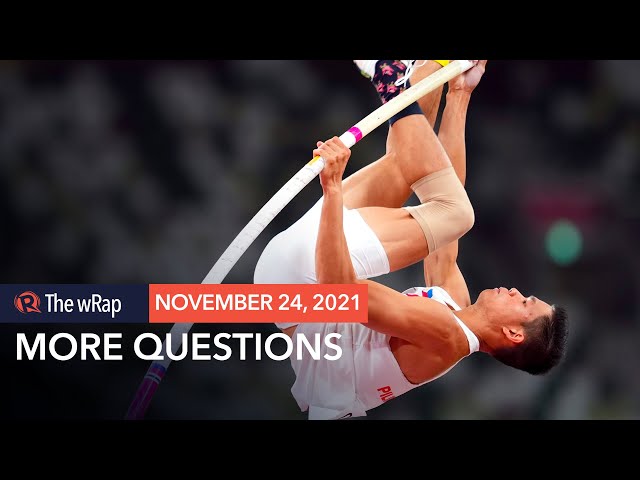 Philippine Athletics Track and Field Association (PATAFA) president Philip Ella Juico said the national federation will zero in on the discrepancies of pole vaulter EJ Obiena's payments to his coach Vitaly Petrov in the last three years.
Juico, who appeared on ANC's Headstart, confirmed that Obiena paid his Ukrainian coach, but continues to question the late payments and the authenticity of the liquidation forms submitted in the last three years.
According to Juico, Obiena fully paid his coach 85,000 euros (P4.8 million) in transactions made on November 4, 5, and 9, 2021 through two banks in Dubai and one in Germany.
"Ang tanong bakit may liquidation noon na binayaran noong 2018, 2019, 2020, 2021? Ngayon, iyon ang gusto namin malaman. Anong nangyari," said Juico.
(Why were the submitted liquidation forms reported that he paid the coach in 2018, 2019, 2020 and 2021? That's what we want to find out.)
Juico also revealed it was pole vault legend Sergey Bubka who reported the incident to him, and he asked the Ukrainian if he was willing to write the sworn affidavit on Obiena's payment issues.
"On September 9, I talked to his coach and Sergey Bubka, and they told me [Petrov] has not been paid since 2018. And Bubka affirmed it," said Juico.
"And I said: 'Are you willing to complain about that and prepare a sworn statement? The both of you?' They said yes. 'If there is a hearing an investigation, are you willing to be summoned?' [They said] yes."
Petrov already denied the supposed dialogue with PATAFA in last Sunday's press conference, as he confirmed that his Filipino ward has fully paid him for his services.
Obiena, arguably among the best pole vaulter ever produced by the country, had also shared his difficulties as a national athlete training overseas where he's even tasked to handle all the accounting because of the federation's failure to pay the coach directly.
He admitted delays in paying Petrov, but also said he paid transfer fees out of his own pocket.
Juico, though, reiterated that it's Obiena's duty to fulfill his own liquidation as a national athlete.
When asked about the reconciliation of the two parties, Juico said he does not want to commit to it as everything will depend on the results of the investigation.
"It depends on what our committee comes up with and what our board says, then we make a recommendation," said Juico.
The Philippine Sports Commission (PSC) issued a statement on Wednesday, November 24, that it aims to mediate between the parties in private.
"While we wish for the matter to be handled with confidentiality, we are bound by duty to mediate and call both parties to the table in the interest of truth and arresting the damage this tussle has done on our country's image in the international sporting world," read the statement.
"We now demand the parties to refrain from issuing statements to the public and on social media. We hope the imposition of this moratorium will allow this proposed dialogue a chance to help all of us arrive at a proper resolution on this matter.
"The PSC believes that alternative dispute resolution is an efficient tool and alternative procedure for conflict resolution between the federation and the athlete."
Last Sunday, PATAFA accused Obiena of embezzlement and ordered the Filipino pole vaulter to return 85,000 euros. Obiena then revealed that the national federation "shifted its allegations" from embezzlement to late payments.
Obiena is the current Asian pole vault record holder and the No. 6 in the world, and represented the Philippines in the Tokyo 2020 Olympics. – Rappler.com