'[O]nly Leni Robredo possesses enough reach and gravitas with the new electorate to make 'a united opposition] possible'
New School features opinion pieces by young writers, highlighting youth issues and perspectives.
I was little more than a boy when Leni Robredo first came to public attention back in 2012. The unexpected death of then-Interior Secretary Jesse Robredo had propelled her into the national spotlight – a torchbearer for her late husband's legacy. She ran the following year for the congressional seat of Camarines Sur's third district, upending the established Villafuerte clan in her first foray into politics. Three years and one election later, she was vice president of the country.
I had my doubts, of course. A relative newcomer to the political scene, she lacked the experience of her more veteran opponents in the run-up to the 2016 elections. Although a lawyer in her own right, it was Jesse who was the politician – nay, the public servant. And contrary to precedent, dead husbands do not a good president – even a vice president – make. Nearly five years later, and it has made all the difference. I was wrong, as I believe many others were at the time. Leni Robredo proved to be more than just her husband's widow.
Ever since assuming office, President Duterte and VP Robredo have had a longstanding, albeit one-sided, rivalry over the heart and soul of this nation. As figurehead of the minority Liberal Party opposing Duterte's coalition in government, Robredo has consistently been on the receiving end of the President's tirades and the slander and ridicule of his supporters. Only months into her term, she was forced out of the Duterte cabinet, relinquishing her post as Chair of the Housing and Urban Development Coordinating Council (HUDCC) – an office traditionally held by the President's second, as was the case with former VPs Jejomar Binay and Noli de Castro before her. Following her dismissal, Robredo redoubled efforts towards her landmark antipoverty program, Angat Buhay, partnering with local governments and civil society organizations to employ a multi-sectoral approach to eradicating poverty through "food security and nutrition, universal health care, public education, rural development, housing and resettlement, and women empowerment."
Nevertheless, despite her electoral victory and the unanimous dismissal of vice presidential hopeful and former Senator Bongbong Marcos' protests to the Presidential Electoral Tribunal (PET), many of Duterte's allies and supporters continue to view Robredo with suspicion – an insider from the opposition, an illegitimate vice president – openly displaying support for the former, with some going so far as to threaten the VP with impeachment for her condemnation of the government's bloody war on drugs. Never one to lose her temper, she took everything in stride.
It was only in 2019 that Robredo was offered re-entry to the ranks of the administration. Dared by its members to best their efforts in the war on drugs, Robredo called Duterte's bluff and accepted her appointment as co-chair of the Inter-agency Committee on Anti-Illegal Drugs (ICAD). Set up to fail, the attempt to humiliate the outspoken VP had backfired: Robredo meant business. What little subtlety there was in their disdain turned to sabotage as government lapdogs hindered her every move, accusing her of treason, withholding information, twisting her arm to force her resignation. She was anti-drug czar for 19 days until Duterte's ego could take no more.
But it was the following year that truly elevated Robredo from opposition figurehead to presidential hopeful. With a meager budget, relying primarily on donations, Robredo went about with relief efforts in the aftermath of Taal's eruption, distributing food packs, hygiene kits, sleeping mats, and the lugaw (porridge) which had, for so long, been her moniker (Leni Lugaw) among Duterte's supporters.
When government negligence allowed the coronavirus to slip past our borders and spread throughout the archipelago, it was Robredo that provided frontliners with shuttle services, with temporary shelters, with equipment, supplies, food, and care packages. While government scrambled to pass through Bayanihan laws and languished in its mass testing, contract tracing, and vaccination efforts, Robredo was busy setting up her own vaccination drive-through facility and arranging for mobile antigen testing, and telemedicine consultations.
Where Duterte could only conceive of the iron fist of the police and the military, Robredo countered with the soothing touch only a mother could provide. Leni performed better in one year than the government had for the past five. Only ignorance and fanaticism could say otherwise; and a degree of mental gymnastics that would put even the Tokyo Olympics to shame.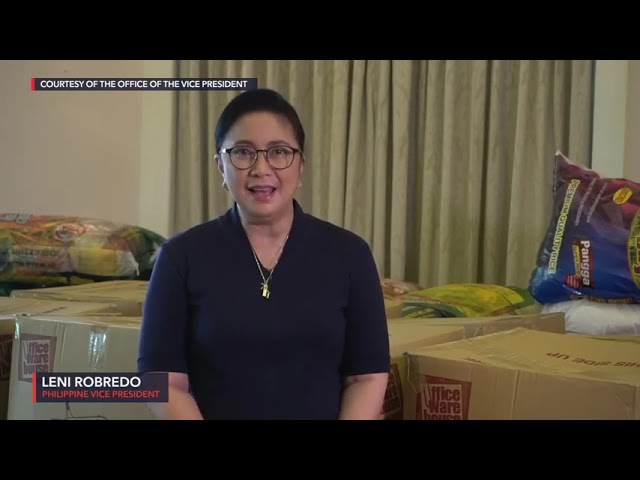 Nevertheless, it remains to be seen whether, politically, Robredo can rally the broad spectrum of the Philippine electorate behind her by the next election. Exploratory talks with 1SAMBAYAN, Trillanes and the Magdalo, the Pacquiao party, and the Lacson-Sotto tandem have all failed to produce anything concrete beyond disappointment and infighting. With pro-government bets leading in the polls and a Duterte-Duterte administration in the realm of possibility, only meaningful compromises between parties, personalities, and ideologies stand a chance at overcoming the populist appeal of a President Duterte in 2022.
As the coalition of expedience that carried the President to victory in 2016 begins to fall apart, and the absence of an anointed successor having the likes of Sara Duterte, Bong Go, and Manny Pacquiao scrambling over the legacy of the current regime, can the opposition put aside their differences to field a candidate palatable enough to all? Trillanes believes the opposition has no place for fence-sitters and enablers. Lacson believes in casting as wide a net as possible via betting the polls. The Left can hardly even agree within their own ranks. Regardless, I know one thing for certain: only Leni Robredo possesses enough reach and gravitas with the new electorate to make such a union possible. Borrowing from America's terms, she is the Biden to Duterte's Trump. Although a formidable force by themselves should they decide to run, the likes of Isko Moreno, Grace Poe, and especially Bongbong Marcos, may prove a harder pill to swallow for younger voters.
In any case, what voters and politicians alike must understand is that there is no such thing as a perfect candidate. The Philippines has no need for a saint or a martyr. What we need is someone who can lead us out of this pandemic and on to the road to recovery with our lives and livelihoods intact. What we need is someone who will reverse the policies of Duterte's authoritarianism and adhere to the principles of democratic governance and the rule of law. What we need – what all of us need – parties and politics be damned, is an end to six years of incompetent governance paid for by the blood, sweat, and tears of the Filipino.
I have never been one to place my faith in politicians. My loyalty, for what it is worth, has only ever belonged to the nation. Robredo is no messiah. But as long as she continues to put the interests of the Filipino at heart, then she will be my president come 2022.
With everything that has happened, with her performance in the polls, with her relentless persecution at the hands of Duterte and his allies, one could understand why she would be hesitant to run in the upcoming election. More importantly, having the moral conscience her potential predecessor is so clearly deficient of, Robredo wants to be certain she can accomplish her sworn duty as the duly elected President of this country.
Madame Vice President, the Filipino believes in you. We believe in you. And with the youth vote now more important than ever, no populist authoritarian could ever be enough to stem the tide of a genuine desire for change. Fourteen million people voted for you last election. Fourteen million people and more will vote for you in the next one. So run, Leni, run! – Rappler.com
Kyle Parada is a Political Science undergrad and occasional essayist studying in the Ateneo de Manila University. He calls on his fellow Filipinos to voice their support and help convince VP Leni Robredo to run in the upcoming elections.
Voices features opinions from readers of all backgrounds, persuasions, and ages; analyses from advocacy leaders and subject matter experts; and reflections and editorials from Rappler staff.
You may submit pieces for review to opinion@rappler.com.