'Congress should quickly enact legislation that will impose a wealth tax on the richest Filipino families to raise revenue for COVID-19 measures'
Given the dire Philippine situation and the continuing rise in COVID-19 infections, it is urgent that government undertake new and innovative measures to stem the pandemic and arrest the deteriorating conditions of the Filipino people.
The government appears to be caught in a "devil and deep blue sea" situation. The late response to the crisis resulted in an unmanageable spike in COVID-19 cases and necessitated a prolonged lockdown and strict quarantine measures. But doing so has also caused a severe economic crisis and rapid deterioration in the living conditions of Filipinos, particularly the poor.
To "flatten the curve," i.e., keep the infection growth rate from accelerating, even stricter quarantine measures are necessary than what are now in place, but this will only further cause greater harm to an already suffering economy and people.
Nine months into a continuing lockdown and various quarantine measures, COVID-19 infections and fatalities continue to rise, with over 1,000 new infections daily. The country has the second highest rates for infections and deaths in Southeast Asia. The Johns Hopkins University Coronavirus Resource Center reports a continuing upward trend for the Philippines and projects that by January 4, 2021, the country will have logged 478,500 cases and 9,043 deaths.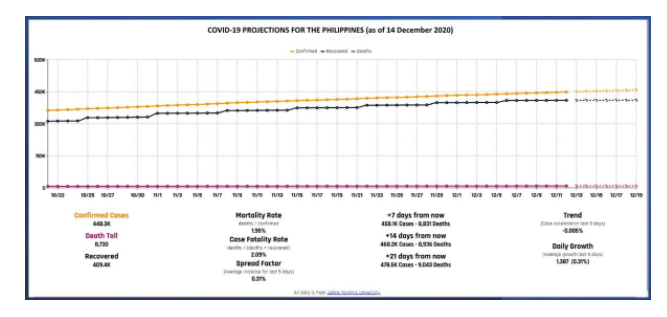 The lockdown and quarantine measures exacted a heavy toll on the Philippine economy, social fabric, and political life. By the second quarter of 2020, the economy slipped into recession, which continued into the third quarter. The government expects that, by year end, the economy will contract by 8.5% to 9.5%, the worst performance in the post-war period. The Asian Development Bank projects that the Philippines will be the second most depressed economy in Southeast Asia in 2020.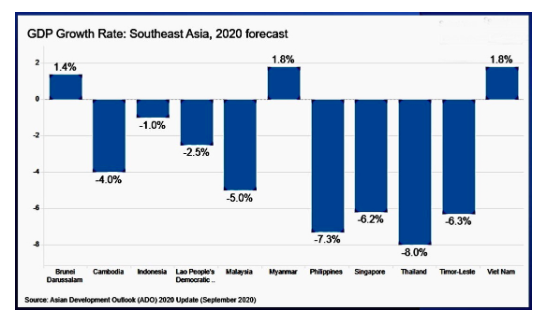 The World Bank estimates that 2.7 million more Filipinos will join the ranks of the poor. Meanwhile, joblessness has overwhelmed half of the labor force. About 40% of those still with jobs have lapsed into part-time work and 7.6 million families (31%) experienced hunger. About 30% of business establishments closed.
In education, poor families grappled with remote learning modes due to lack of access to the required technologies. Women, particularly in urban poor areas, became even more vulnerable to domestic abuse and harassment. Human rights concerns have also surfaced.
Policy recommendations
The Philippine government must urgently undertake new and additional policies to address the health crisis and alleviate the plight of the Filipino people, particularly the poor and marginalized. The University of the Philippines Center for Integrative and Development Studies, Program on Alternative Development (UP CIDS AltDev), in collaboration with the United Nations Educational, Scientific, and Cultural Organization (UNESCO), undertook a research study of grassroots communities, distilled proposals from labor and farmers' groups and civil society organizations, and arrived at a set of urgent policy recommendations.
These recommendations were presented to government in an online forum on December 11, 2020. Representatives from various agencies were present: Department of Education, Department of Trade and Industry, Department of Finance, Department of Labor and Employment, National Economic Development Authority, Department of Interior and Local Government, Department of Social Welfare and Development, Commission on Human Rights, and the Bulacan provincial government.
The most basic and primary shift that needs to be undertaken is to adopt a new paradigm of a "whole-of-society approach" rather than a "whole-of-government" approach. This entails building multi-sectoral partnerships between government and all stakeholders, covering all levels of governance.
The new paradigm should be the basis for developing a strategic master plan to address the continued rise of COVID-19 cases. This should go beyond mere tactical measures like social amelioration assistance, asking economic players to make adjustments, improving online systems to streamline bureaucratic processes, and waiting for a vaccine.
The management system of the health crisis must be restructured and reorganized. The leadership and direction must be transferred to the hands of professional health experts – with security forces taking a secondary role. Other sectors of society must be brought in, i.e., academics, civil society, organized labor, urban poor, farmers/fisherfolk, women, students, indigenous communities, and the private sector.
Concerns must be addressed about the reliability of the data that government is disseminating on the health crisis. The services and expertise of academic institutions and other competent research outfits must be utilized.
Government should spend substantially much more on COVID-19 responses especially for the poor and marginalized sectors. The P530 billion in two social amelioration programs and the P72.5 billion for vaccines in the 2021 budget are still deemed inadequate to solve the pandemic-induced socio-economic crisis.
The government should refrain from incurring more debt and instead work for the cancellation of domestic and foreign debt service payments while the pandemic continues to rage. Debt cancellation for 2020 alone could raise about P755 billion in freed funds for COVID-19 responses.
Congress should quickly enact legislation that will impose a wealth tax on the richest Filipino families to raise revenue for COVID-19 measures. The pandemic crisis offers an opportunity to finally address the long-simmering problem of social and income inequality. A maximum 3% tax on the wealth of the 250-300 richest Filipinos whose total taxable wealth amounts to P32 trillion could generate almost one trillion pesos.
Emergency and medium-term measures must be instituted to rescue the flagging agricultural sector, alleviate the plight of small farmers and the rural poor, and prevent the further decline in their economic and livelihood status. Among these are reinstating farmer subsidies, writing off farmers' debts and agrarian reform amortization payments, preventing land conversions, boosting local food production and supporting local markets, limiting agricultural imports, utilizing local labor in improving rural infrastructure, and repealing the Rice Tariffication Law.
Government and employers must adopt and implement a set of economic and social measures that would directly benefit the working classes, rescue micro and small enterprises, and promote economic recovery. Among these are prohibition of all forms of labor contractualization, provision of hazard pay, reduction of working hours and working days per week, guaranteed employment, provision of wage amelioration, cash assistance, and employment insurance for workers, creation of "green jobs," and ensuring health protocols by providing free PPEs and safe and reliable transportation for workers.
Final note
There is much more that can be done to address the COVID-19 health crisis. This, however, is premised on a major paradigm shift and rethinking of fundamental principles of governance. For the situation to dramatically improve, the appropriate and applicable perspective on the crisis must be embraced, the proper political will is asserted and the sense of urgency is appreciated and internalized. – Rappler.com
Eduardo C. Tadem, PhD, is convenor, UP CIDS AltDev. The full report submitted to UNESCO will soon be published by UP CIDS. Co-authors are Karl Hapal, Venarica Papa, Ananeza Aban, Honey Tabiola, Jose Monfred Sy, Nathaniel Candelaria, Micah Orlino, and grassroots community residents. The ideas and opinions expressed in this article are those of the author; they are not necessarily those of UNESCO and do not commit the Organization.