'The government corrupts Philippine science, and science fact. It is so very sad that it cannot accept our scientists' quality and honesty.'
The following is the sixth in a series of excerpts from Kelvin Rodolfo's ongoing book project Tilting at the Monster of Morong: Forays Against the Bataan Nuclear Power Plant and Global Nuclear Energy.
BNPP (Bataan Nuclear Power Plant) proponents vigorously deny that a fault runs through it. Having been involved with some of the finest Filipino geologists in finding it, this writing is deeply personal.
The government corrupts Philippine science, and science fact. It is so very sad that it cannot accept our scientists' quality and honesty. There is no better way to drive them abroad, for better pay and, most importantly, for the respect they deserve.
The discovery
Twenty years ago, a fault through BNPP was far from our minds when Fernando Siringan and I began studying how and why coastal Pampanga, Bulacan, and Metro Manila's Kamanava cities were sinking inches or centimeters every year, worsening flooding, saltwater invasion during high tides, and the threats of storm surges and tsunamis. This was because well water was being sucked out of the ground too rapidly.
But that's another story.
It was always a pleasure and instructive to work with Ando Siringan. An earlier foray described our work with Joan Cabato, in which we discovered a huge pyroclastic flow deposit and active faulting beneath Subic Bay, northwest of BNPP.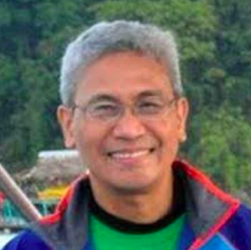 Ando earned his Bachelors and Masters in geology at UP Diliman, and his doctorate at Rice University in Houston, famous for its marine geology program. He recently stopped being director of the Marine Sciences Institute at UP Diliman, happily turning back to doing science. Ando is a dear personal friend; I admire the ingenuity, insightfulness, and importance of his science; also the honesty that stems from the deeply held Christianity that imbues and guides his life.
His work earned him election to the National Academy of Science and Engineering, the very first of only two geologists to ever be so honored.
Perhaps our friendship colors my opinion of him? Check him out for yourself on Google Scholar. Prepare to be impressed.
Early in our work Ando noticed in satellite photos a lineament in Lubao, Pampanga that trended southwestward to Mt. Natib, where it abruptly disappeared. The southeast side of the lineament is black in this satellite photo. In colored photos it is green because it is more moist and supports more vigorous vegetation than the land north and across from it. We conjectured that the lineament was caused by faulting.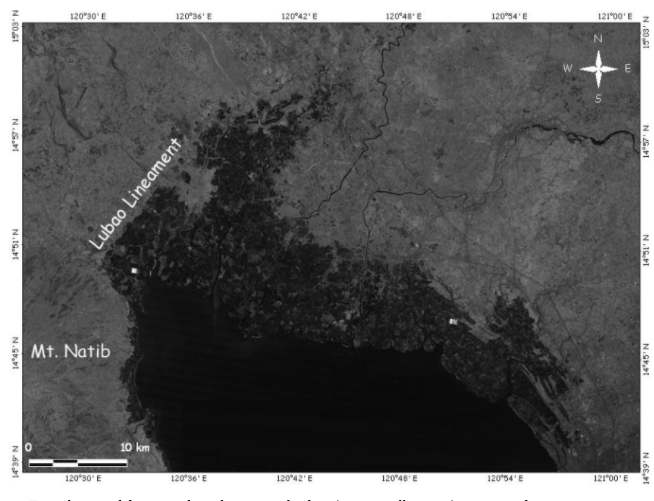 To evaluate and document how the area evolved environmentally over time, our student Lea Soria sampled the surface sediments of the coastal plains of Pampanga and Bulacan, driving pipes down into them, the deepest more than 10 meters. A mucky business for such a slight woman; she needed muscular help. Guess which one she is here: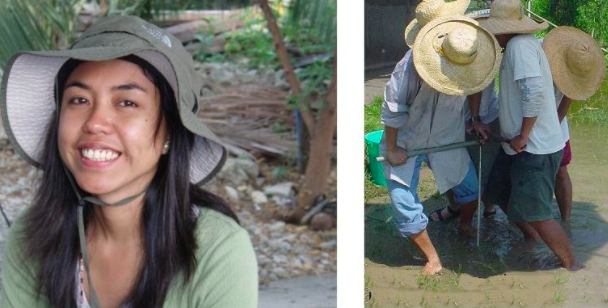 The Philippines is the only country in which women geologists outnumber men. They do just fine, thank you!
Lea's data demonstrated that, relative to the dry northwest side of the lineament, the moist plains southeast of it had dropped by 3.5 meters over the last 1,500 years. She formally named it the Lubao Fault in her 2009 Masters thesis.
Seismic profiling
Seven years later, Audrei Ybanez (nee Bonus), another student at the National Institute of Geological Sciences at UP Diliman, chose for her Masters thesis to conduct seismic-reflection profiling across the Lubao Fault, to learn how it had affected the soil and rocks.
…Seismic reflection? We saw in Foray 4 how Joan Cabato used marine seismic reflection to discover an ancient pyroclastic-flow deposit and many faults under Subic Bay. She used strong explosions in the water to propagate low-frequency sound waves into the underlying sediment and rock. Some of the sound reflects off each layer or structure and back up to the sea surface. There, the sounds are picked up by phones trailing behind the ship as it moves slowly along, continuously profiling the underwater geology.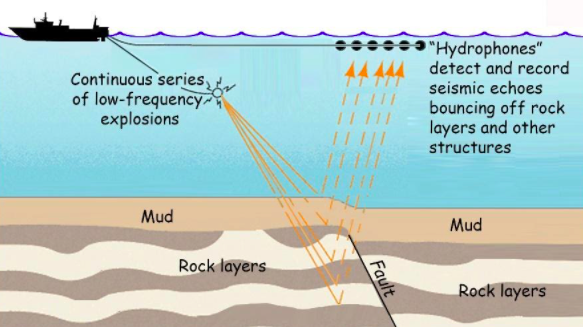 Seismic reflection on land, invented by the oil exploration business, is easier. They used to make deeply-penetrating sounds by exploding dynamite in shallow holes. Nowadays, they use a less disruptive but still obnoxious "thumper" truck. A crew places a wide array of "geophones" over an area – sometimes a residential neighborhood – ready to pick up vibrations. Then the thumper truck, weighing up to 30 tons, beats the ground rapidly and rhythmically with a heavy piston, sending vibrations into the ground that echo the geology back up to the geophones.
Sometimes, windows in houses break. Watch a thumper truck in action here:
Audrei needed to profile no deeper than a few hundred meters, so her equipment was much less expensive, much lighter. At Lubao's Barangay San Rafael Baruya, she used a truck-mounted "Propelled Energy Generator" that rhythmically raises and drops a 40-kilogram weight on the ground. Its seismic signals penetrated down 305 meters, and she made a 376-meter profile, her longest.
The rest of her study area was too marshy and vegetated for the truck, so she had to go low-tech, rhythmically whacking a steel plate with a 7-kilo sledgehammer every 3-5 seconds, the vibes penetrating 200 meters.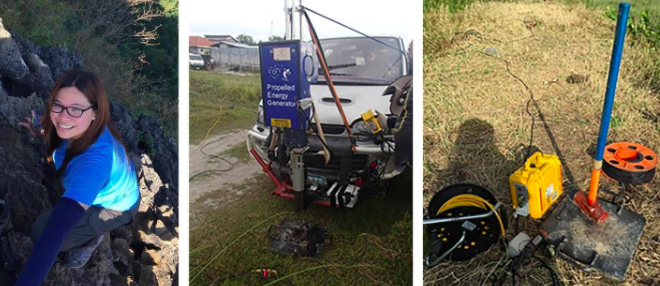 Faulting in hard rocks dislocates them at sharp, localized fractures. This one runs through Fort Bonifacio, even if it is not recognized by government:

But the delta plains are underlain by thick piles of alternating sand and clay layers. To distinguish between them in her seismic profiles, she colored the sands red and the clays black.
The sands are saturated with water, and the clays are moist. Thus, they break in a messy way, in a zone as wide as a hundred meters. The profiles show small fault displacements and more "plastic" response, not by breaking, but deforming more fluidly, like toothpaste would.
The vertical white streaks in the lower portions of the profiles may document how deeply-buried water-saturated sand layers sometimes respond to earthquakes. Normally, the grains of sand would rest on each other, and water would occupy the spaces between them. But during the minute or so of an earthquake, the shaking breaks the contacts between grains, and the mixture of sand and water is "liquified," behaving as a fluid with no strength would. Under the weight of all the overlying layers, the liquified sand squirts up into cracks above it.
Sometimes the sand-water mixture actually reaches the ground surface, building little mounds called "sand boils."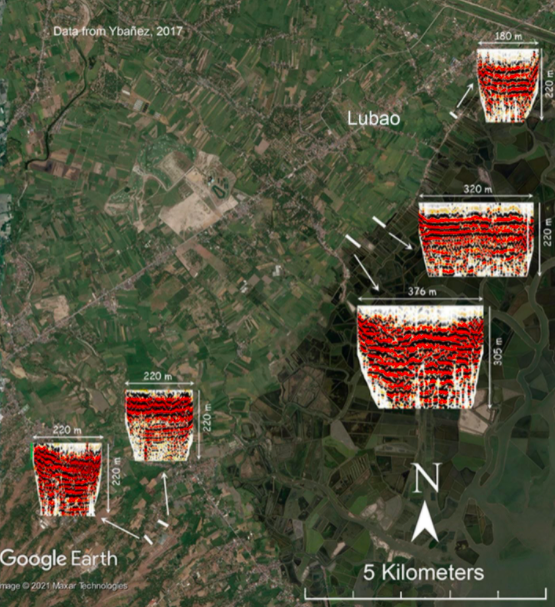 Final thoughts
The Pampanga portion of the Lubao Fault behaves uniquely. It suffers displacements and deformation during earthquakes, yes, but between earthquakes, the side south of the fault keeps dropping smoothly and silently, several centimeters every year, because so much groundwater is being pumped out for domestic use, agriculture, and fishponds.
Geologists refer to the present day as the "Anthropocene," the geologic epoch during which the dominant forces affecting the environment are human. In Pampanga, humans are making the greatest impact on the Lubao Fault.
Finally, look again at the satellite image in which Ando first noticed the Lubao Lineament: two things.
First, notice that the lineament is not very sharp. It is ragged, in keeping with the sloppy nature of the faulting of Pampanga's delta sediments, as Audrei's seismic work documented.
Second: Look closely at how the lineament extends southwestward into Mount Natib.
Our next foray will look at the other side of Natib, where Mahar Lagmay and his tropa of young volunteer geologists documented that the Lubao Fault passes through Napot Point and BNPP. – Rappler.com
Keep posted on Rappler for the next installment of Rodolfo's series.
Born in Manila and educated at UP Diliman and the University of Southern California, Dr. Kelvin Rodolfo taught geology and environmental science at the University of Illinois at Chicago since 1966. He specialized in Philippine natural hazards since the 1980s.
Previous pieces from Tilting at the Monster of Morong: